Just last week, I visited Fat Shogun with fellow foodies and we had quite a fun time there.
This visit is actually a repeat visit and I'd been here a few times before. Their food and drinks are really good and I always recommend them to people when it comes to Nikkei cuisine with a good vibe.
Just a quick information, Fat Shogun is a partner of Chope, meaning that you can find the restaurant on the Chope App and reserve your table there! And even better, you can enjoy a Happy Hour Deal with 50% OFF discount (of the Total Bill) from Mon-Sunday at selected timing! To enjoy the benefit of discount, I suggest you come at the weekend, Saturday or Sunday from 11 AM – 5 PM. You are guaranteed to have an awesome time! Oh, you can also redeem your Chope-Dollars into Fat Shogun restaurant vouchers!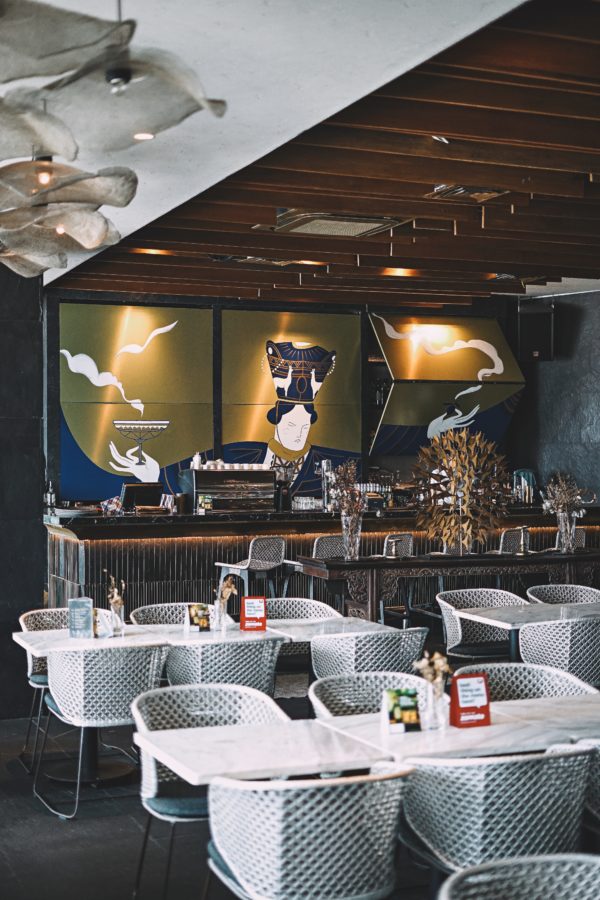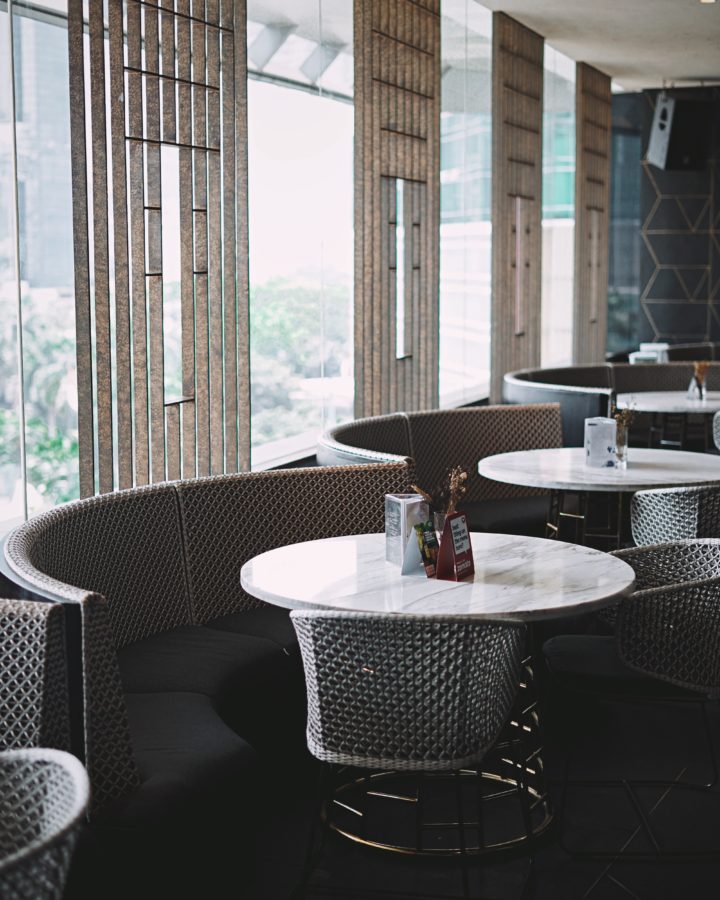 Anyway, interior-wise, Fat Shogun has a lovely bright atmosphere and the modern interpretation of Japanese interior is suitable for my liking. I've always love a clean and bright interior, especially with their marble tables! perfect for photo-taking too.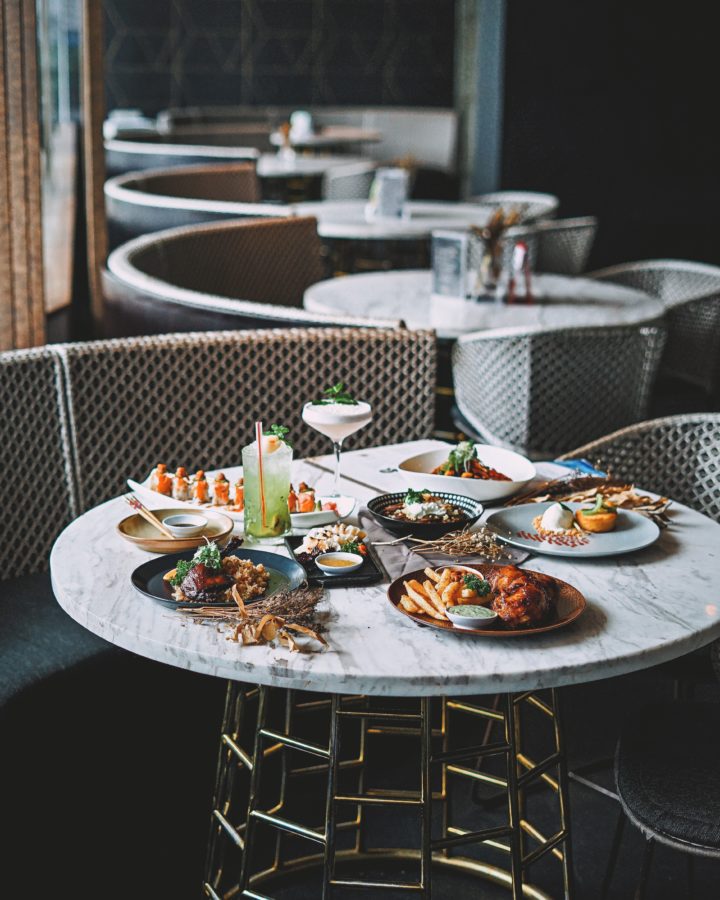 Without further ado, let's check what we had at this visit.
# Prawn Mango Salad (IDR 75 k)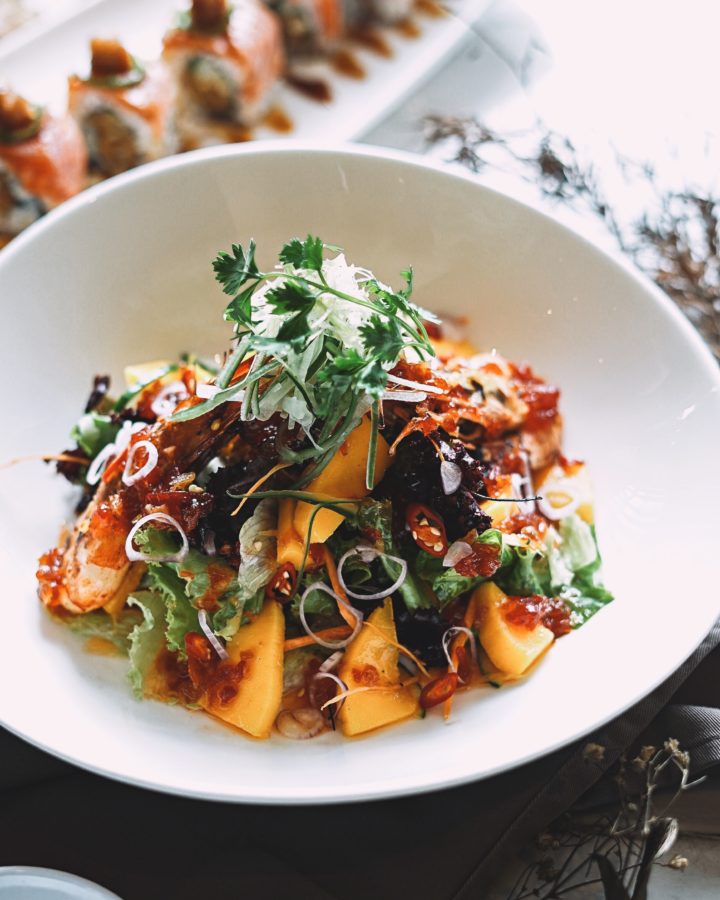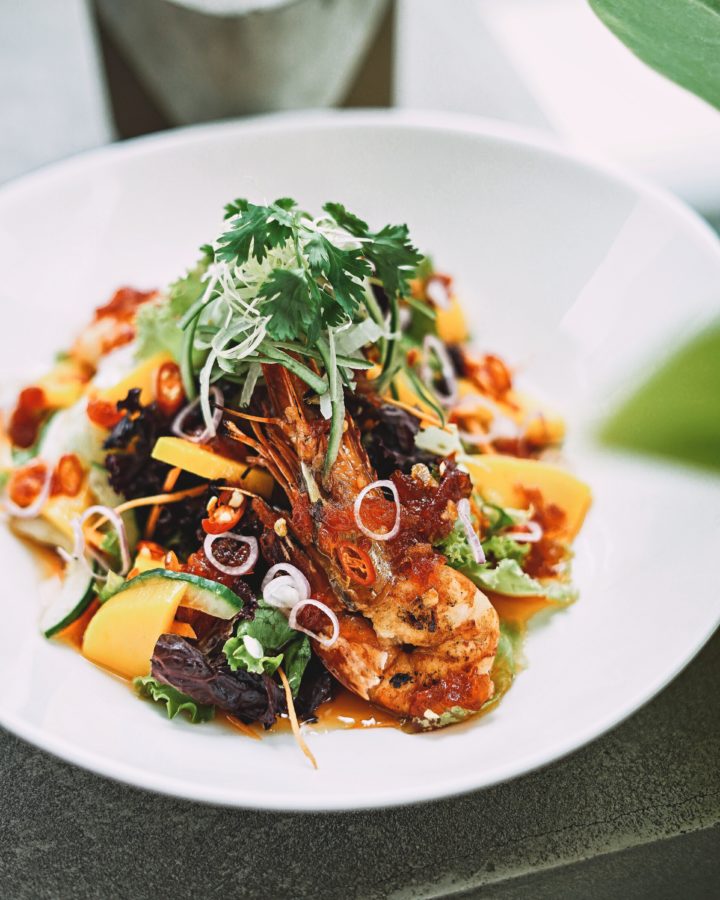 Started off with a beautiful salad, here is Prawn Mango Salad, a mix of fresh veggie, delicious prawns and refreshing sweet and sour mango sauce. It's pleasing to the eyes and it was delicious as well. If you fancy a combination of sweet and sour dressing in a salad, here is a great choice for you!
# Salmon Gyoza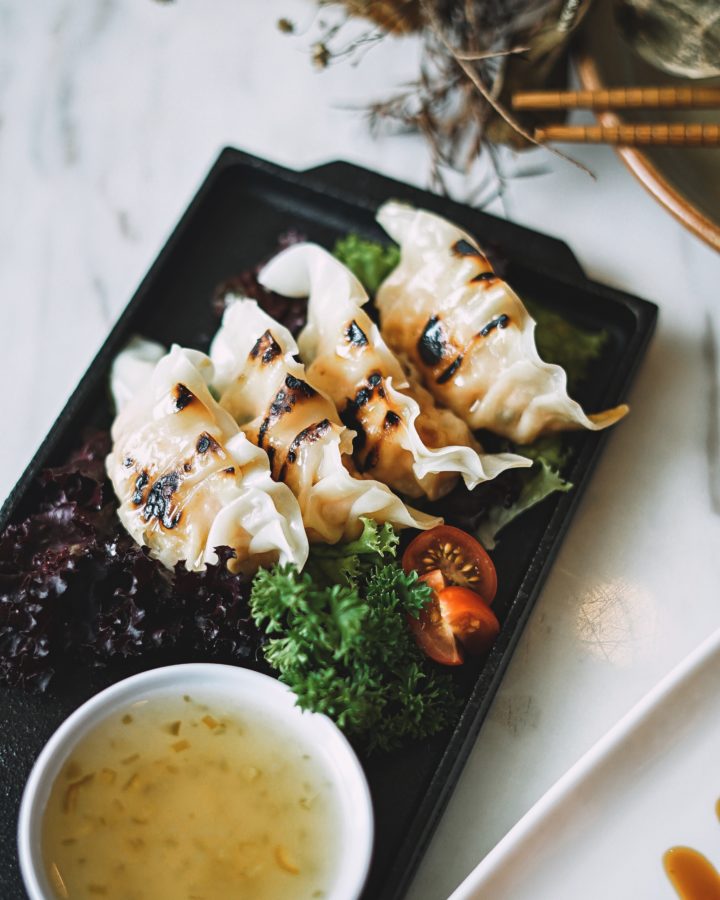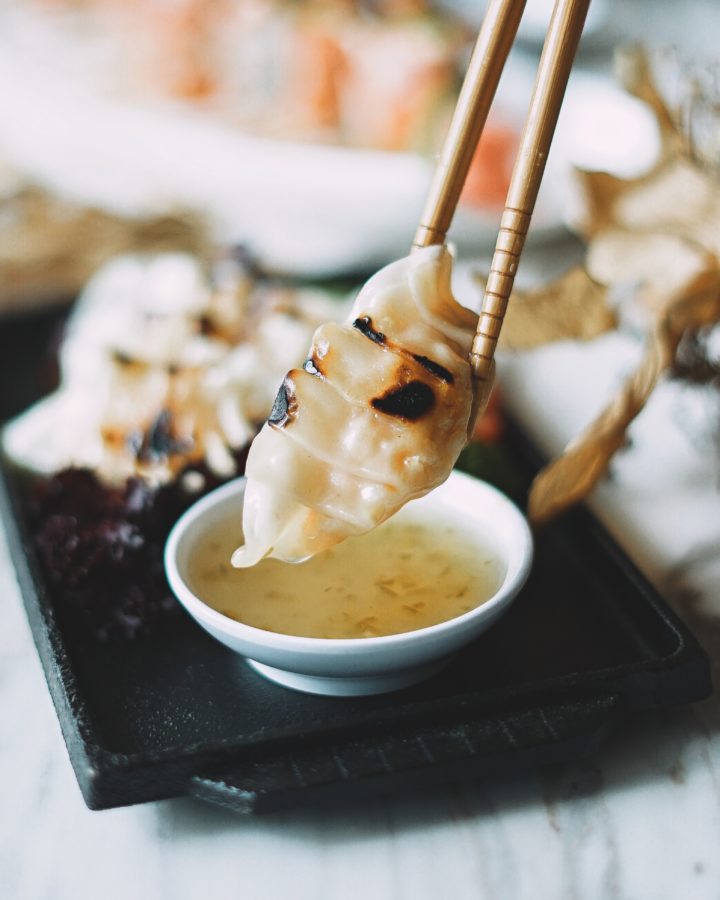 This one is not exactly in a menu, but you can always order this for a starter. It's actually pretty much like a typical gyoza, but what makes it different is the salmon filling and the thick sauce. When we tried this, some foodies found it too bland, but for me, it's pretty delicious. I get the idea why my friends thought it was bland (salmon typically has a very subtle flavour), but I actually found the salmon filling to be pretty light but unique. With a drop (or two) of soy sauce, it tasted delish!
# Loco Maguro (IDR 90 k)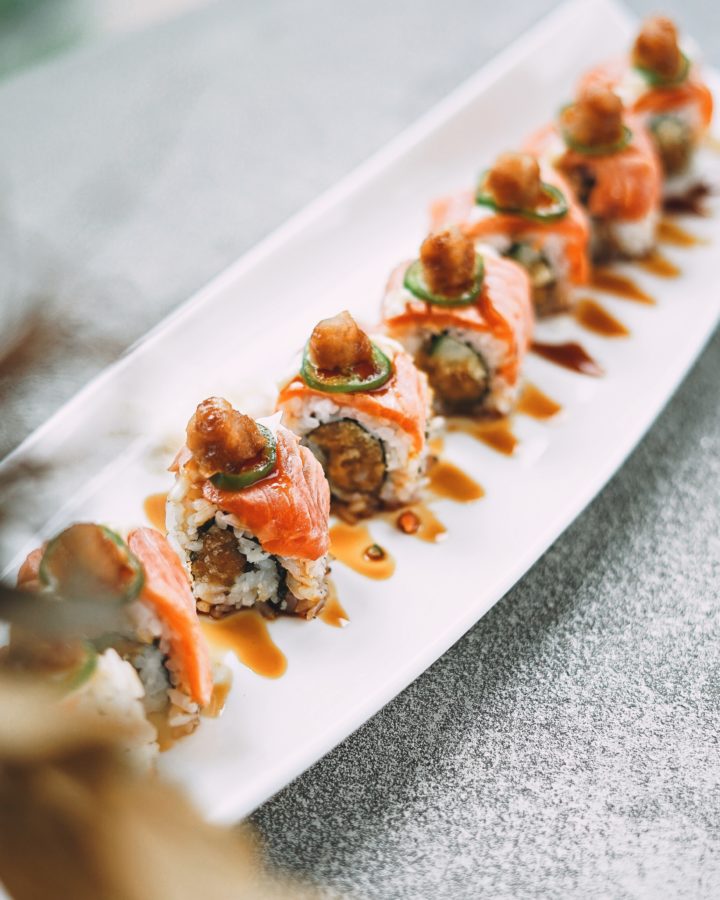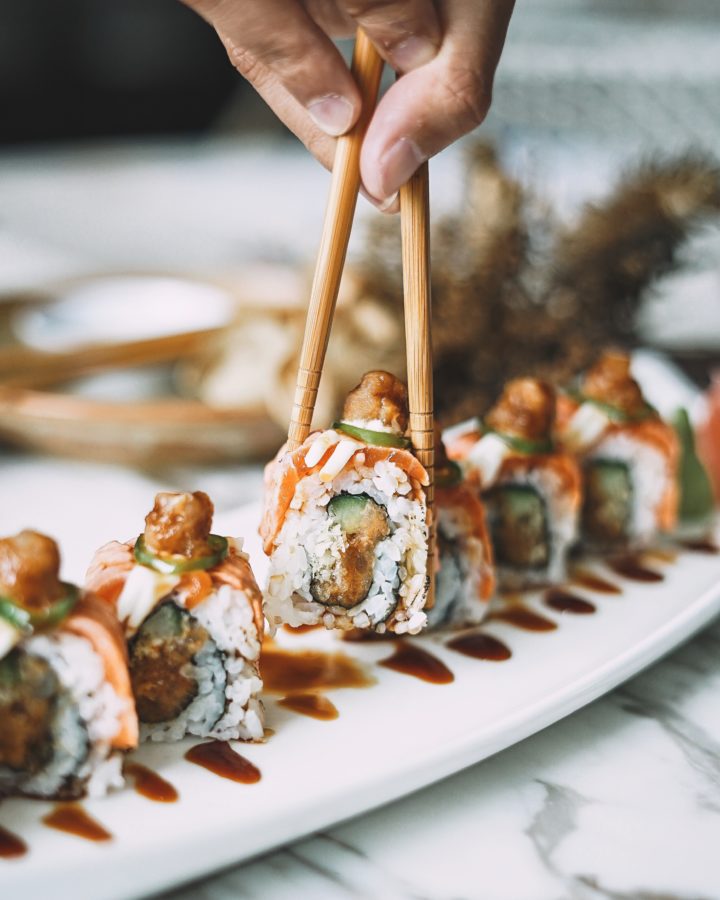 I think Fat Shogun excels in making modernized sushi like this one. The combination was rather unique especially with the slices of jalapeno on top. The generous slices of salmon aburi was the highlight of the sushi rolls, and the spicy tuna brought out a different kind of spice and flavor to the overall roll.
# Arroz Con Pato (IDR 125 k)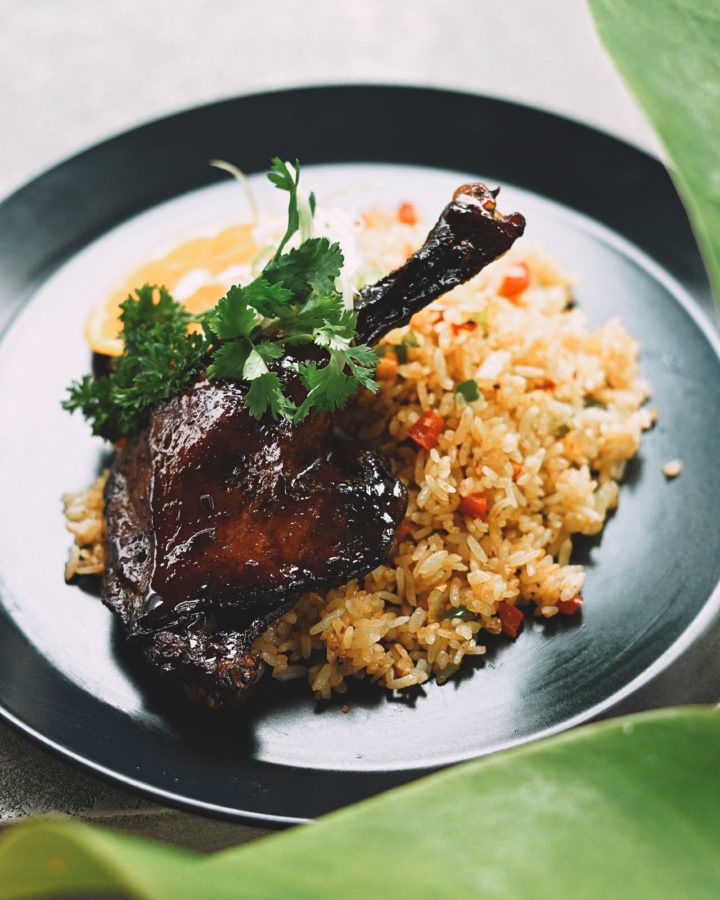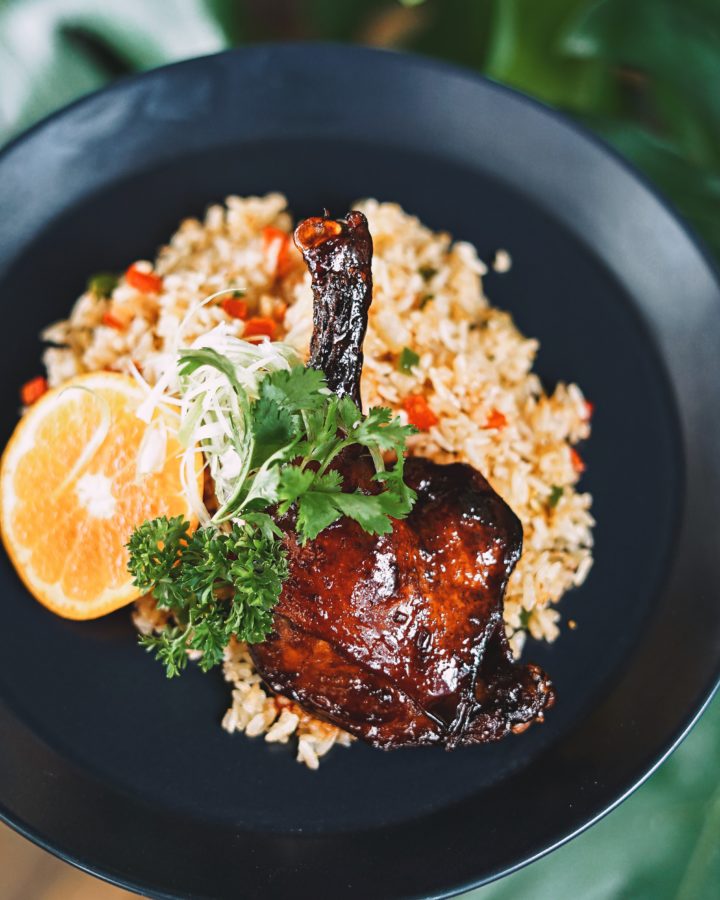 This was the second time I had this dish at Fat Shogun. The first time I had this, I remember how much I loved the tender duck with deep marination of soyu orange sauce. But this time around, I was a bit disappointed. Don't get me wrong, the duck was still as flavorful as it used to be, but the problem came to the duck tenderness. It was quite hard to separate the duck meat this time, so it seemed a bit tough. The veggie rice was alrite because it served more as a companion to the supposedly show-stopping duck.
# Gyutan Truffle Donburi (IDR 189 k)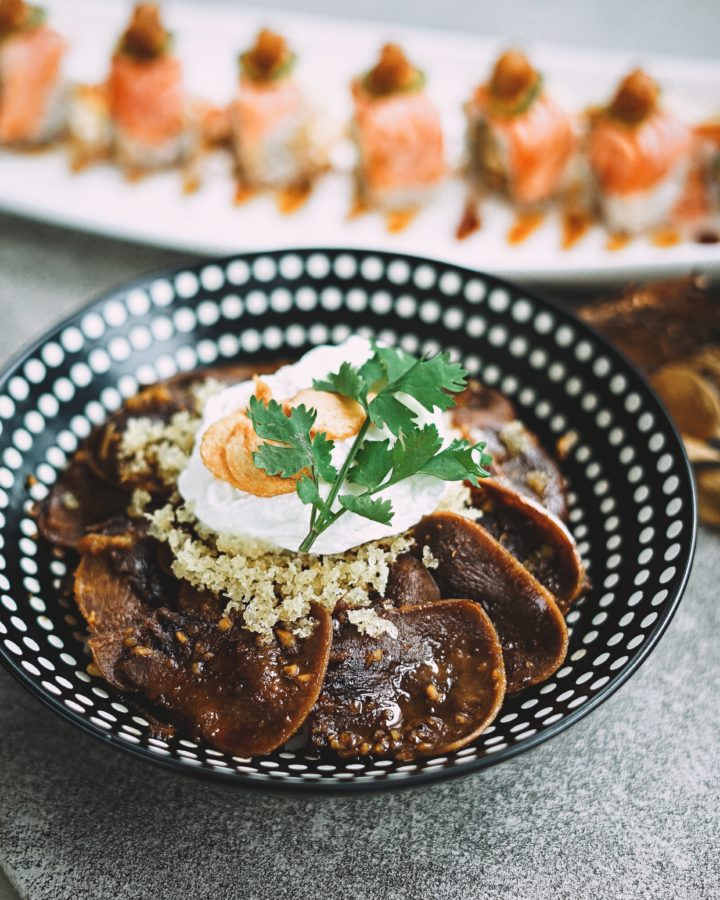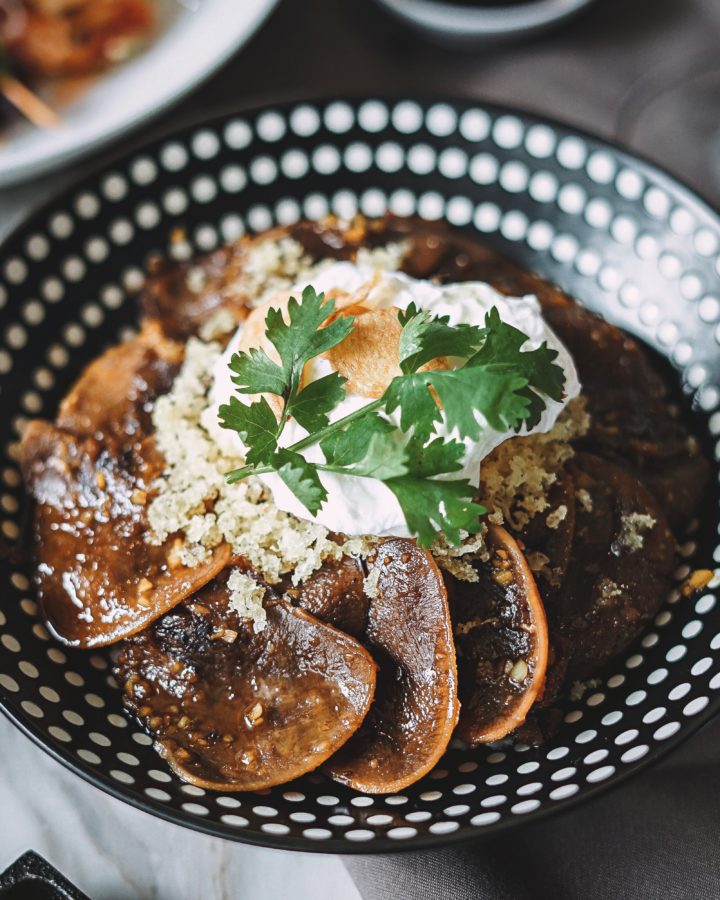 BEST DISH EVER! So, this Gyutan Truffle Donburi is simply a bed of rice, with gyutan and truffle oil. But, from a mile away, I could already smell the truffle aroma! The gyutan itself was full of flavor, super tender and perfectly coated in truffle oil. The result was a no brainer, every body (all the foodies) loved it! HERE, TAKE MY MONEY.
# Pollo A La Brassa (IDR 99 k/Half)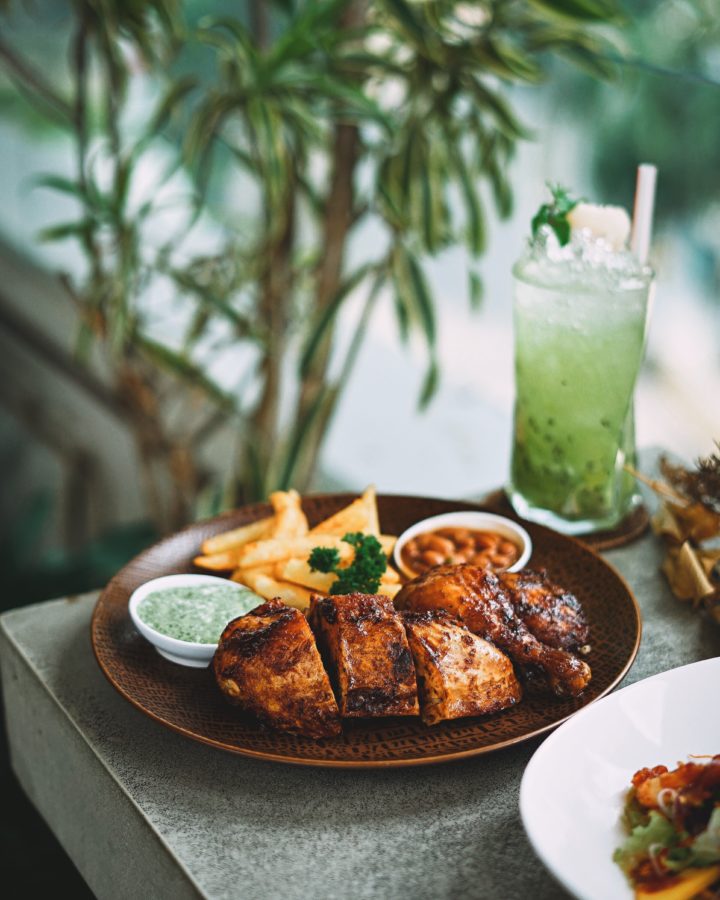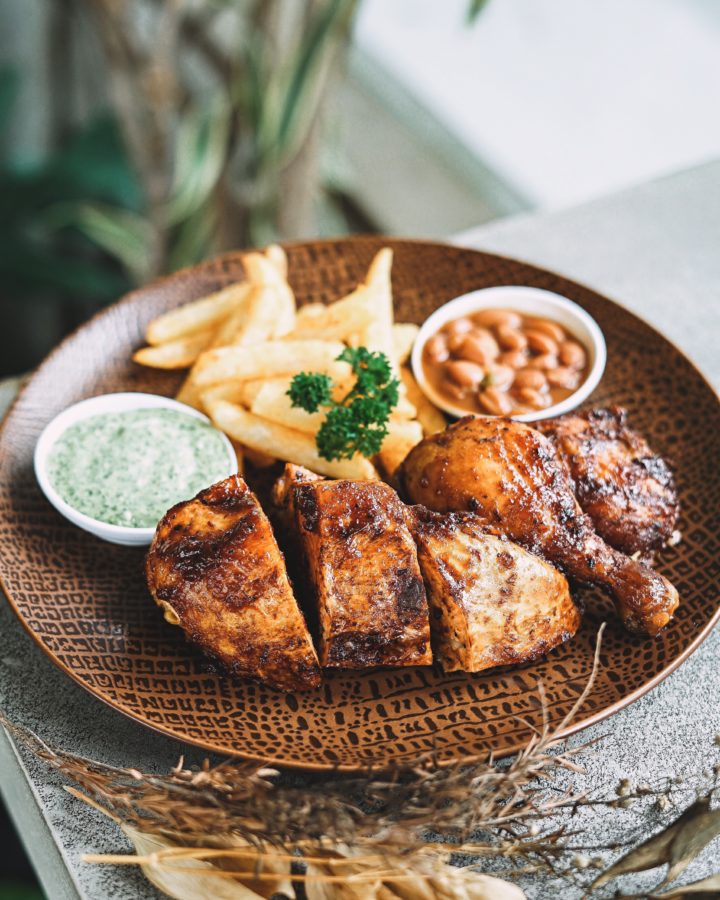 This is a Peruvian roast chicken with homemade baked beans, green sauce, served with fries. This is a dish here that I didn't really like. I think it was because of the spices, which I couldn't actually identify. It was pretty confusing for me. But the chicken was pretty tender tho.
# Shogun Cheese Smoothies (IDR 45 k)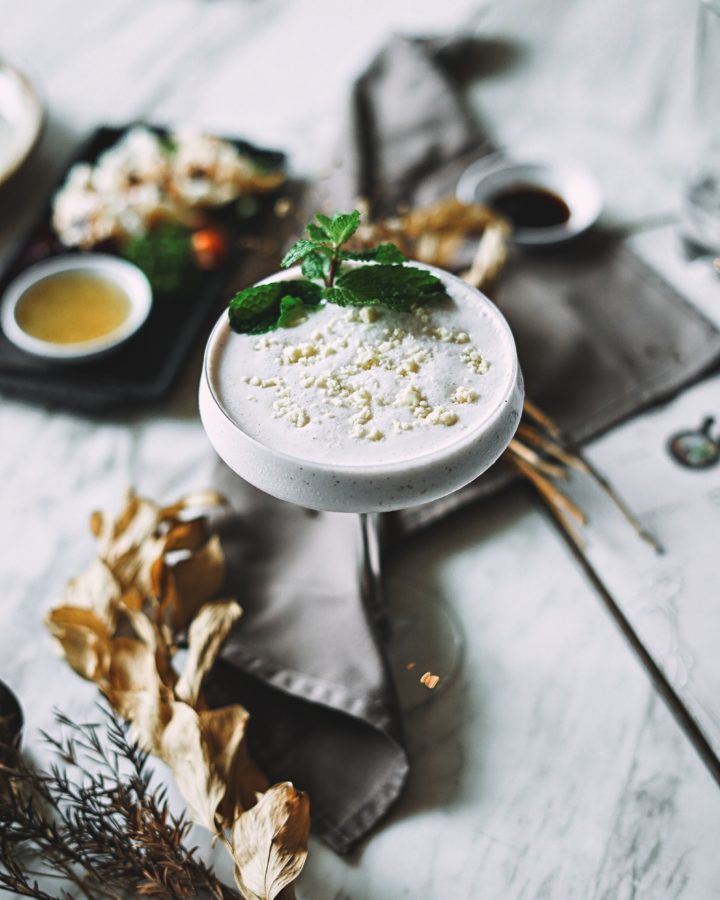 Red grapes, cheese, blueberry nectar, yogurt.
This one is a creamy and milky drink by fat shogun. After a sip, I loved the fragrant taste with smooth silky texture. But to drink this all, I'd find it a bit too heavy for me.
# Lycheeus (IDR 40 k)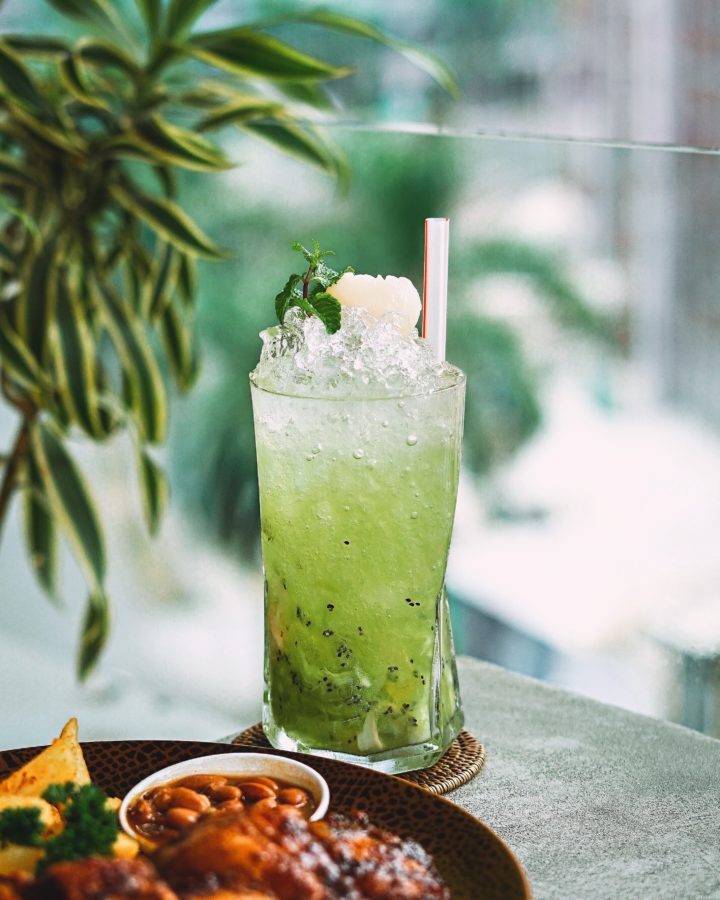 Kiwi fruit, lychee nectar, kiwi syrup, ginger soda.
This one is a refreshing piece, especially with its ginger soda and kiwi syrup. If you're a fan of the exotic ingredients, you should order this!
# Yucamochi (IDR 40 k)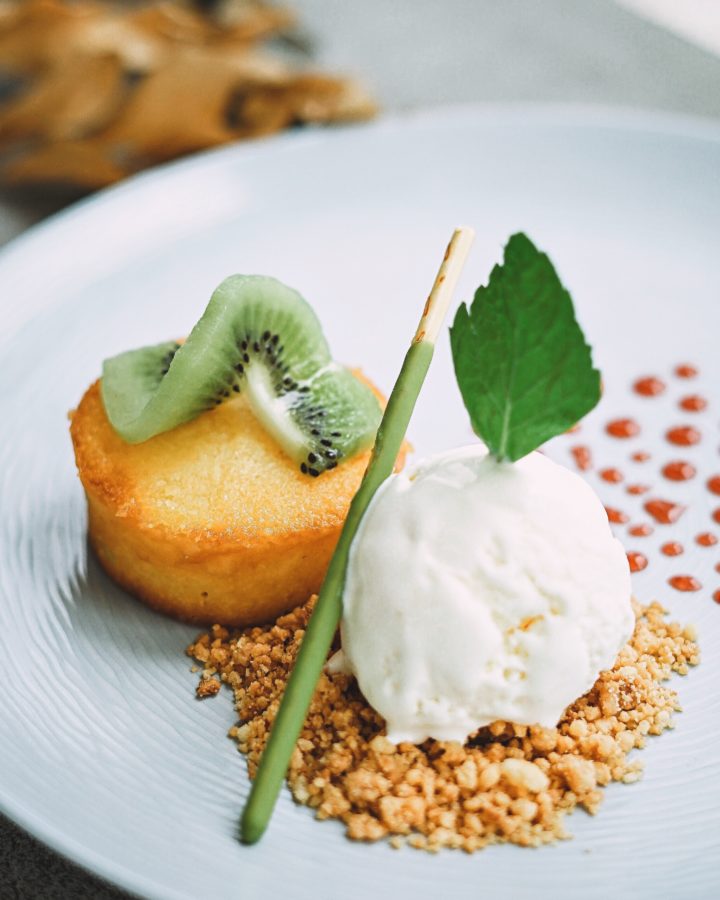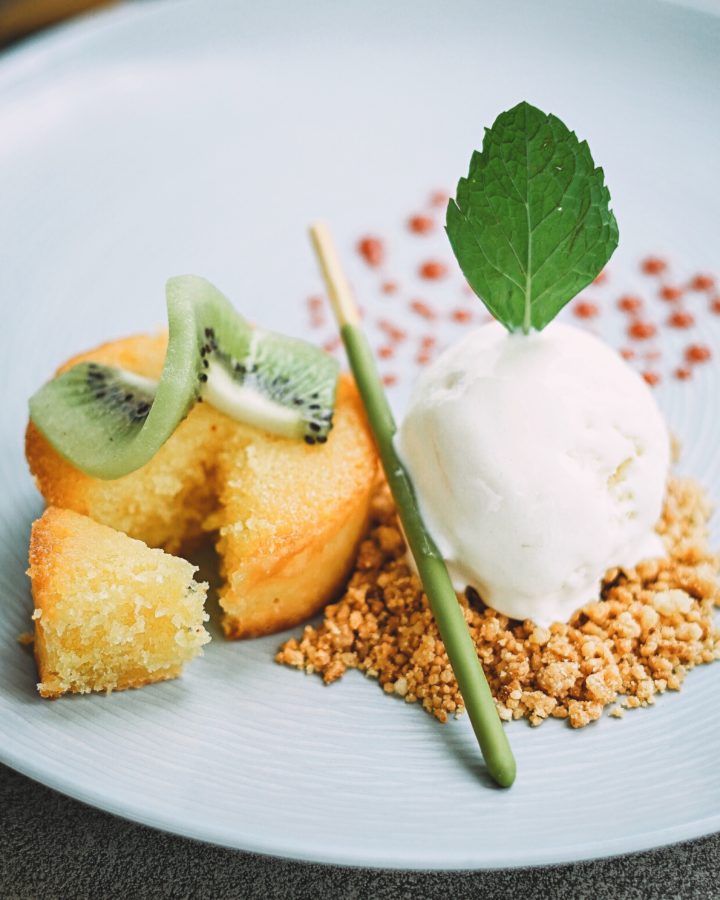 This dessert is pretty unique as it's made with cassava. It's actually cassava cake with coconut sorbet.
Fat Shogun is a right place of you wish to experience a different kind of cuisine because what they have here are often everything you might have known, but with a twist. I found that really refreshing. The chic and modern vibes contributed too in making me feel comfortable! They're pretty crowded at the weekdays, maybe because of their location, but at the weekend, I found the place quite peaceful and quiet, perfectly suitable for people to hang out and have a deep meaningful conversation. Not that any other kinds of conversation are not welcomed. =P
Anyway, try visiting this place, if you haven't! The 50% OFF discount from Chope App is quite useful too since you can cut budget to half and you can dine in without thinking much of the price tag. If you haven't had any account at Chope, feel free to sign up and you can use this referral link so you are entitled to 400 Chope-Dollars (worth IDR 100 k value) after signing up and making your first reservation.
https://cho.pe/hkX5o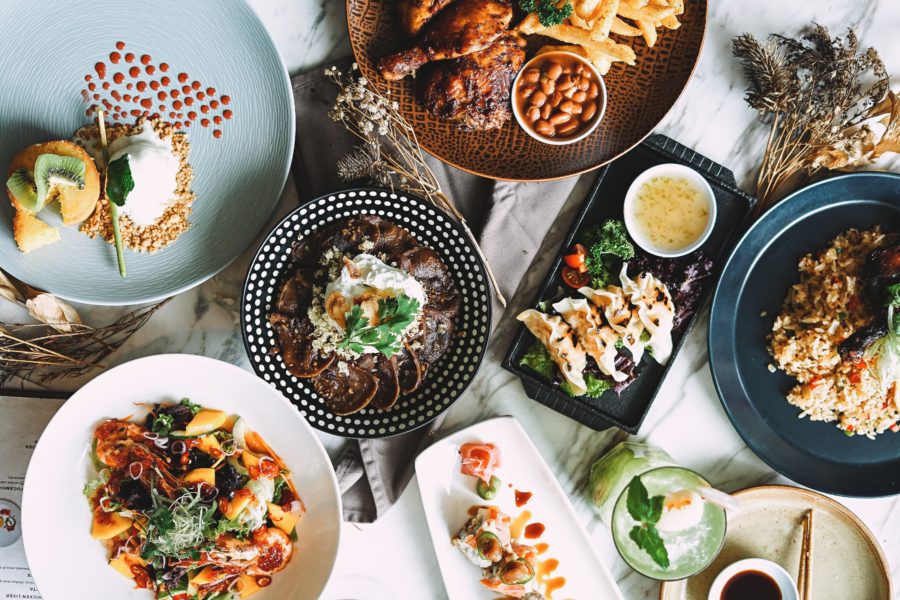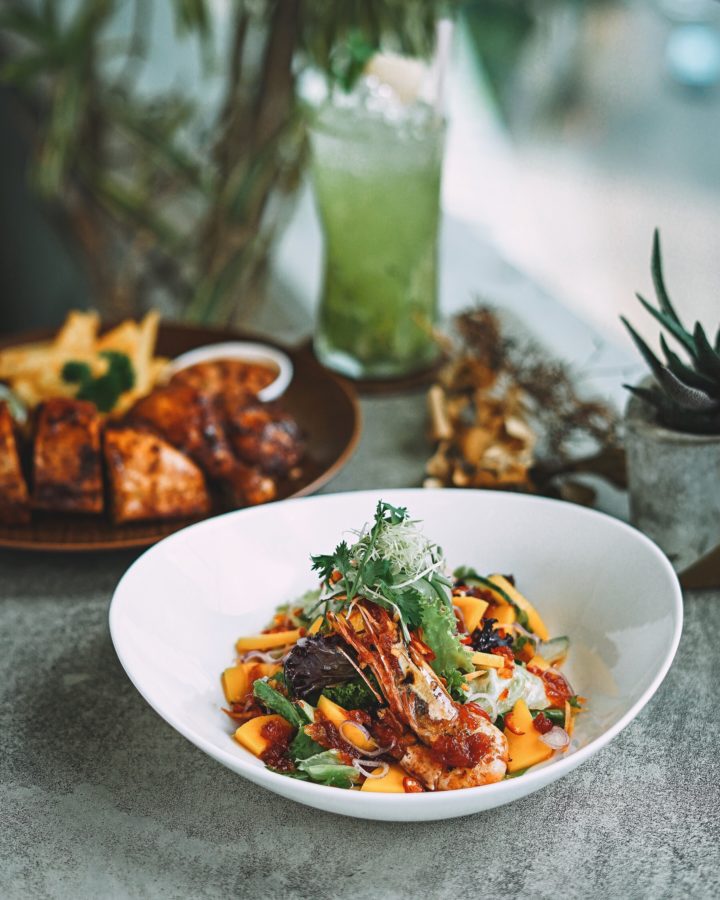 FAT SHOGUN | JAKARTA
Menara BTPN – Retail Tower, Rooftop Level
Jl. Dr. Ide anak agung Gde Agung, Kav, 5.5 – 5.6
CBD Mega Kuningan, South Jakarta City, Jakarta 12950
Phone: +6221-21889061 ext:754
Instagram: @fatshogunjkt