I've visited Convivium Bakery & Café a few times and I actually love the place ever since they relocated. The place feels bigger and more laid-back in a sense it's really inviting to sit and do some work there too, like some sort of a coworking cafe.
Concept-wise, they don't really change, as they still sell cakes (really fancy cakes), gourmet pasta and delicious pizza. Well, one thing new now is that they do serve Es Kopi Susu now, and they're pretty darn good at it.
Let's hop on to the food and drinks that I love there!
# Chick'n Waffle (IDR 75 k)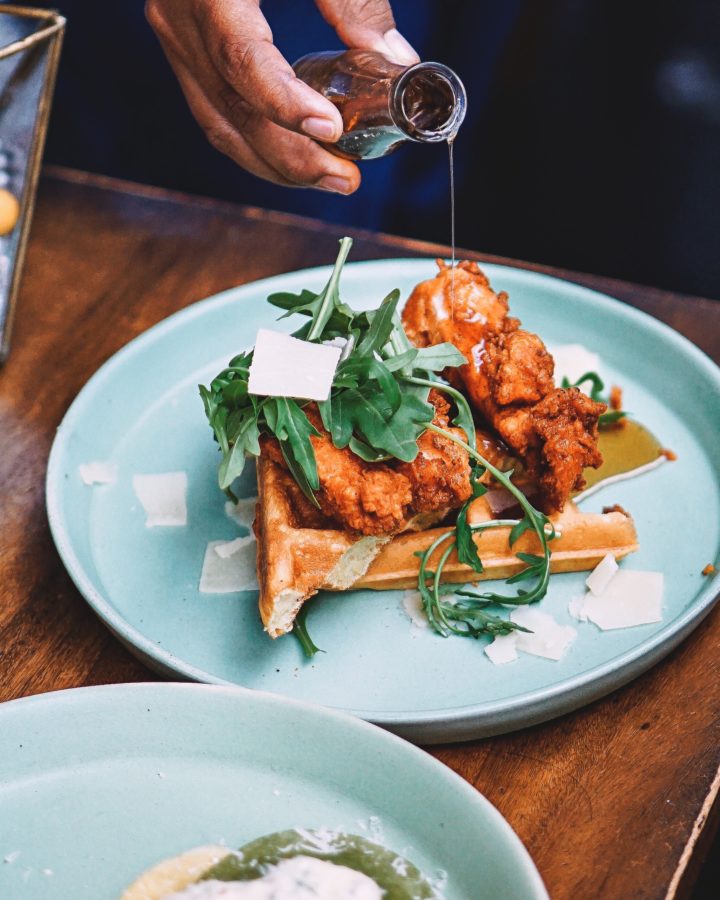 One of the best (and unsuspected) combo human ever invented is perhaps the pairing of Fried Chicken and Waffle! This famous brunch dish is a mix of savoury and sweet elements that surprisingly is just beautiful. This fried chicken waffle here was pretty great. The breaded chicken stayed quite tender and moist even after 20 min (or more) photoshoot session. The seasoning matched well with the maple syrup and it was fulfilling!
# Ravioli (IDR 85k)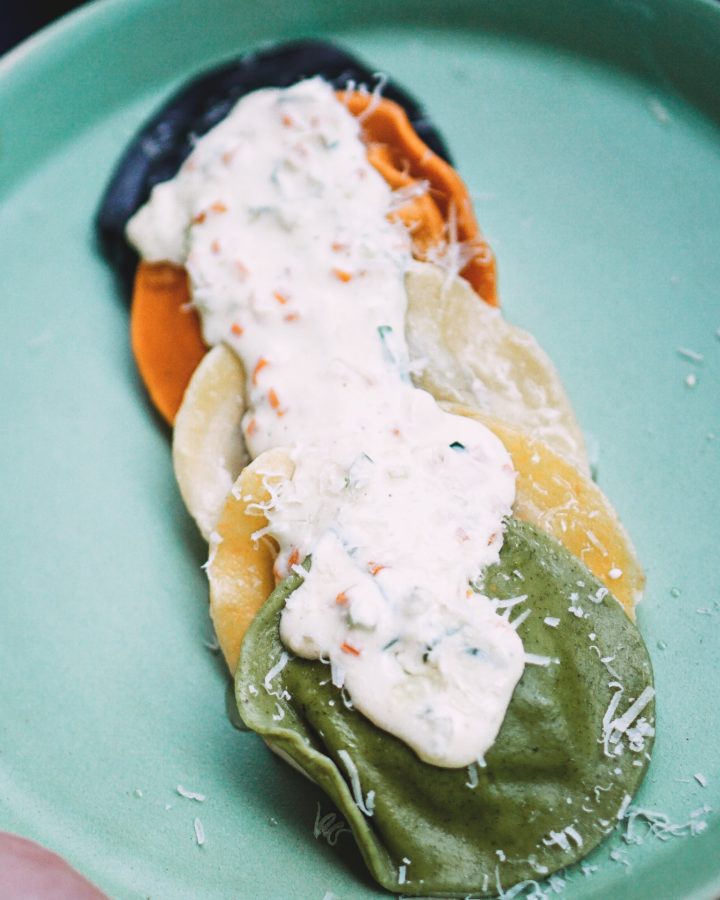 These little colourful "dumplings" with eggplant are actually made naturally with natural ingredients. The combination doesn't just please the eyes, also the tongue! The filling was delicious, and the truffle oil was super fragrant. The mirepoix cream sauce was also needed to be highlighted because it actually bound the overall elements while adding some pleasant creaminess to the pasta. Totally recommended!
# Orecchiette (IDR 85k)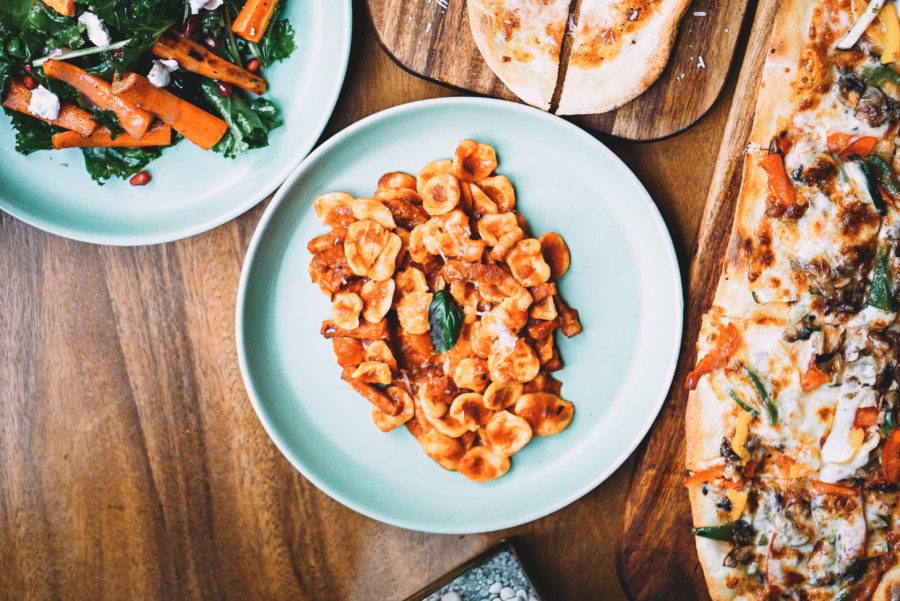 Convivium is proud about its superior pasta and I got it when tried the other one, Orecchiette, which looks very ordinary, but tbh, it was super good! The tomato sauce and onion combo was fragrant and the bacon was the key to make this whole dish truly whole. Also recommended!
# Pizza (IDR 70k – 110k)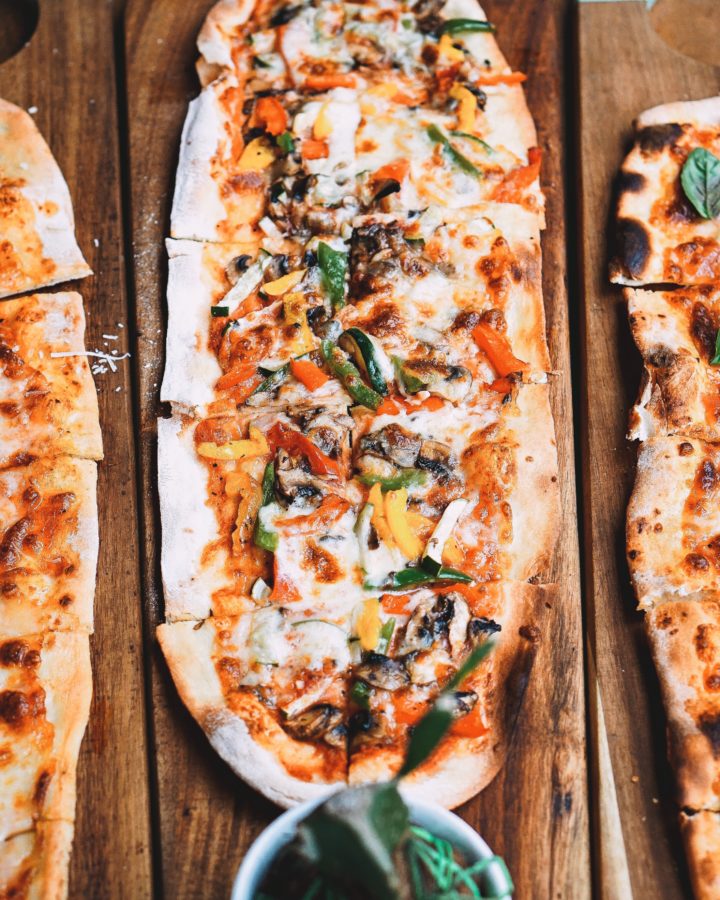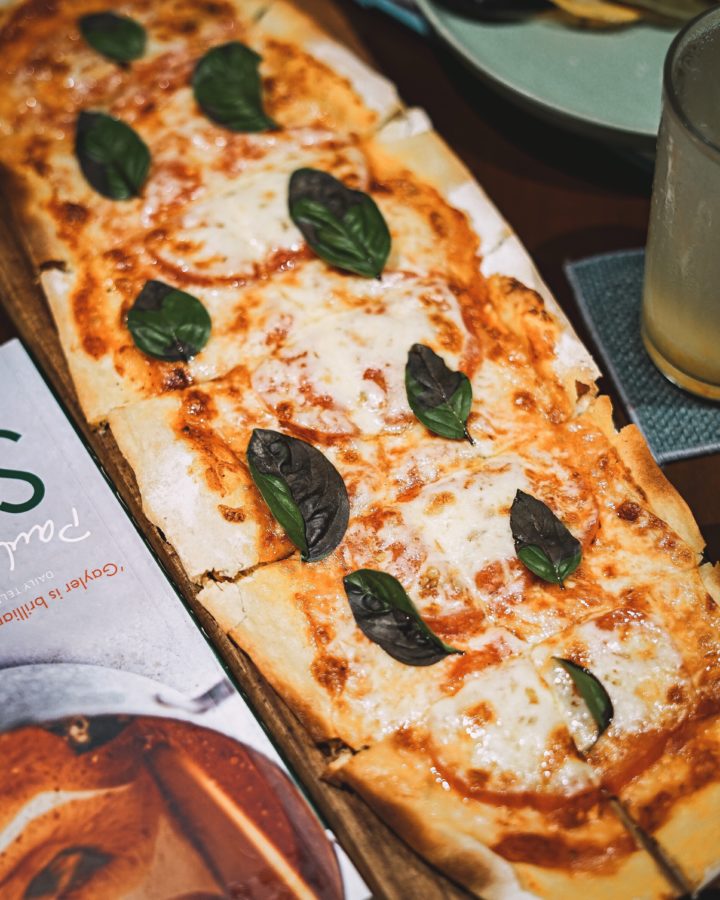 I had several pizzas here and the best one seemed to be the simpler one, Margherita, a long and crispy thin pizza with generous tomato base, mozzarella, with basil and momo tomatoes. Sweet, flavourful with full throttle cheese porn! You should also try the more colourful option, the Vegetariana Pizza, also with tomato base, mozzarella, but with merrier ingredients such as red pepper, green pepper, mushroom and zuchini!
# Charcoal Cake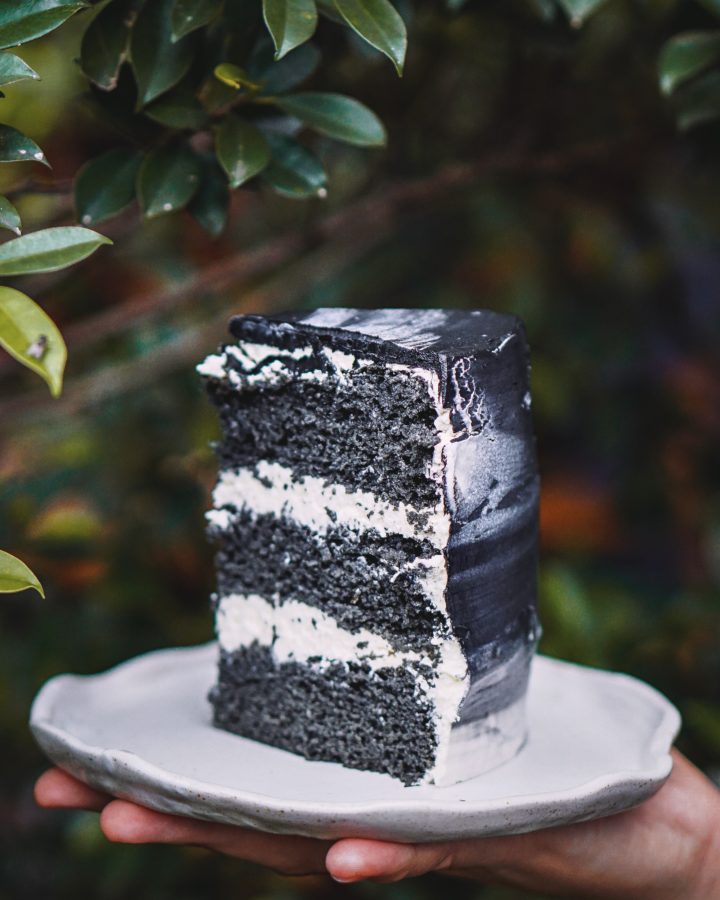 You can actually find fancy cakes here with reasonable prices. The signature one is this Charcoal Cake, a creamy spongy cake that never fails to act a sweet closure.
# Caramel Cake (IDR 50k)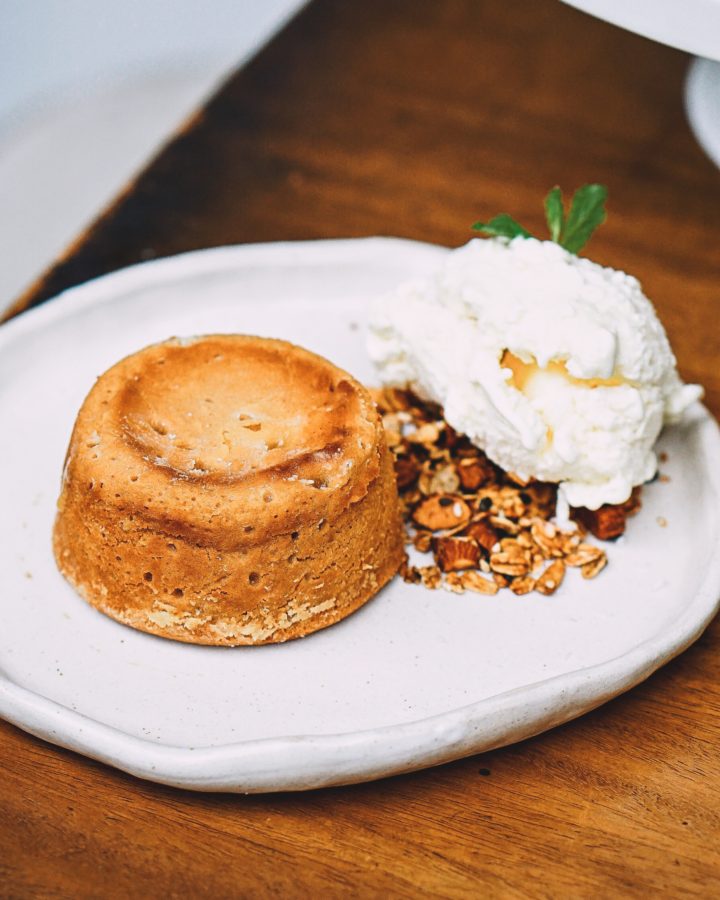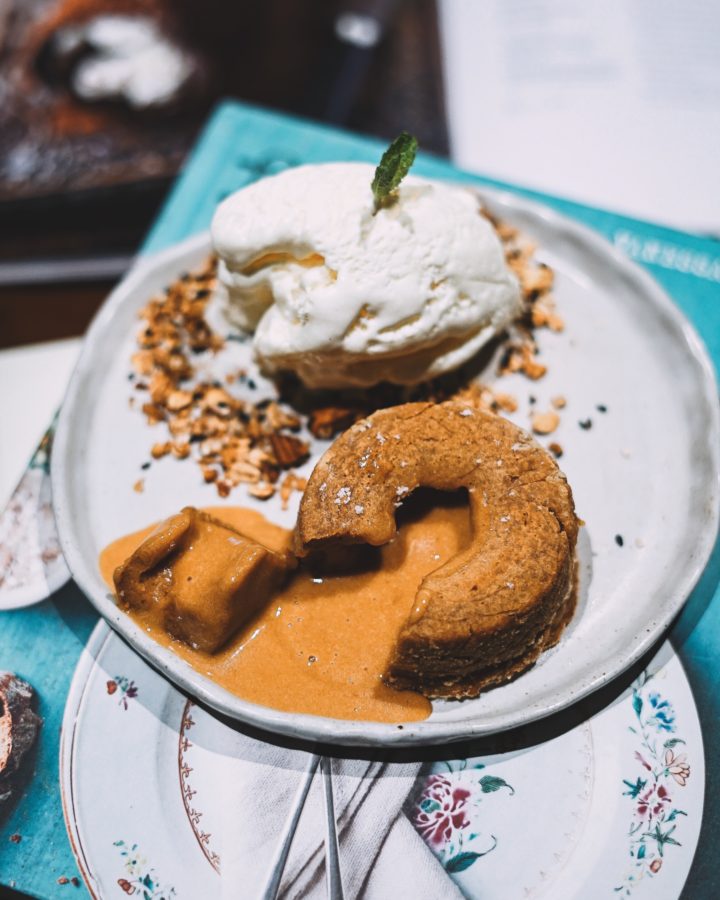 This one is also a recommendation for people with sweet tooth. The cake was pretty moist with perfect sweetness from the caramel. The luscious caramel sauce actually flooded out once we cut the cake. The ice cream and crumbles were perfect to complement it because they added texture and the coldness from the ice cream counteracted the warm temperature of the cake. They make this fresh and requires 20 mins after order. So be patient, because your patience will totally be rewarded.
# Es Kopi Susu Convi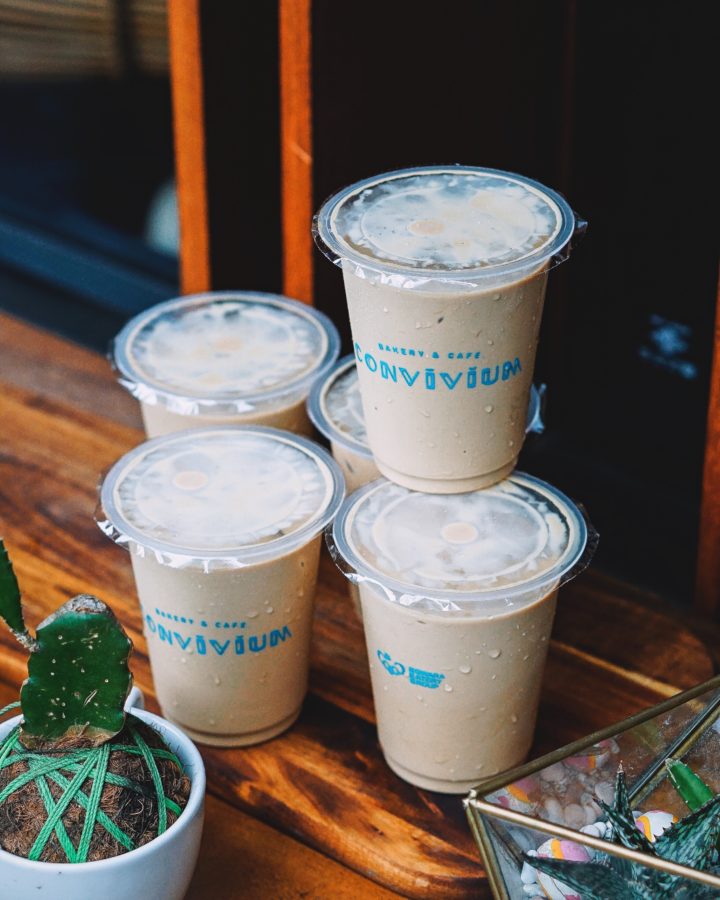 Surprisingly, Convivium takes their coffee seriously. The smooth texture from the coffee and milk was lovely for me because I hate Es Kopi Susu that either too milky or too watery.
There are other menu that I tried too because I visited this place at least 3 times (and I rarely come back to a restaurant/cafe especially ones that are this far away from my home. So, Convivium is really quite something), but I decided to share these dishes because they're what I like the most!
Anytime you crave for pasta or pizza (or both!), remember to visit Convivium. You will unlikely experience disappointing feeling here.
Oh, quick information, they're also a partner of ononHOPE App, and they are participating in HAPPY HOUR DEALS there! So, yay, this means you can reserve via CHOPE and enjoy 50% OFF from the FOOD BILL at selected timings! They're closed every Monday, but any other days except for Saturday, you can get the discount! 50% OFF is quite something, ya know!
Check out their available 50% Off Discount by clicking this link:
https://cho.pe/gZVxi
And if you're new, you can always sign up by clicking this link below and get IDR 100k worth Chope-Dollars that you can use to dine in at the available restaurants/cafes at Chope! Oh even better, you can actually redeem Krisflyer Miles too!
https://cho.pe/hkX5o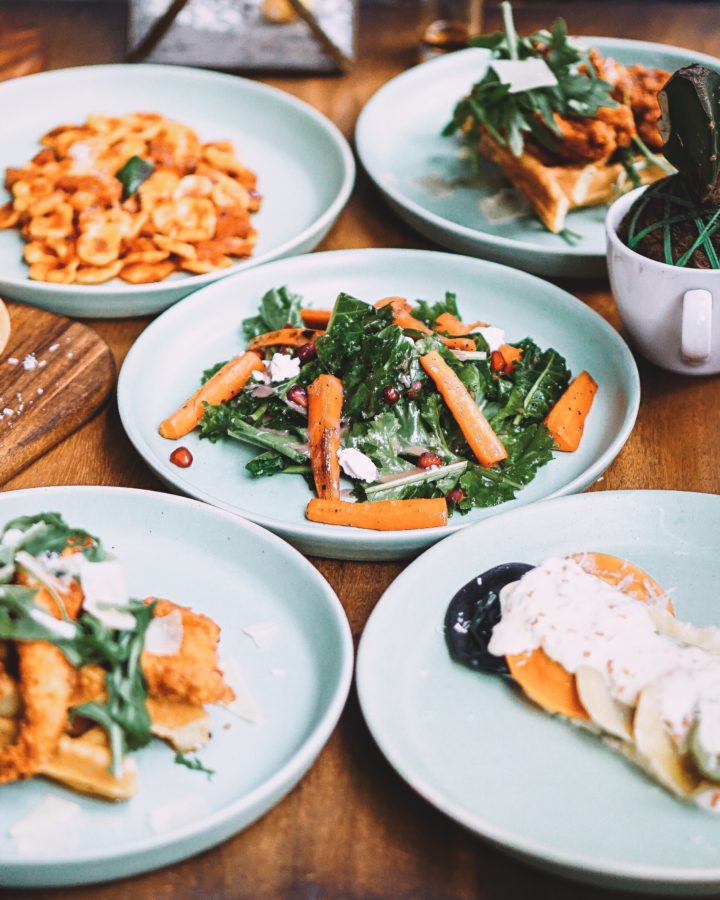 CONVIVIUM BAKERY & CAFE | JAKARTA
Jl. Panglima Polim V no. 8A
Melawai, Kebayoran Baru, South Jakarta
Phone: +6221-27081886
Instagram: @conviviumdeli
Facebook: Convivium Cafe Deli
Operational Hours:
Tuesday – Sunday 07.30 – 22.30 Local Time