A lot of us, I'm sure, is really into Japanese cuisine! The versatility and the extensive variants of the cuisine are perhaps one of the main reasons we love Japanese cuisine. There are sushi, sashimi, soba (cold/hot), donburi, ramen, stew, teppan, soup and many more that we might have not even known. No wonder so many Indonesian decided to visit the beautiful country!
But anyway, my point is, as we grow our fondness of Japanese cuisine, many Japanese restaurants also emerged in Jakarta to cater our demand. The recent one that I found and visited is Kamadoya Nizaemon, a Japanese Restaurant in Century Park Hotel Jakarta!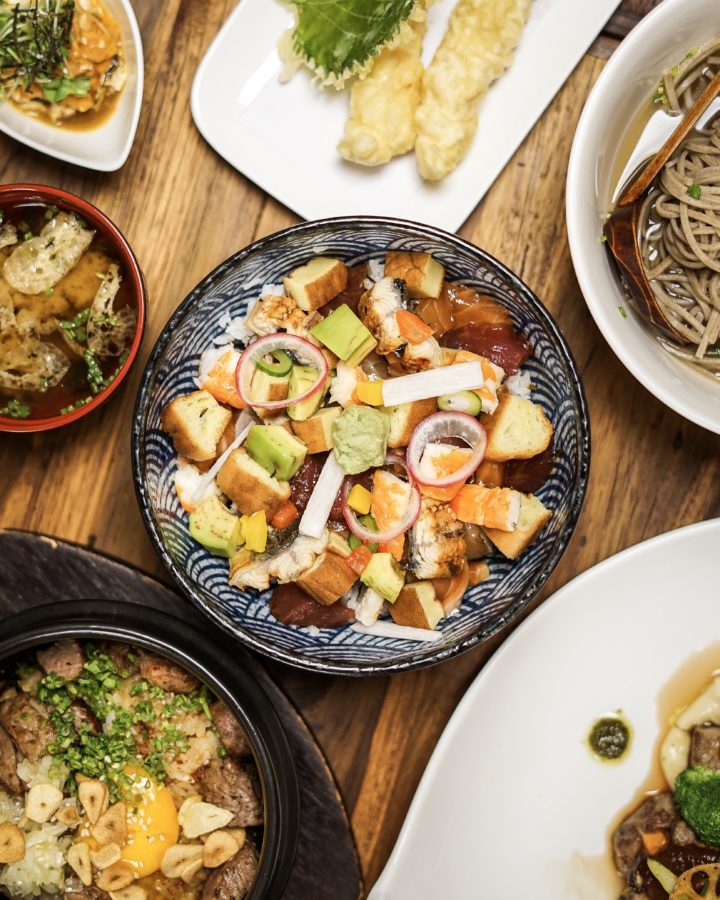 Truthfully, I had not even stepped inside the hotel after all these years in Jakarta, so I was pretty surprised to find a Japanese restaurant such as Nizaemon (not to be mistaken to a pokemon/digimon =P) inside the hotel.
Like most Japanese restaurants in upper class hotels, Nizaemon adopted authentic Japanese interior/ambiance to make patrons feel like they're in Japan. The wood they used were said to be real wood that was picked selectively to resemble to wood that Japanese people usually use to make a house/building. The ceiling was designed to be quite low, perhaps to spark a feeling of Japanese traditional building.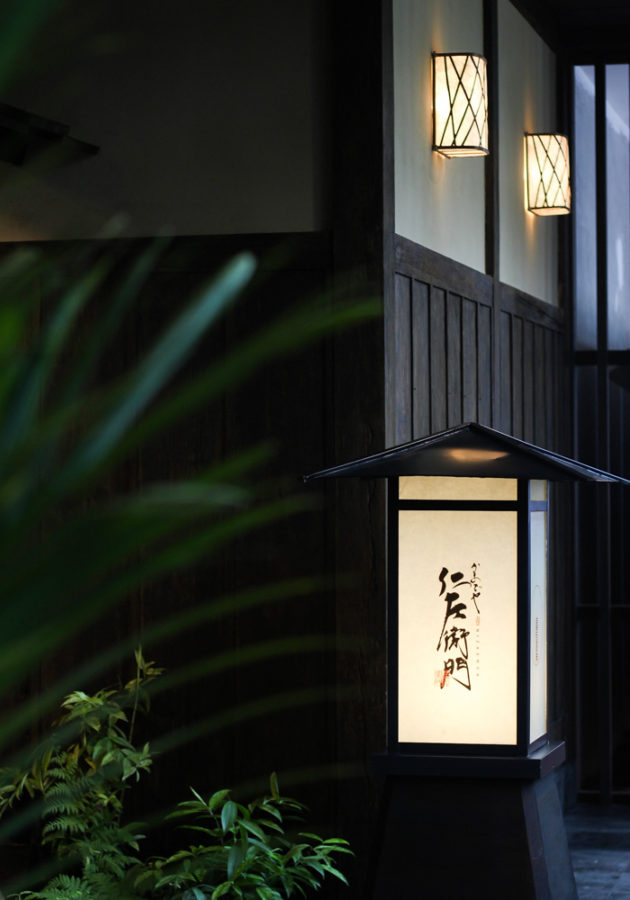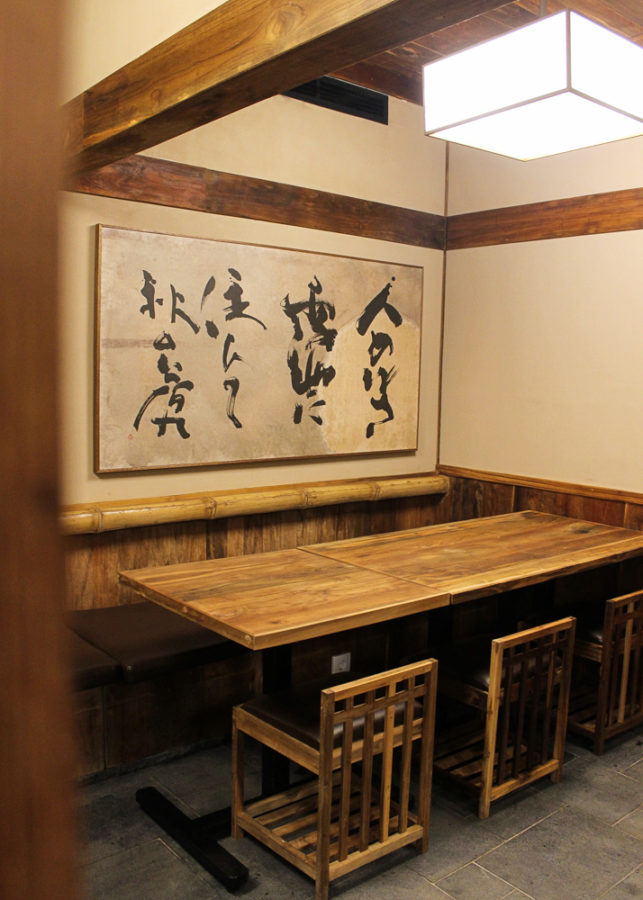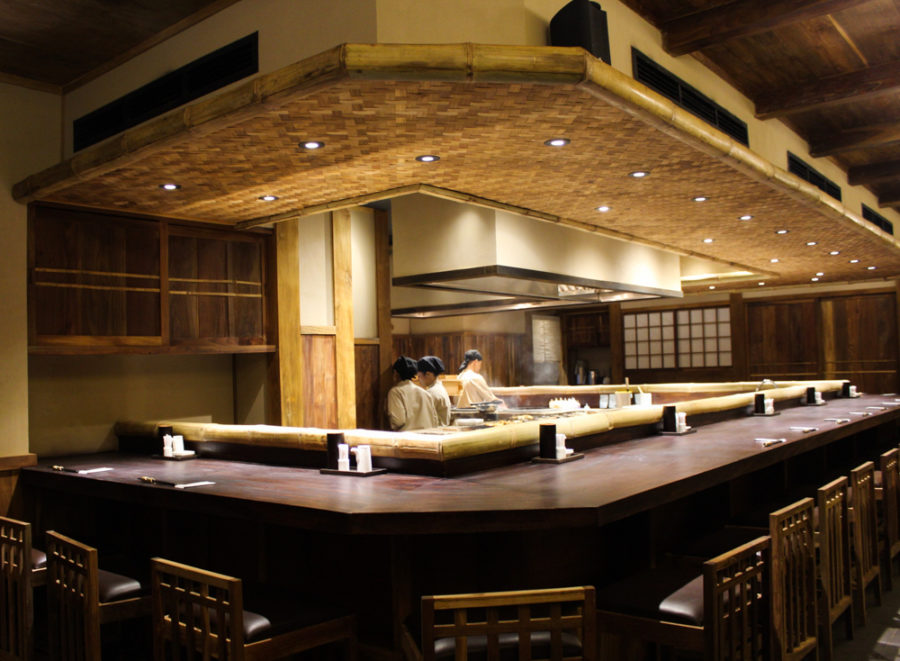 P.S. Photos of interior above belong to Nizaemon's management.
Enough about the interior because I ain't the architectural expert, like obviously.
As we checked out the menu, I realized that Nizaemon serves almost every Japanese food (salad, sushi, sashimi, hotpot, soba, tempura, seafood, beef, ochazuke, etc) I know under their roof. Having way too many selections sometimes can cause a slight confusion, especially without any visual hints to help visualize the food they serve. I'm glad there are descriptions in English in every menu to help guests (like me) that are totally clueless about the Japanese language. I really just wished they had some pictures to make the menu book a bit more exciting.
Let's check the gorgeous foods we had! Spoiler alert, they're dayum!
# Sashimi Mori Nanashu (IDR 138 k)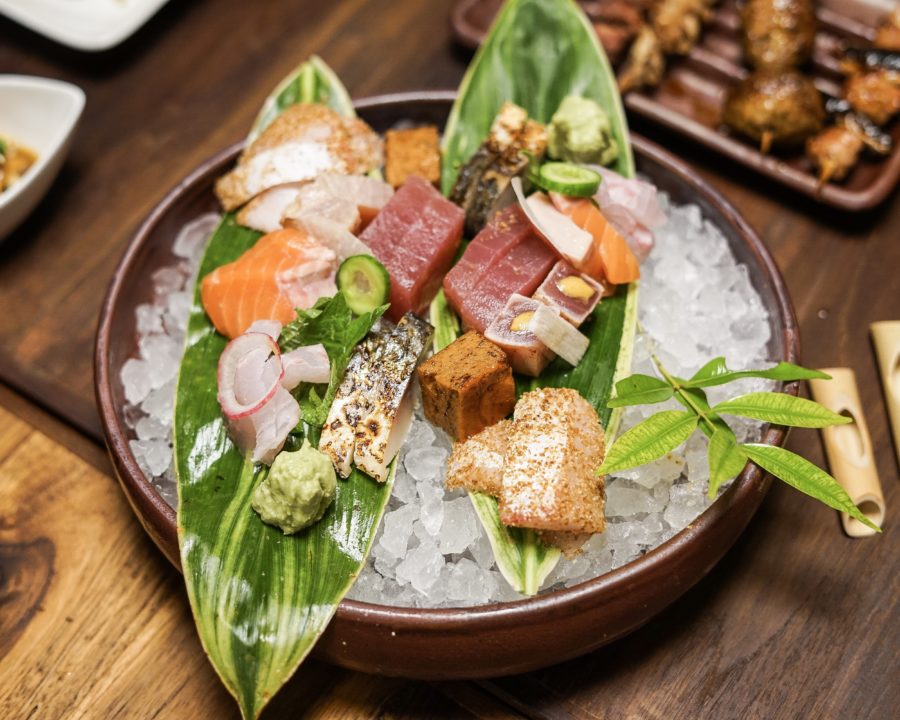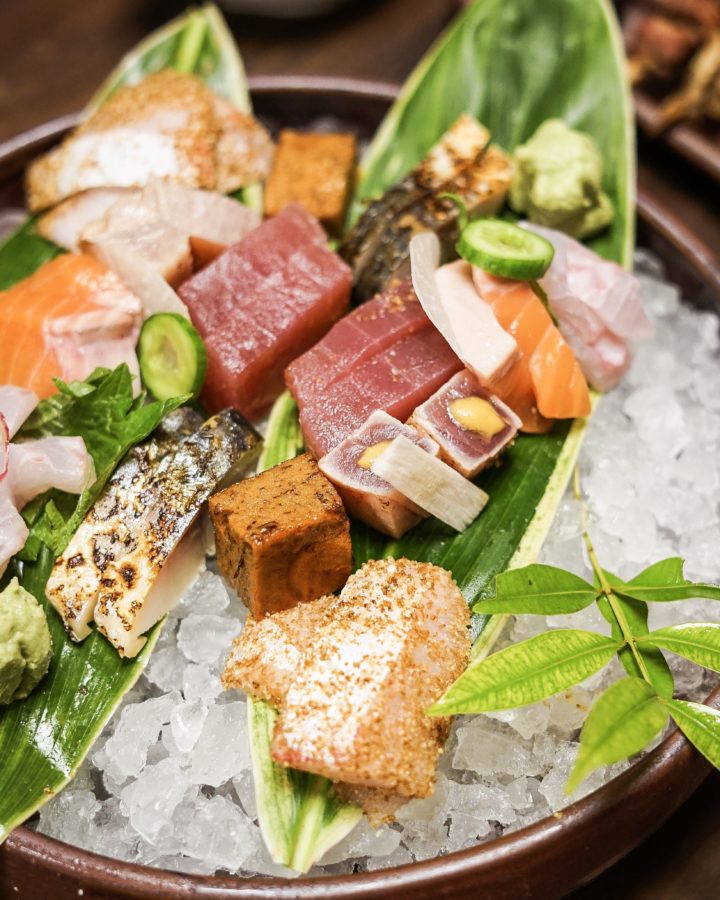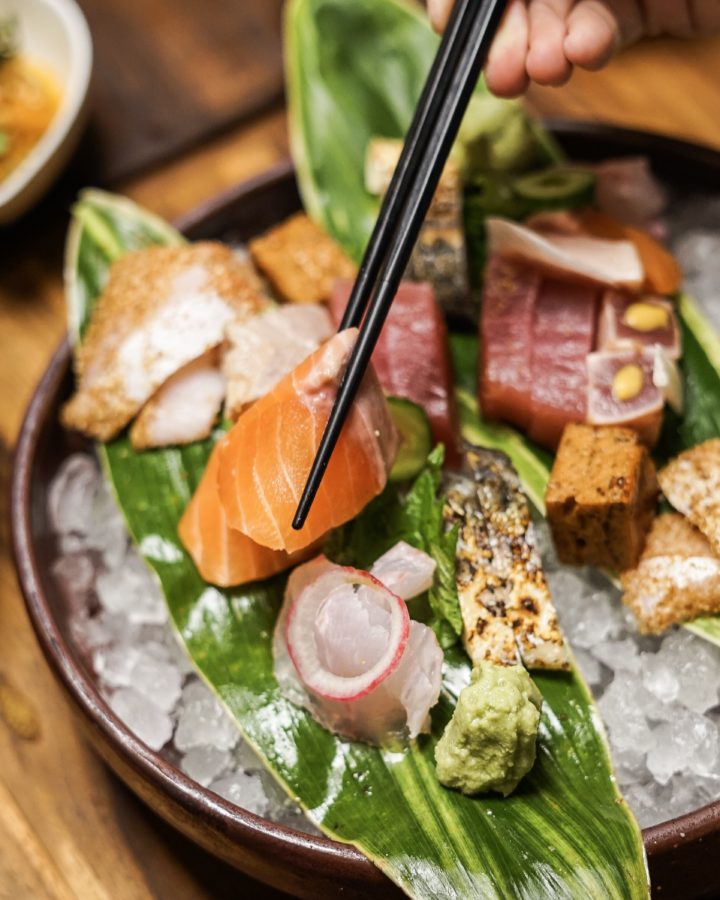 Let's start with their most beautiful plating! These sashimi slices were as fresh as they looked. There are salmon, maguro, toro, hamachi (yellowtail) and other delicious cuts, and there is also soy mousse which has this jelly-like texture with the soy sauce essence. It's totally refreshing to find this strange delicious thing that can be enjoyed with the sashimi. Oh, the plating as seen in the picture actually is specially made for 2 sets of Sashimi Mori Nanashu.
# Charcoal Grill
– Negima (IDR 18 k), Kawa (IDR 18 k), Momomi (IDR 18 k), Kimo (IDR 18 k) and Tsukune (IDR 19 k)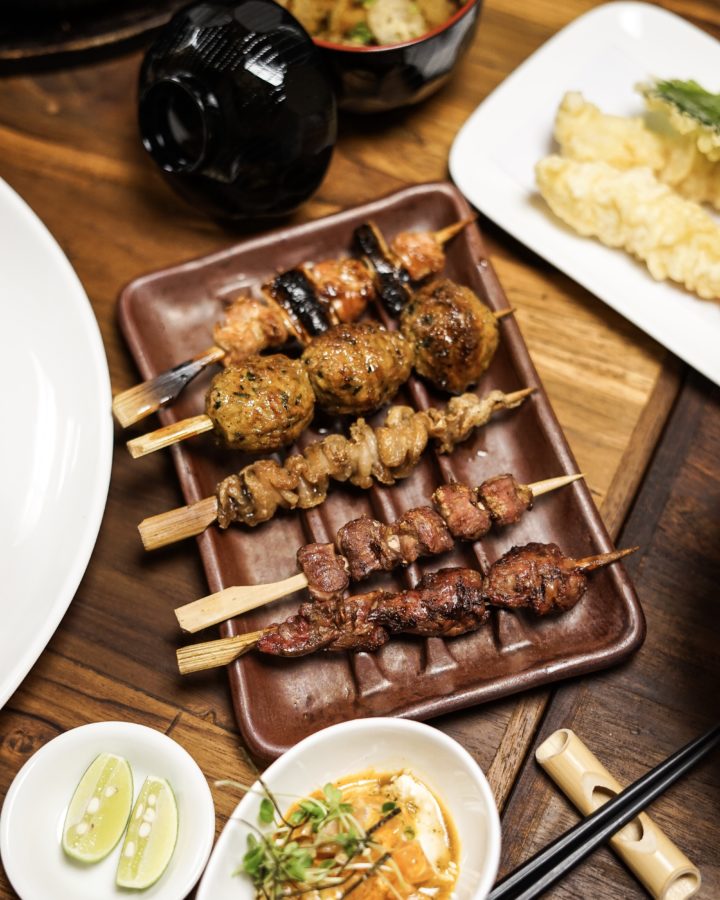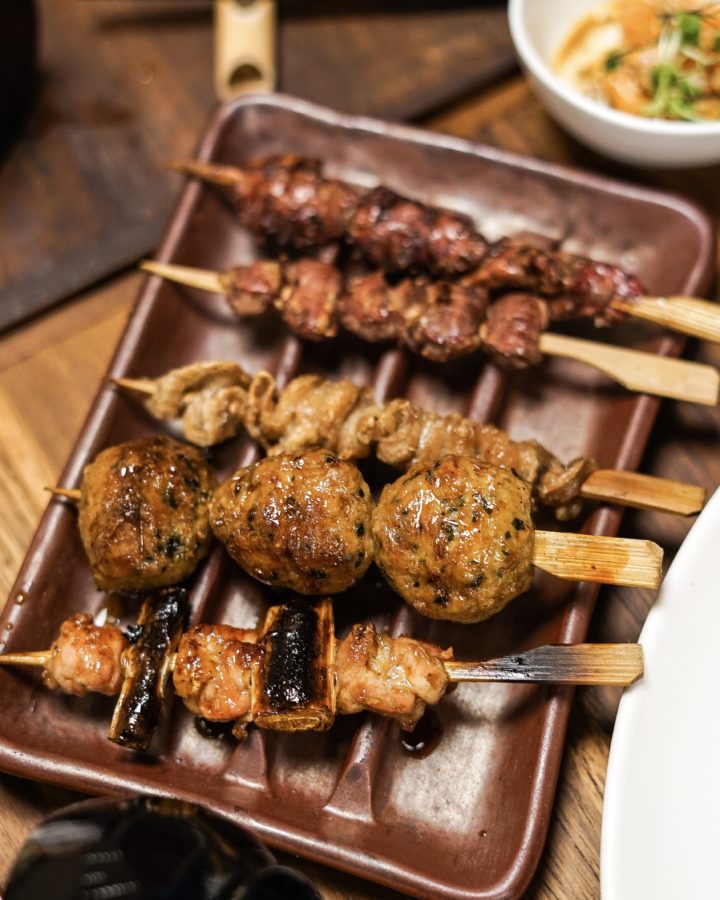 Negima is chicken thigh and leek, Kawa is chicken skin, Momomi is chicken thigh, Kimo is chicken liver and Tsukune is Chicken Meatballs. The ones that I like are of course the crispy chicken skin/kawa, negima and the meaty tsukune. There were hints of distinctive smoky flavour that enveloped the chicken, which I really liked.
# Gyu Sirloin Ami-Yaki (IDR 198 k)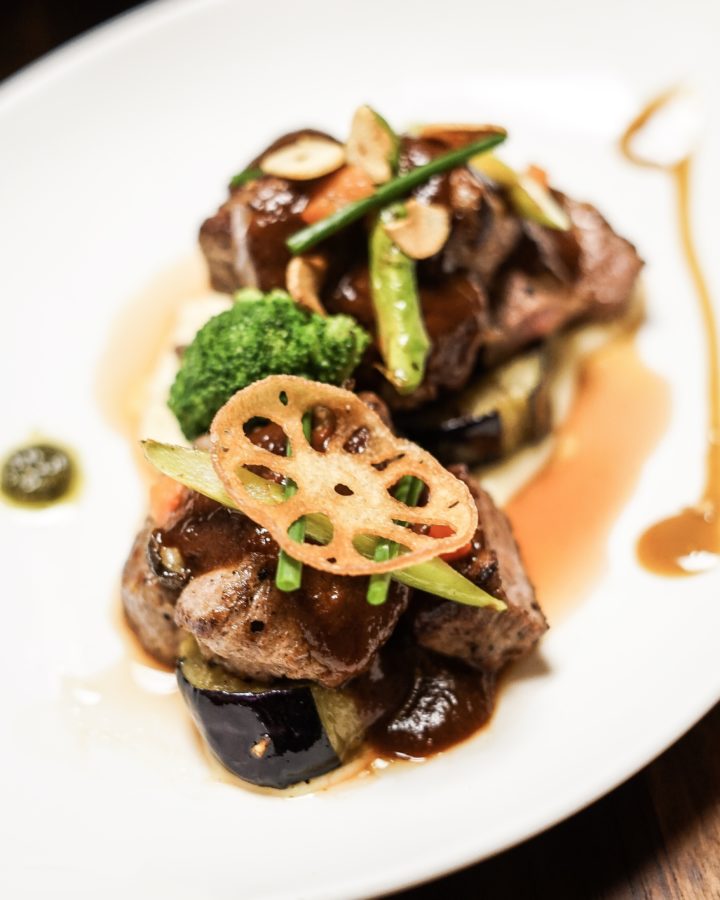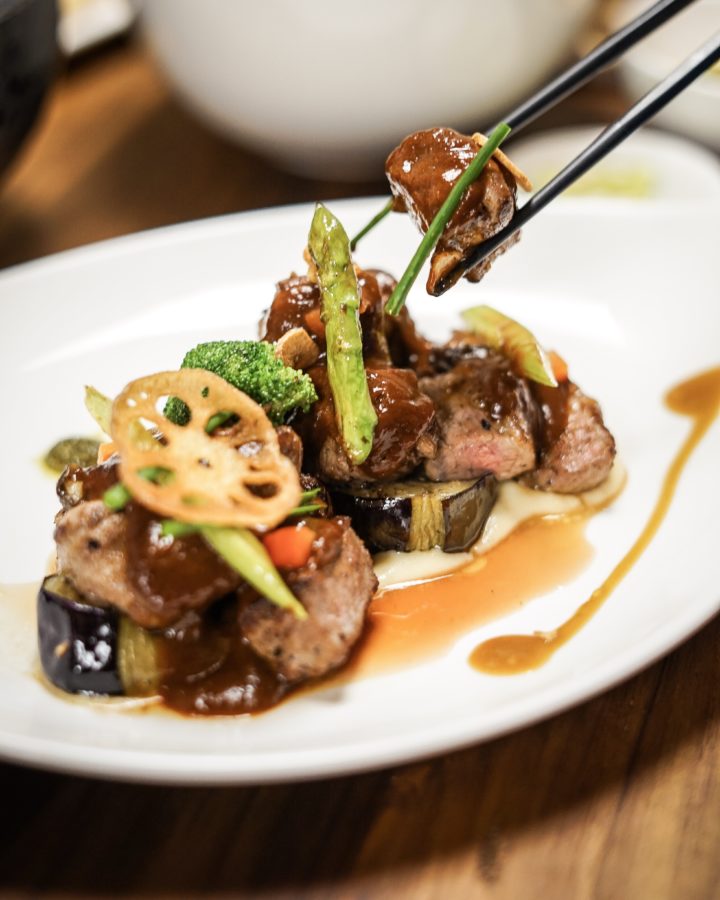 These beautiful pieces of meat are actually Grilled Sirloin Beef. It was plated beautifully as if it's a garden of beef. The sirloin chunks were beautifully done, that it still retained the succulent texture while drenched with the rich spiceful sauce. It tasted hmm, sophisticated, with sweet-ish and umami flavours.
# Beef Tamanegi Ishiyaki Meshi (IDR 108 k/Small; IDR 133 k/Regular)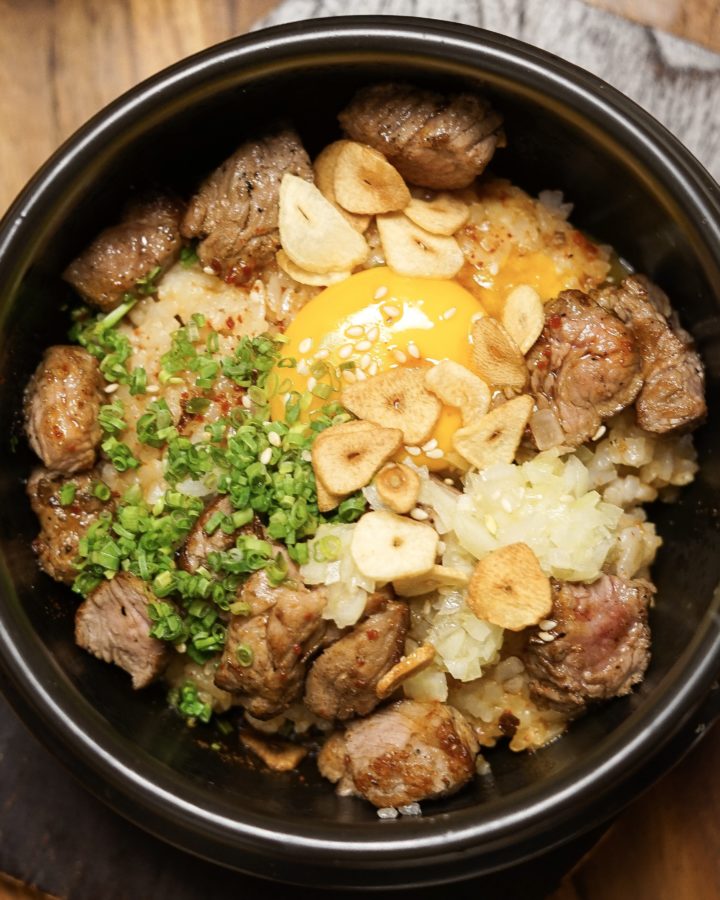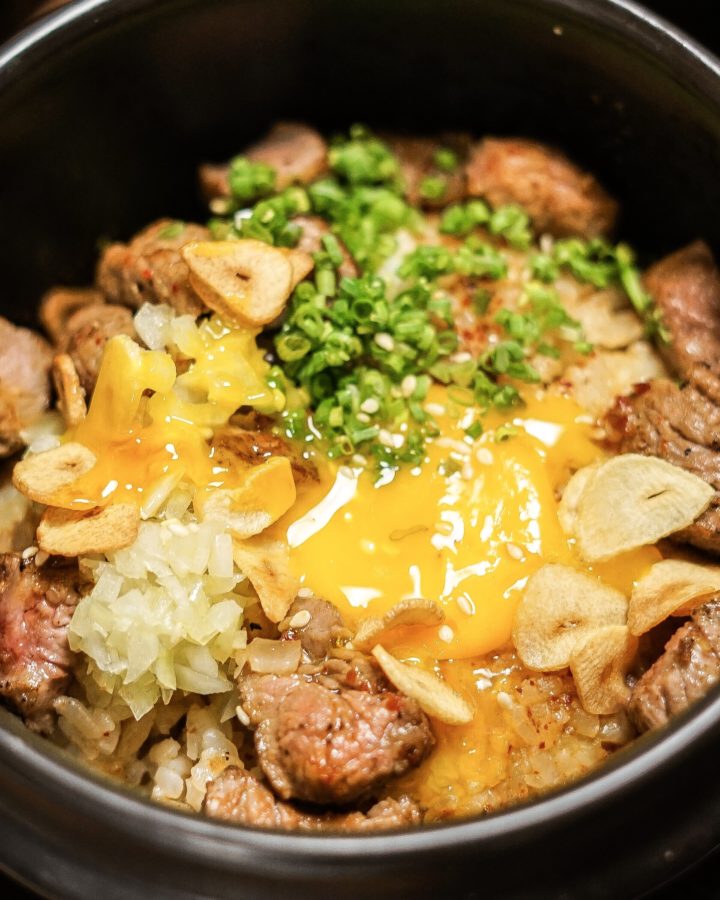 THIS ONE IS A FAVORITE! I'm sure you will like it too. It's a Japanese rice dish in a hot pot, with beef, garlic and onion (and egg!). It was served super hot, so that we could mix it ourselves with the beef, egg and other ingredients. As a result, it turned out to be quite fragrant, and at the bottom, there was this burnt rice that tasted super good! It's always fun eating this kind of rice bowl, which I can always cook the whole thing to my preference. Some people will like it damp, but some people will like it overall dry. With the hotpot, feel free to mix 'em all to your liking! TOTALLY RECOMMENDED!
# Tempura Soba (IDR 93 k)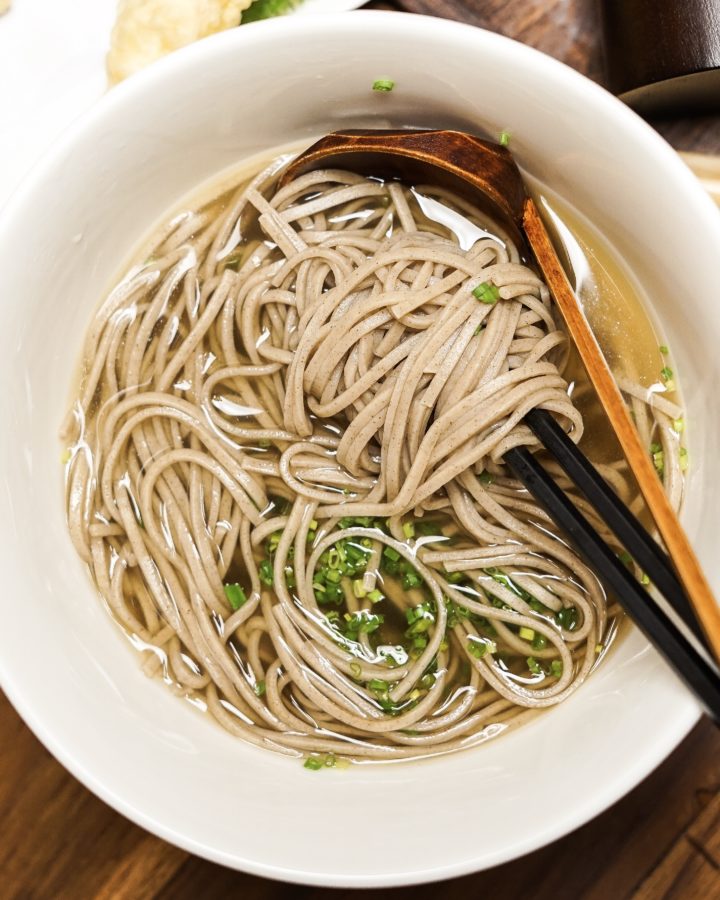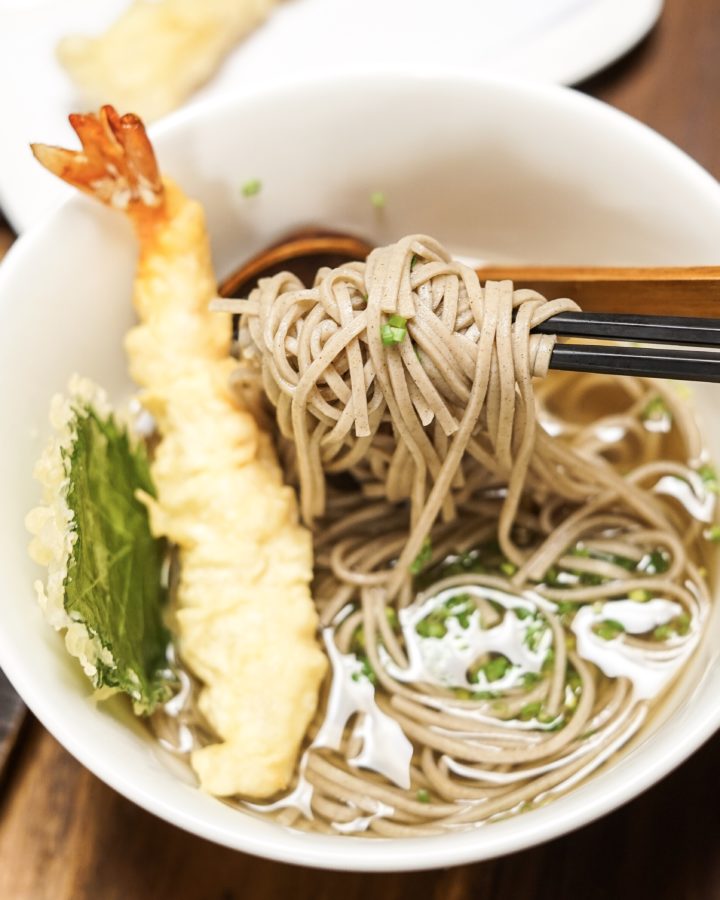 Noodle-lovers, here's your Hot Soba with tempura. The broth of the soba is clear and light in texture. TBH, it wasn't too fragrant probably perhaps because it doesn't want to overshadow the soba (buckwheat noodles). The tempura itself was pretty good.
# Chirashi Sushi (IDR 178 k)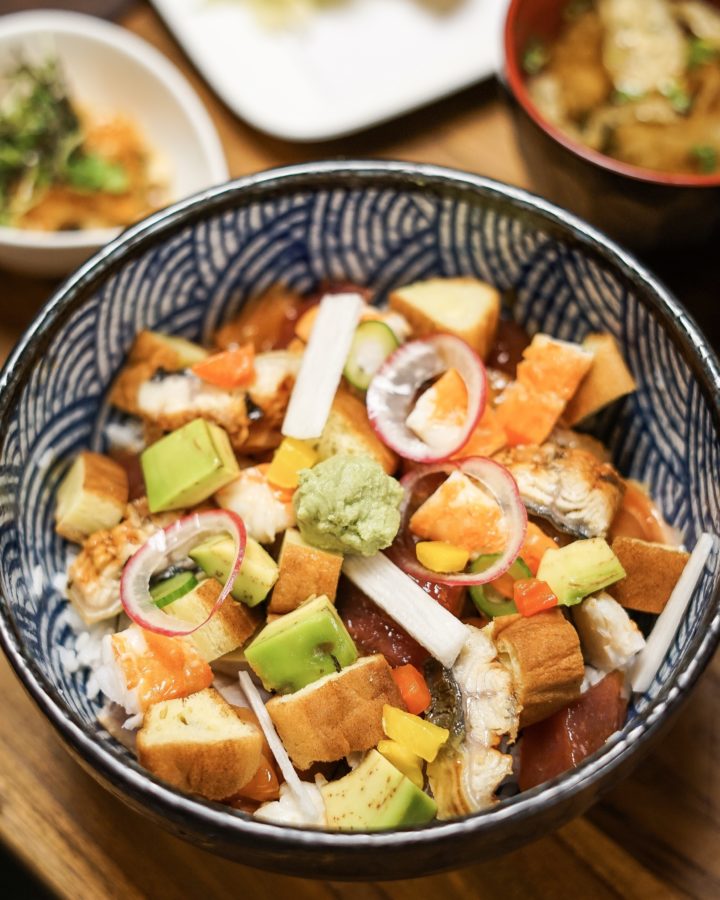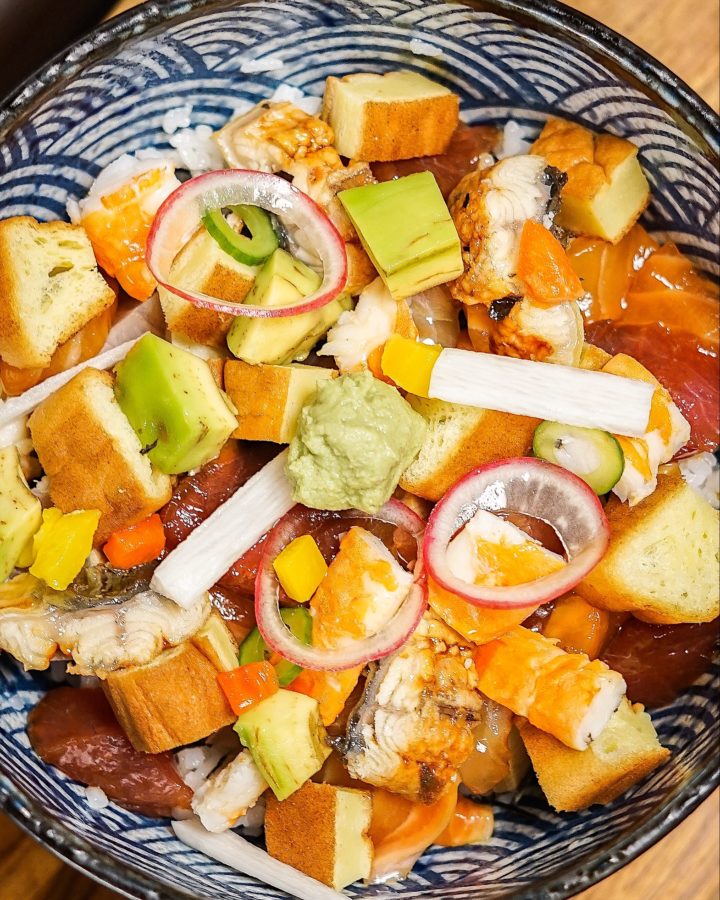 As a fan of Chirashi, I should say that Nizaemon really shines in this department! It's most-likely because they have really fresh ingredients and the whole assorted raw fish was dayum! The rice itself was nice, fragrant and had perfect acidity to blend with all the fish cuts. There was these chunks of spongy tamago which had perfect sweetness and fluffiness. This Chirashi IS totally recommended!
The whole dining experience really fulfilling! I think Nizaemon is one fine Japanese Restaurant that excels in authenticity and freshness. The best part for me personally is that the price range is totally reasonable for a restaurant this good!
They also serve lunch set menu, which starts from IDR 93 k to 198 k! Perfect for a quick satisfactory lunch or business lunch with business partners and/or colleagues. And FYI, they a NO PORK Japanese Restaurant!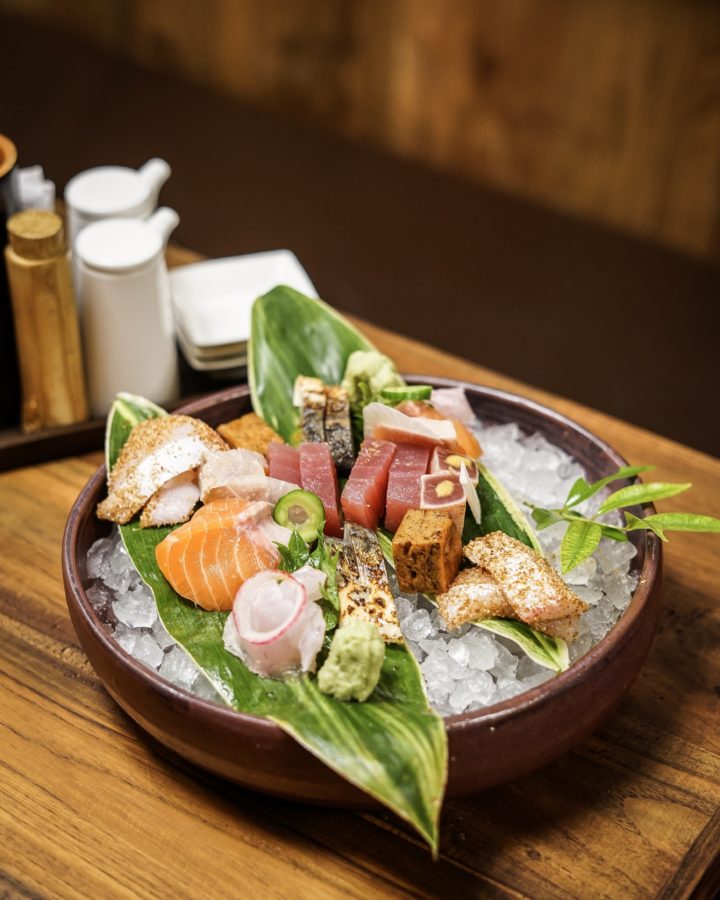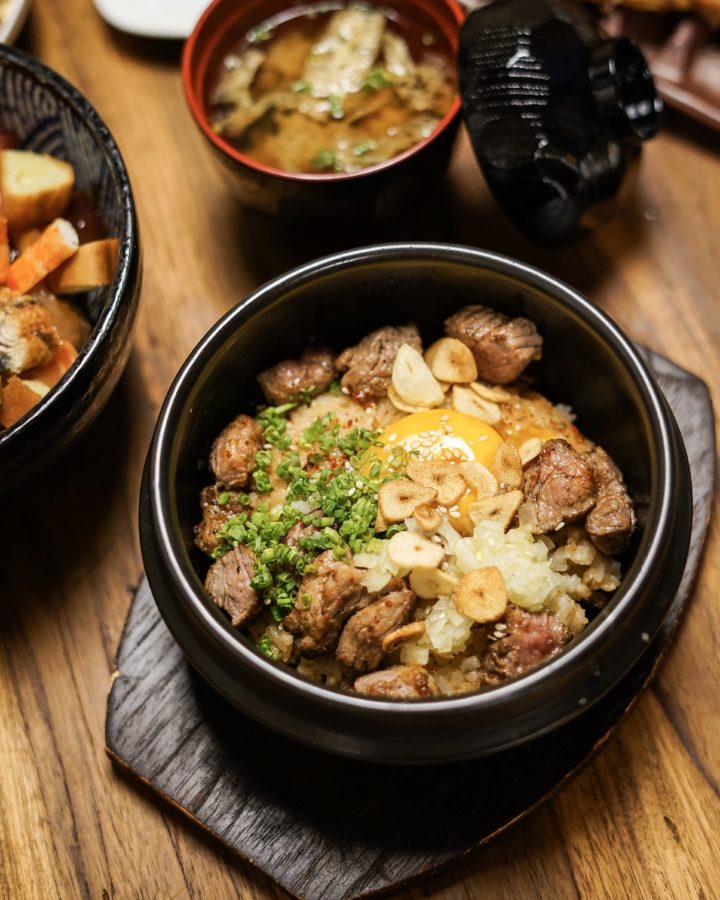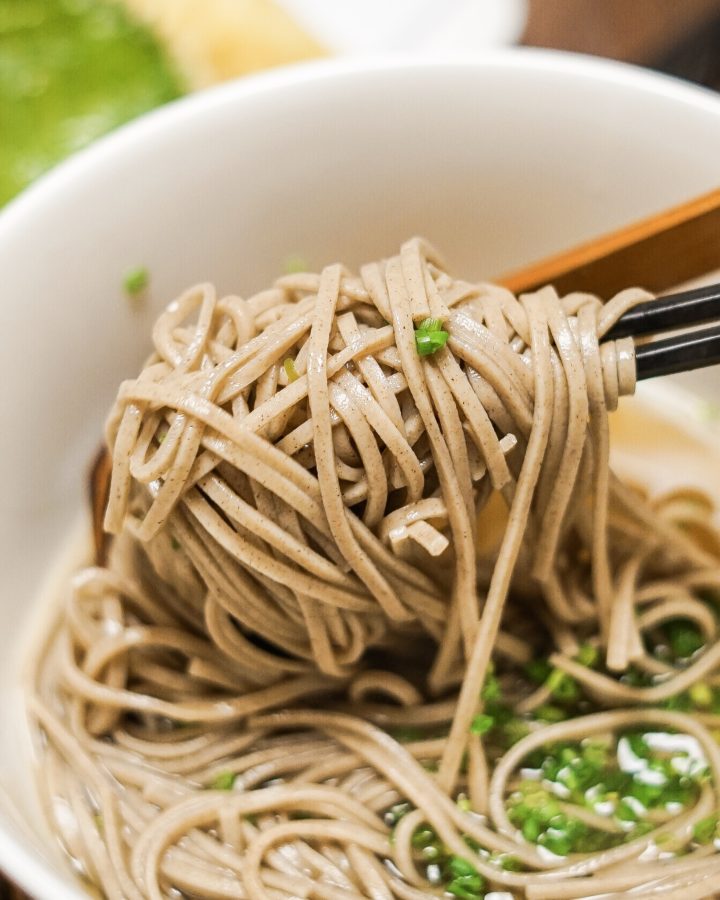 So, I can't emphasize more on how good Nizaemon is because you just really have to prove it yourself. They also serve sushi, which I didn't get to try because our table was so full already. So, I did feel like saving it for the next visit!

KAMADOYA NIZAEMON | JAKARTA
Century Park Hotel, Lobby Level
Jl. Pintu Satu, Senayan, Jakarta
Phone: +6221-5712194; +6221-5712189
Facebook: Kamadoya Nizaemon
Instagram: @nizaemon.id
Operational Hours:
Lunch 11.30 – 14.30 Local Time
Dinner 18.00 – 23.00 Local Time