Hi guys! I miss you and it's been quite some time.
This time I want to cover a post about something that I found really useful just recently and I think you would wanna know about this too.
Since I'm all in about food and beverage and I constantly try to find new place to dine in (or back to the one that I love), promotion and discount are kinda important for me. Honestly, it's really helpful if I can cut some budgets for dining in and use the saving to dine somewhere else (don't judge me!). An even more important point, I often find places that I love to visit kinda full and I have to wait in line for at least 15-1 hour (yes, that happens) and it's such a turn off for me. So, here is an app that I want to share with you guys, named CHOPE.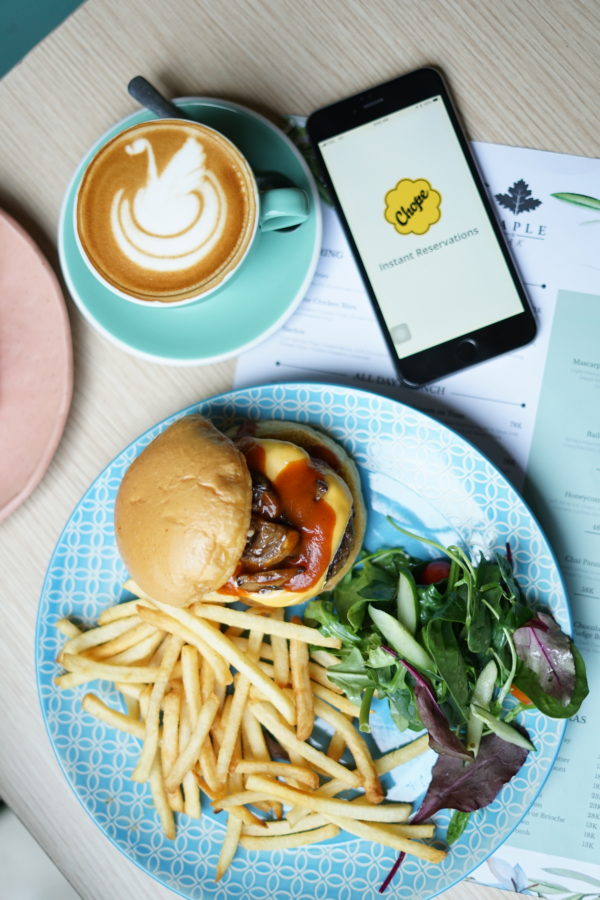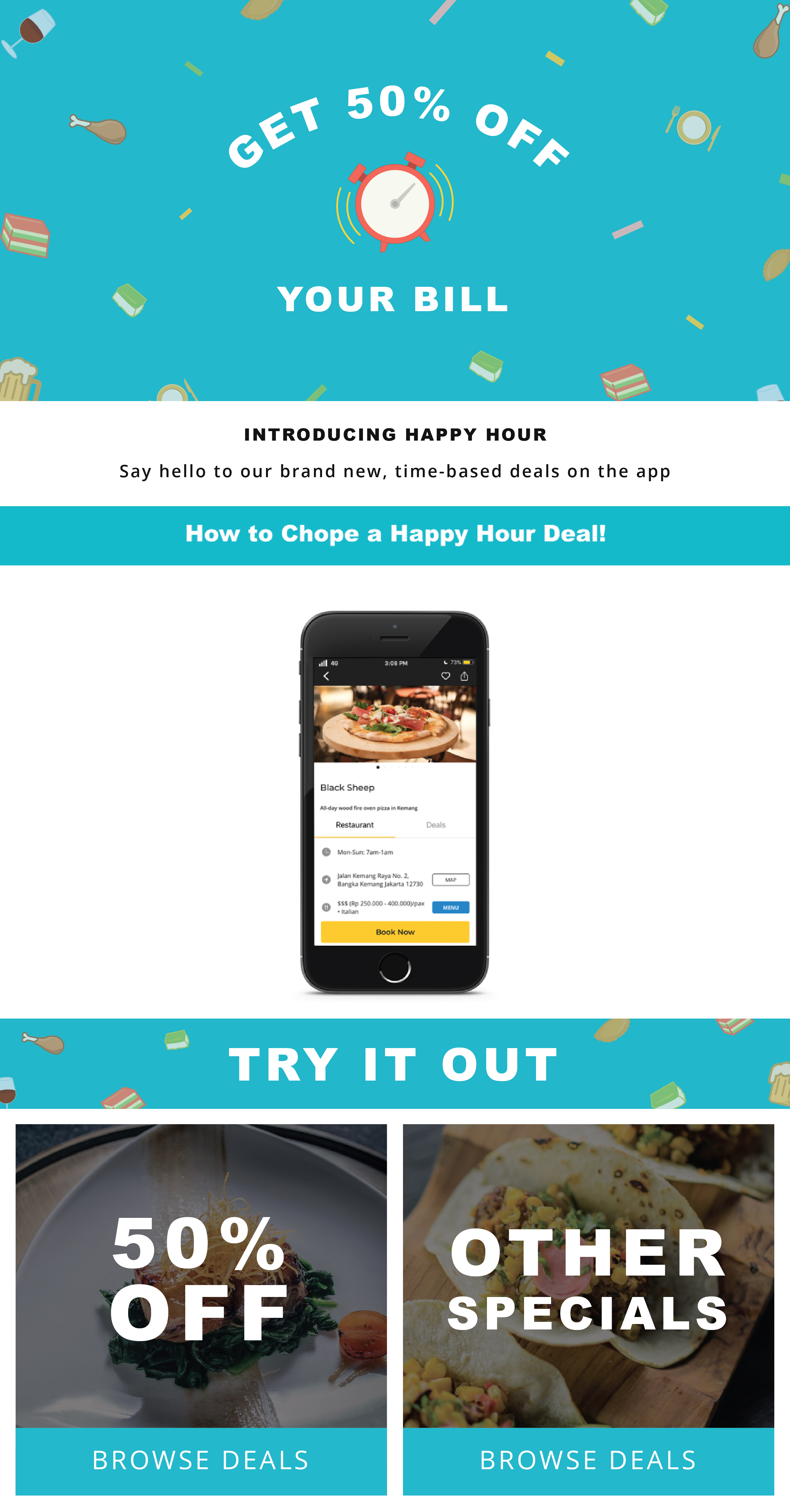 Chope is a real-time reservation app that features easy peasy reservation function to the partnered restaurants. You can choose the venue, the time, and the number of people to reserve and the confirmation will come quite instantly. With this feature, you're guaranteed to have your seat once you arrive at the venue.
More about it later!
At this point, the most exciting part is that Chope is having plenty of exciting saving deals, from Happy Hour Deals, 1-for-1s and Chope-Dollars redemption! What I really love to share on this post is the Happy Hour Deals that seems to benefit me the most! How so? How does it work?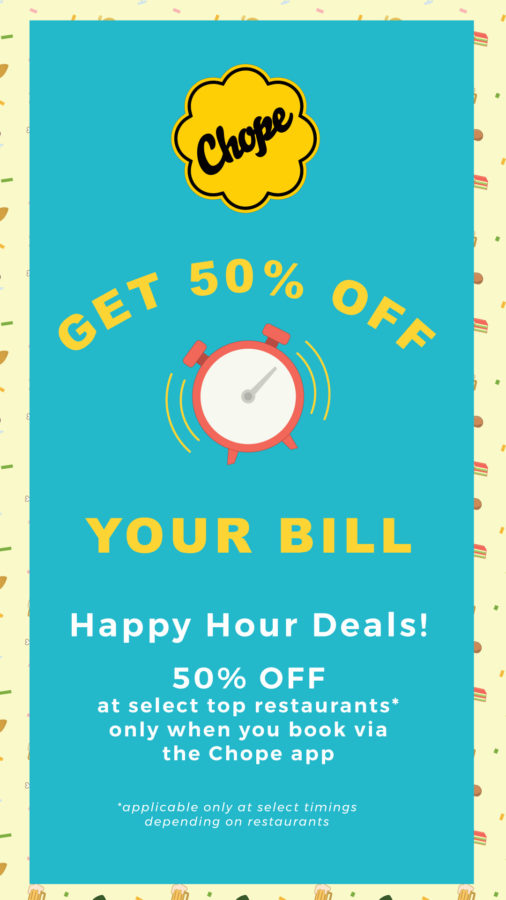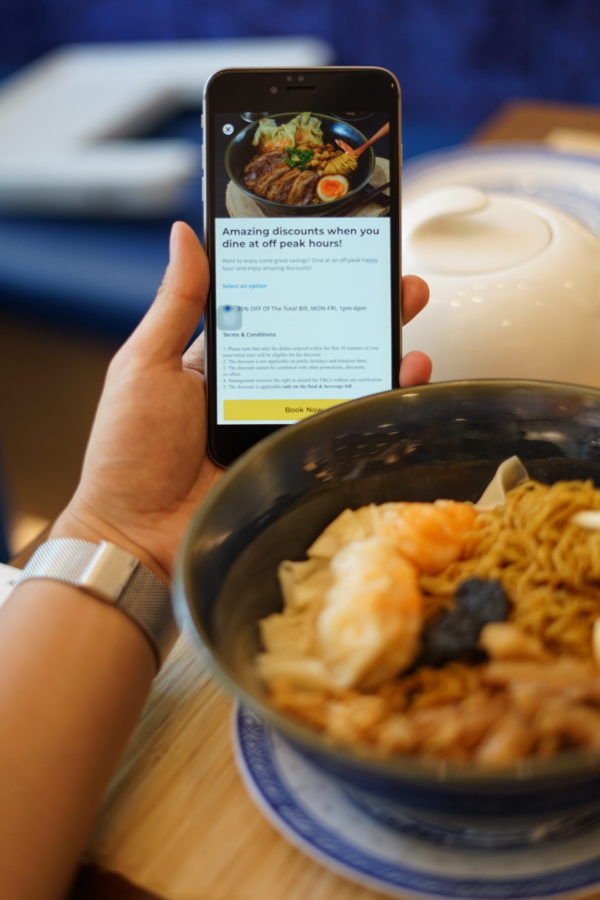 Let's start with How does Chope work?
1. Basically, all you have to do at first is download the app on your smartphone (ios & android). If you have iPhone, go to the App Store and search "Chope" and download. If you have Android-based smartphone (such as Samsung Galaxy, OnePlus, Oppo etc), just go to PlayStore and do the same.
2. Make your account by signing up. You just have to fill your email address (and input your desired password) or connect with your facebook account.
You can use my referral link to register so that you earn loyalty points Chope-Dollars equal to Rp. 100,000 restaurant voucher with your first reservation. My referral link is :
https://cho.pe/hkX5o
3. After signing up, you can start using Chope for reservation instantly.
Just browse the list of Chope-Partnered restaurants/cafes and pick your desired date and time. Confirm and done. You will be notified about your reservation right after and just go to the booked restaurant/café (and show your booking info). Your seat is guaranteed.
4. Dine and enjoy the offer, if any, without any minimum spend and pay as usual (cash / credit card).
And how can you join the Happy Hour Deals?
Please note that not all Chope-Partnered Restaurants/Cafes will have ongoing Happy Hour Deals.
You can browse the available Happy Hour Deals by choosing the "Save" section.
Click the "Happy Hour Deals" e-banner and you will be redirected to the list of restaurants that participate in the Happy Hour Deals.
Check out the details of "Happy Hour Deals" as not all promotions are the same. Time for reservation that is eligible for the deals varies according to the restaurants' policies.
If you wish to get the discount, click on the deals tab on the restaurant page on Chope app; click on the date and time when is the offer is available and just book as usual.
Oh, do come not later than 15 mins after your desired booking time. I completely understand that the traffic in city like Jakarta is extremely unstable and unpredictable and capable of a complete disaster, BUT, time is still the essence, and it's important to try to be on time. If you're late, you can modify your booking time.
So, I also attached the video that shows how to book with Chope and get the "Happy Hour Deals". I tried to book for my morning breakfast at Maple & Oak and I was happy to receive the 50% off Discount for my food and dessert!
ANYWAY, If you need help, you can always find me by email or find me and dm me on Instagram @foodventurer_. I'll be happy to help.
Thanks and hope your give CHOPE App a try!
CHOPE APP
www.chope.co/jakarta-restaurants