If you're into Peranakan cuisine, I would love to share my experience at Teras Dharmawangsa, a seemingly hidden gem inside Dharmawangsa Square with 4 levels of dining area, with each distinguished design and thus, the different vibe.
When I first saw the place, I had no idea that Teras Dharmawangsa was this awesome. I actually thought that amongst Plataran establishments, Teras Dharmawangsa seemed to be the unexpectedly weak link, feeling some kind of a step sister here, with a very small space. Then I was brought up to the second level (an area dominantly painted with red color, thus the very Chinese vibe), third level (a smoking area with an interior with green paint reminding me of a Betawi house) and the fourth level (actually a 5th Floor with a more modern European vibe), and then I changed my mind. Teras Dharmawangsa turned out to be almost as complex as other Plataran establishments that I had visited. Teras Dharmawangsa is no step daughter here.
-1st Floor-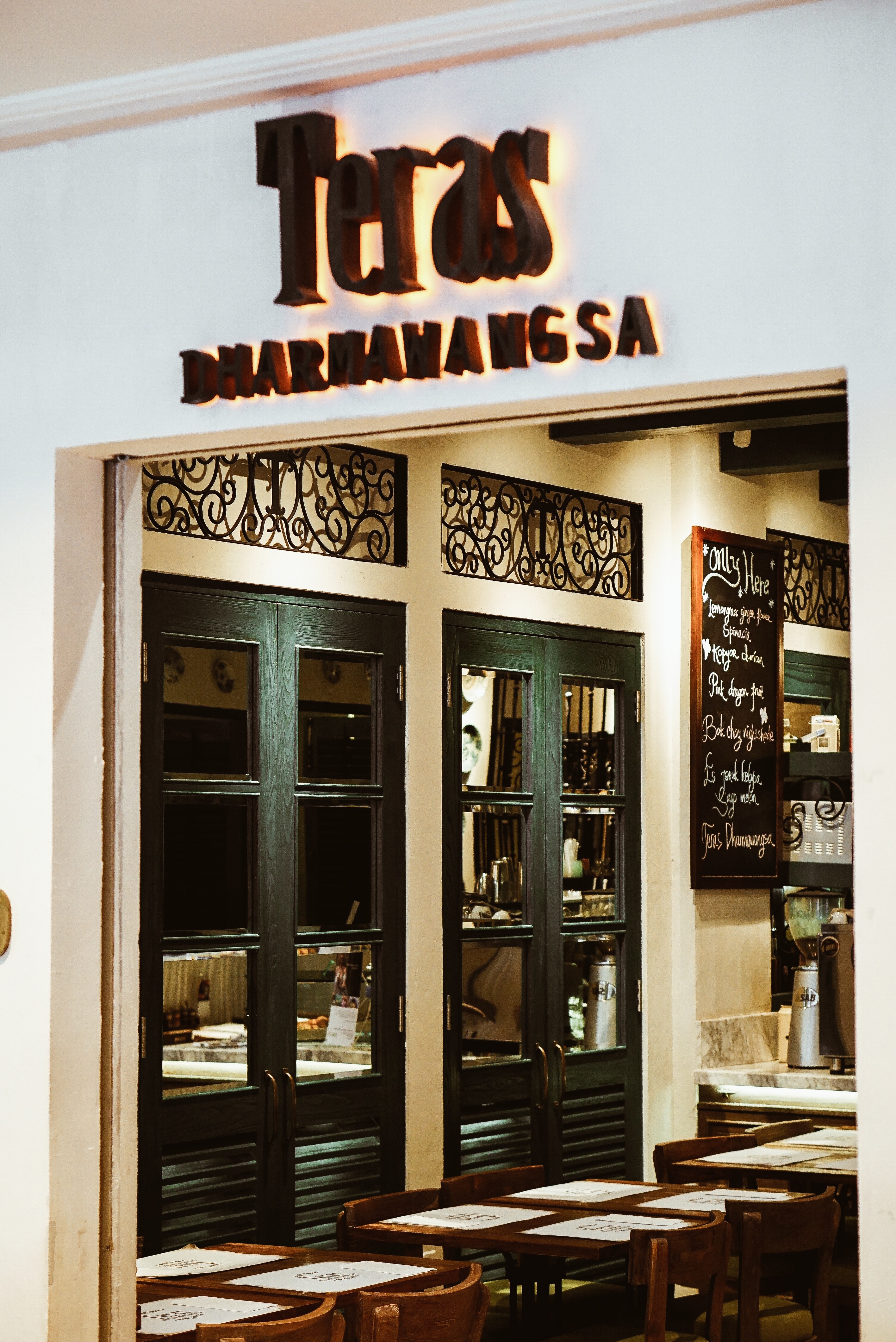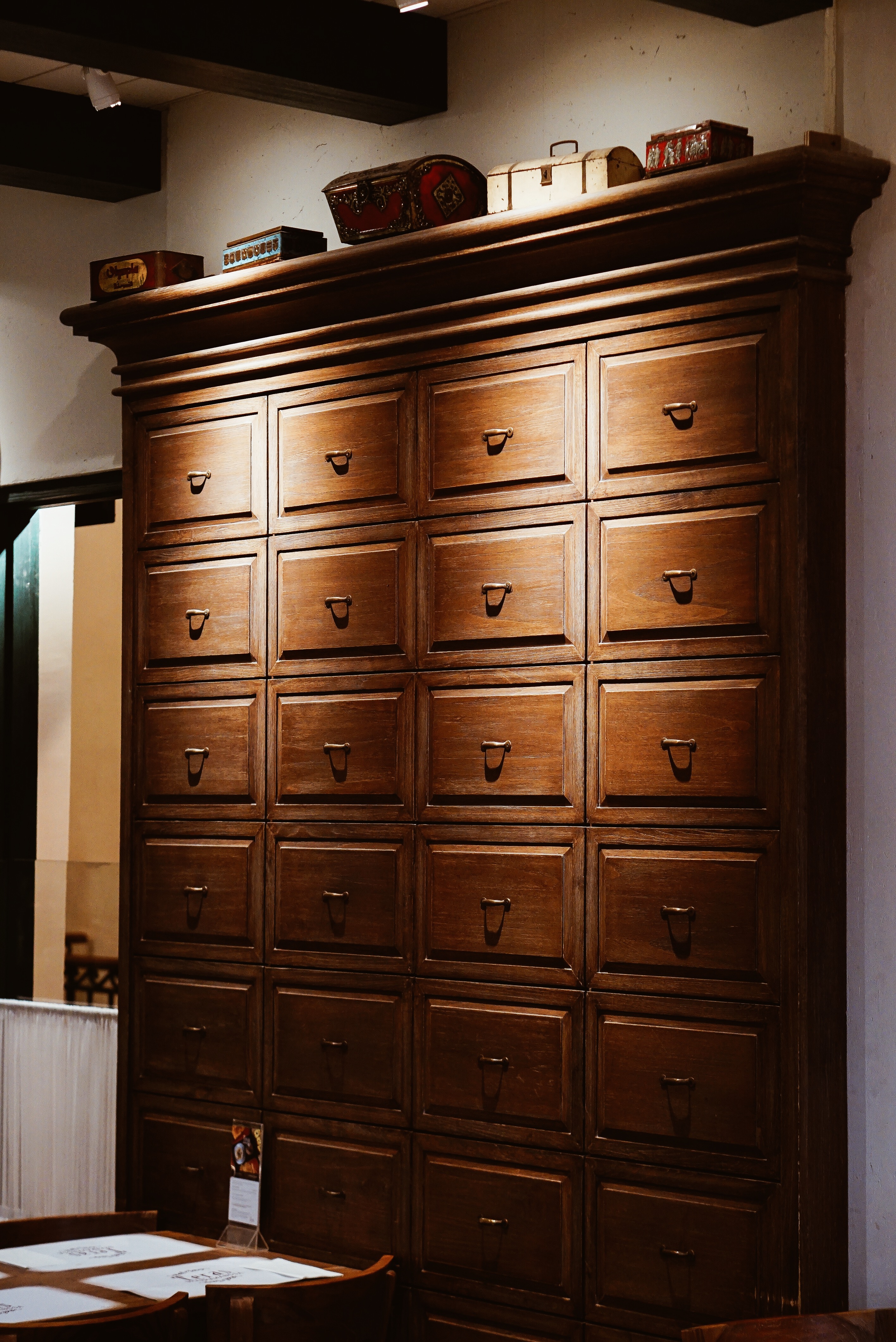 -2nd Floor-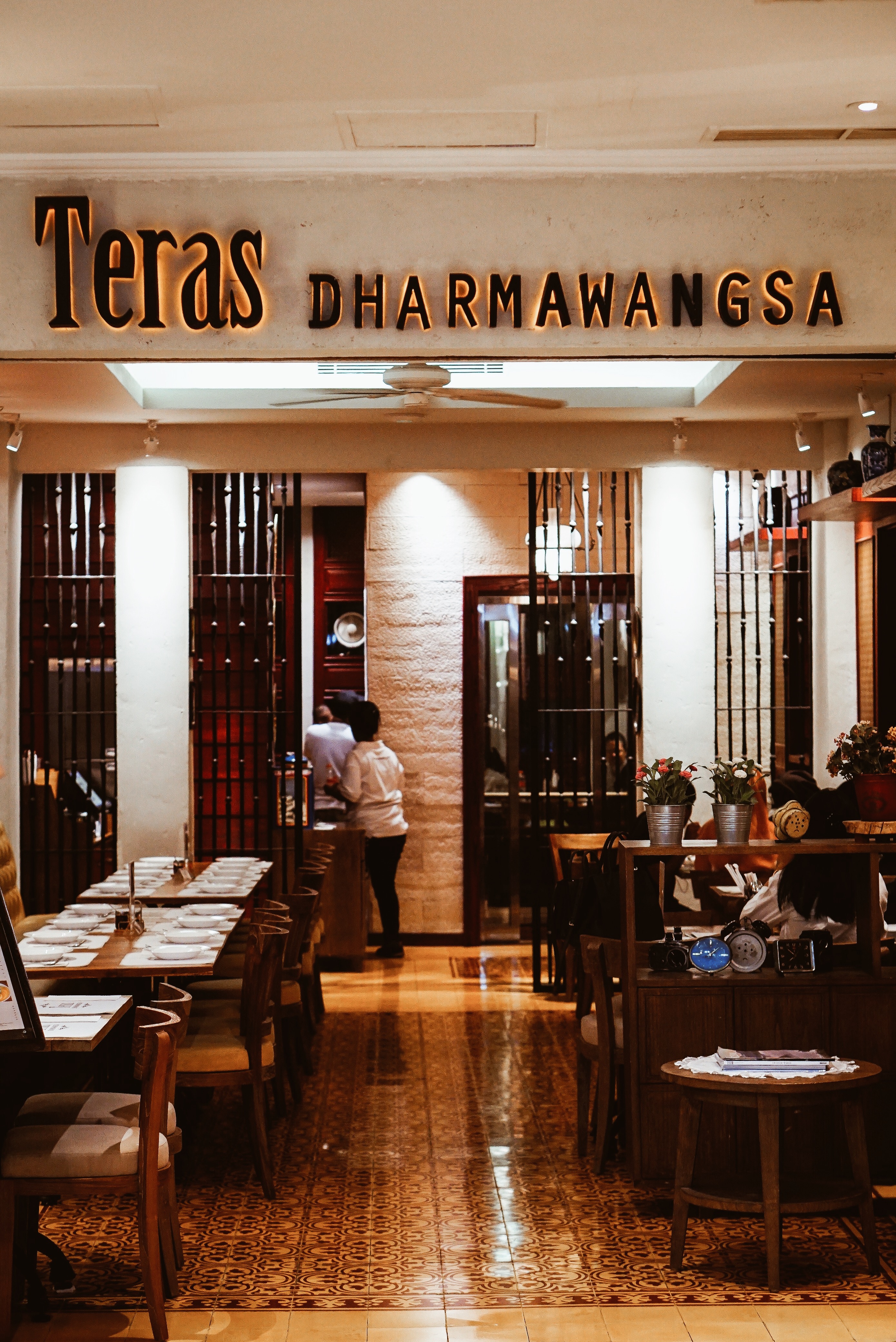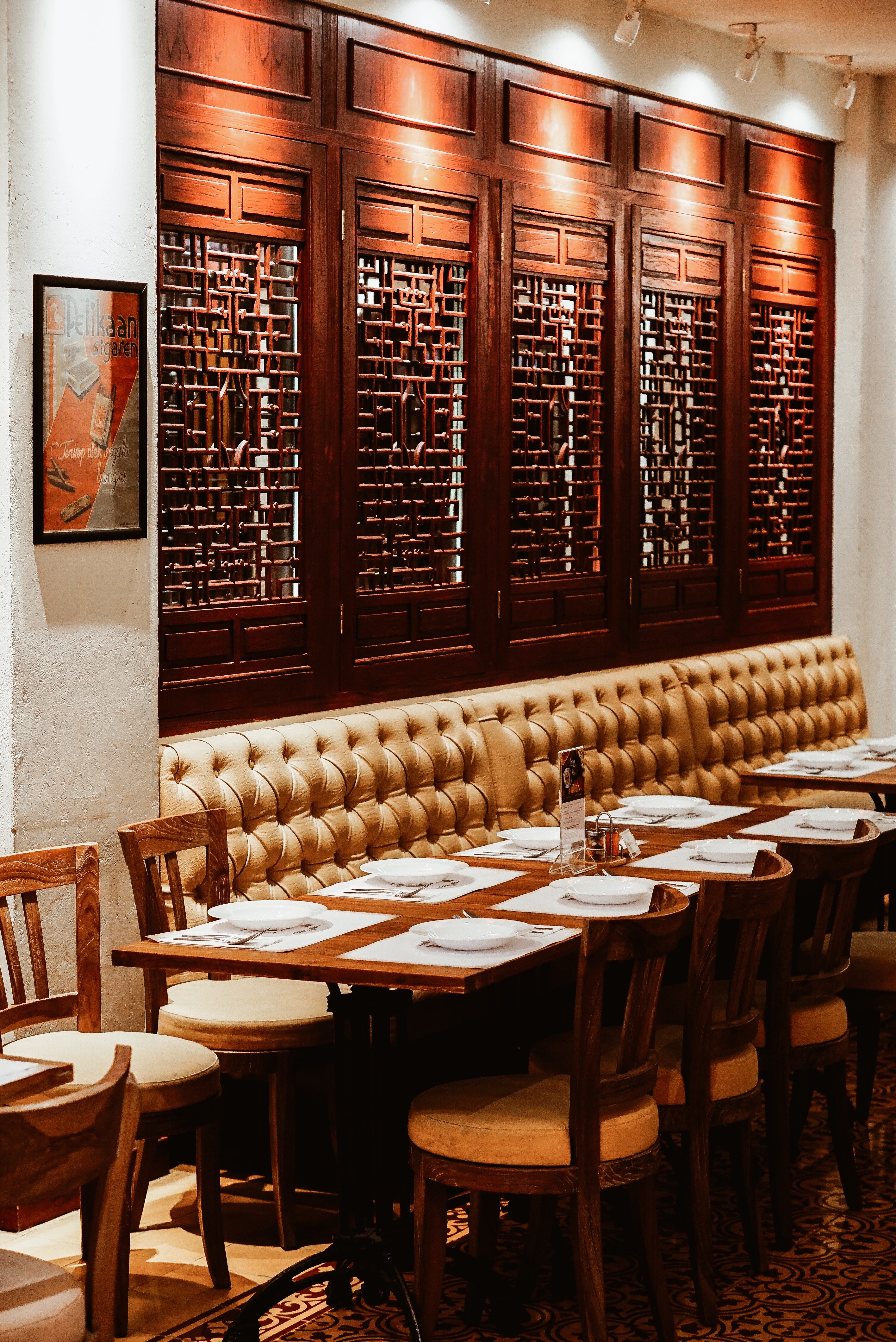 -3rd Floor-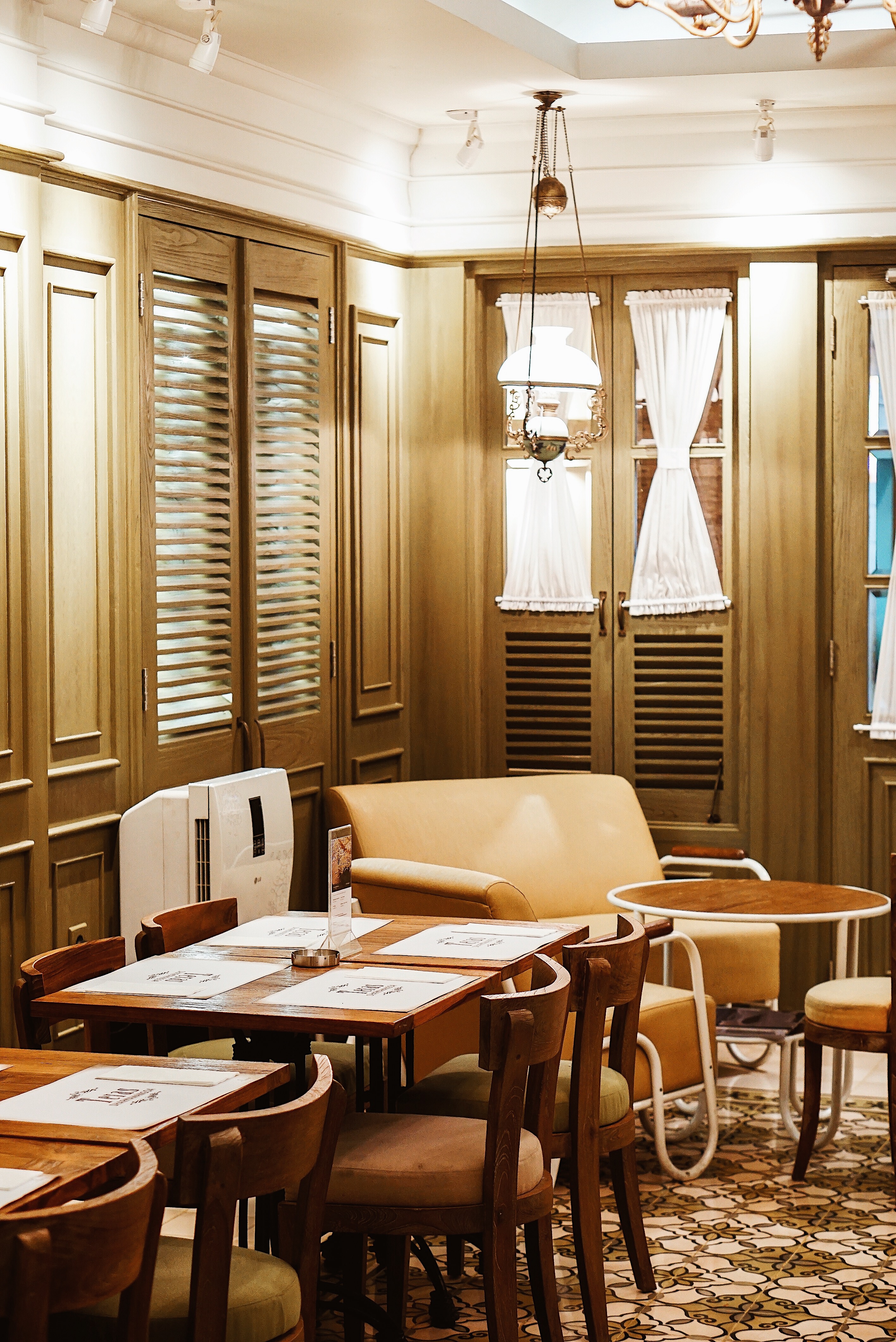 -5th Floor-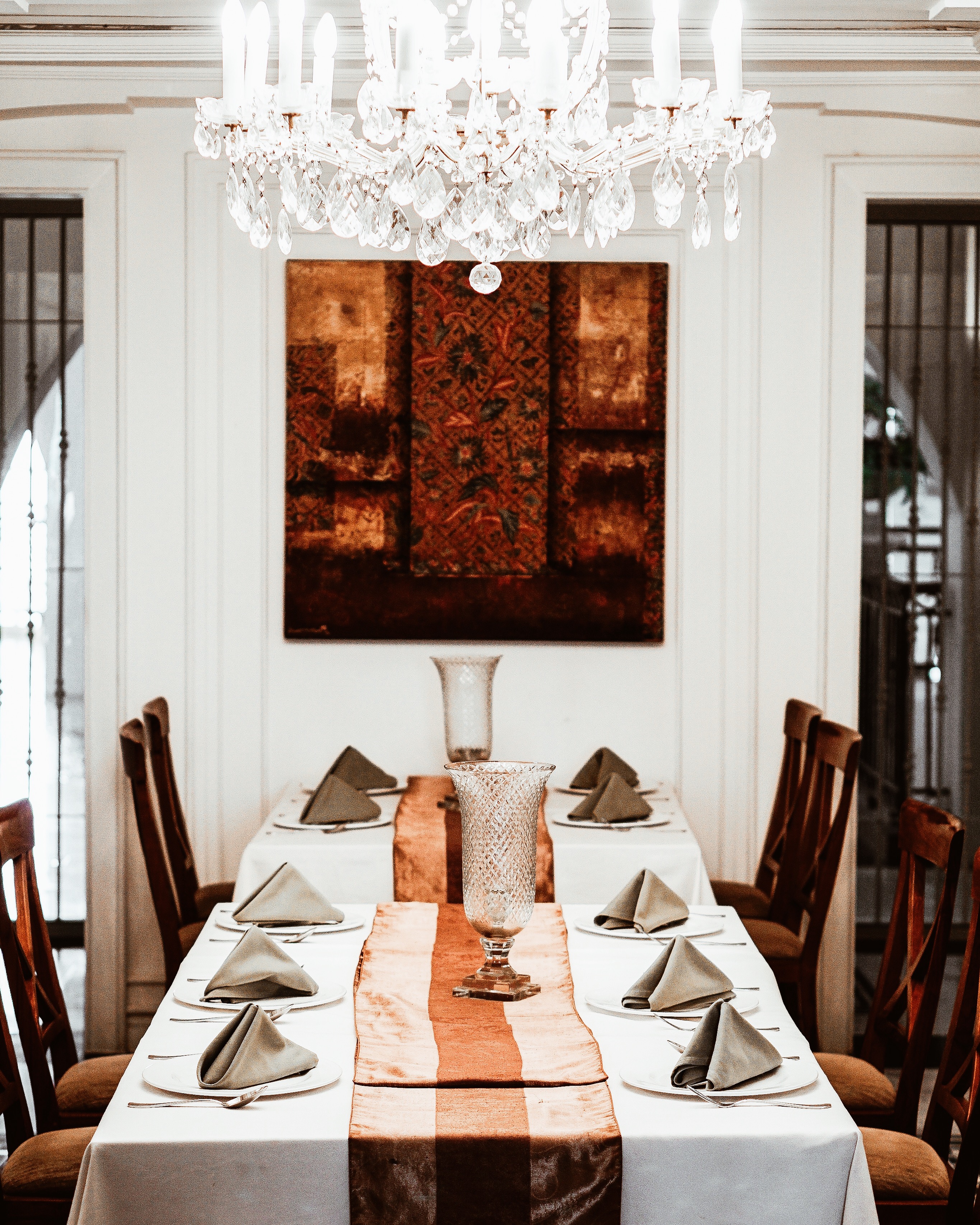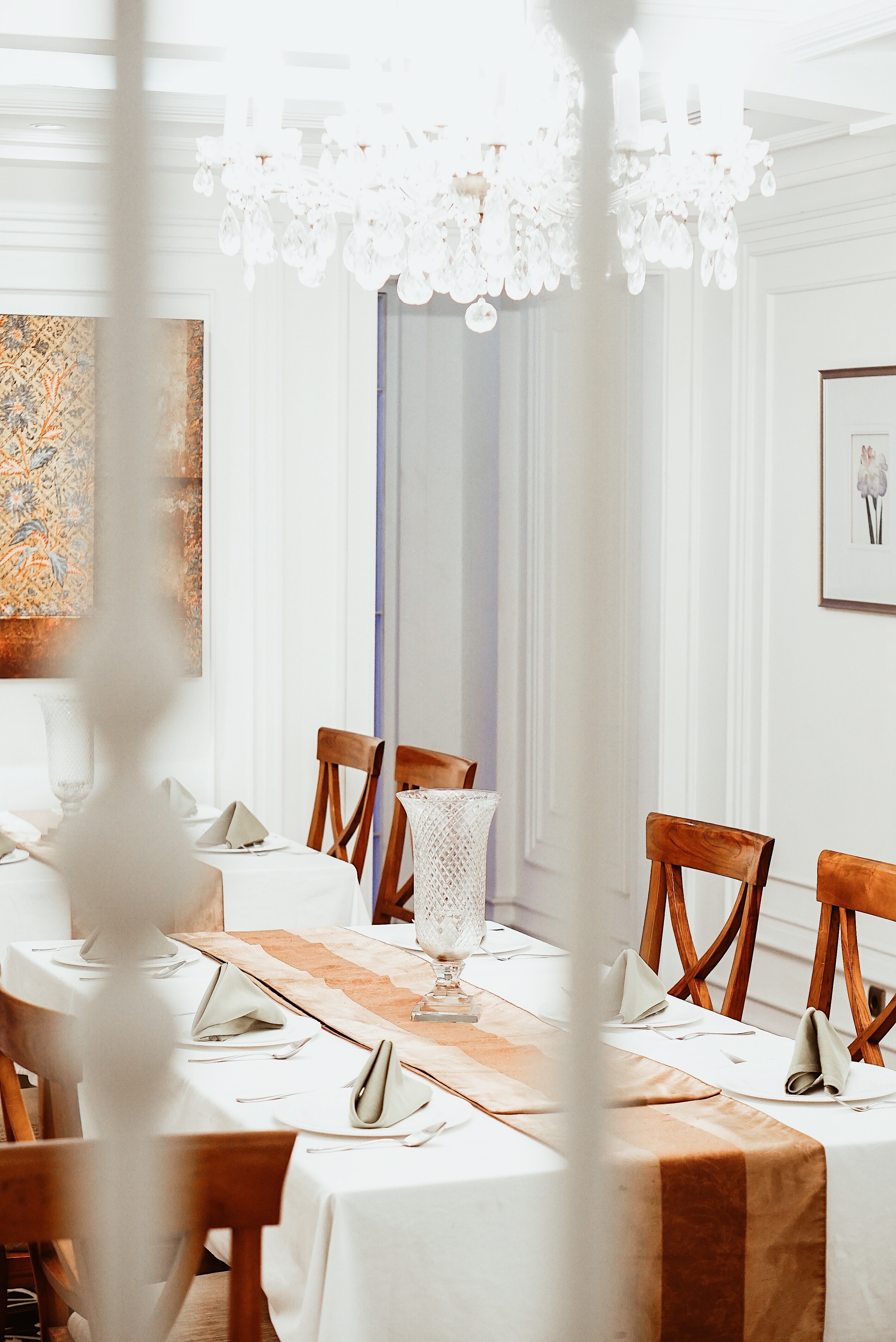 I personally love their 5th Floor so much, and the white modern European interior makes it feel very grand and I really think it's perfect for special family occasion such as bridal shower, family gathering, or even sangjit! Oh in case you're wondering that it must be tiring using stairs to get to the other levels, don't worry, they have their private lift inside the restaurants! How cool is that?

What I should share more is of course, their range of Peranakan cuisine, from Dimsum, Porridge, Noodles, peranakan food and other ala carte menu! Oh, AND the coffee was great!
# Coffee
I LOVED THEIR COFFEE!
We got to try several types and their Kopi Djonk (IDR 32k) was indeed the best. It's actually a combination of long black, condensed milk, fresh milk and caramelized palm sugar, so they all created the smooth sweet taste that truly pleased my tastebuds.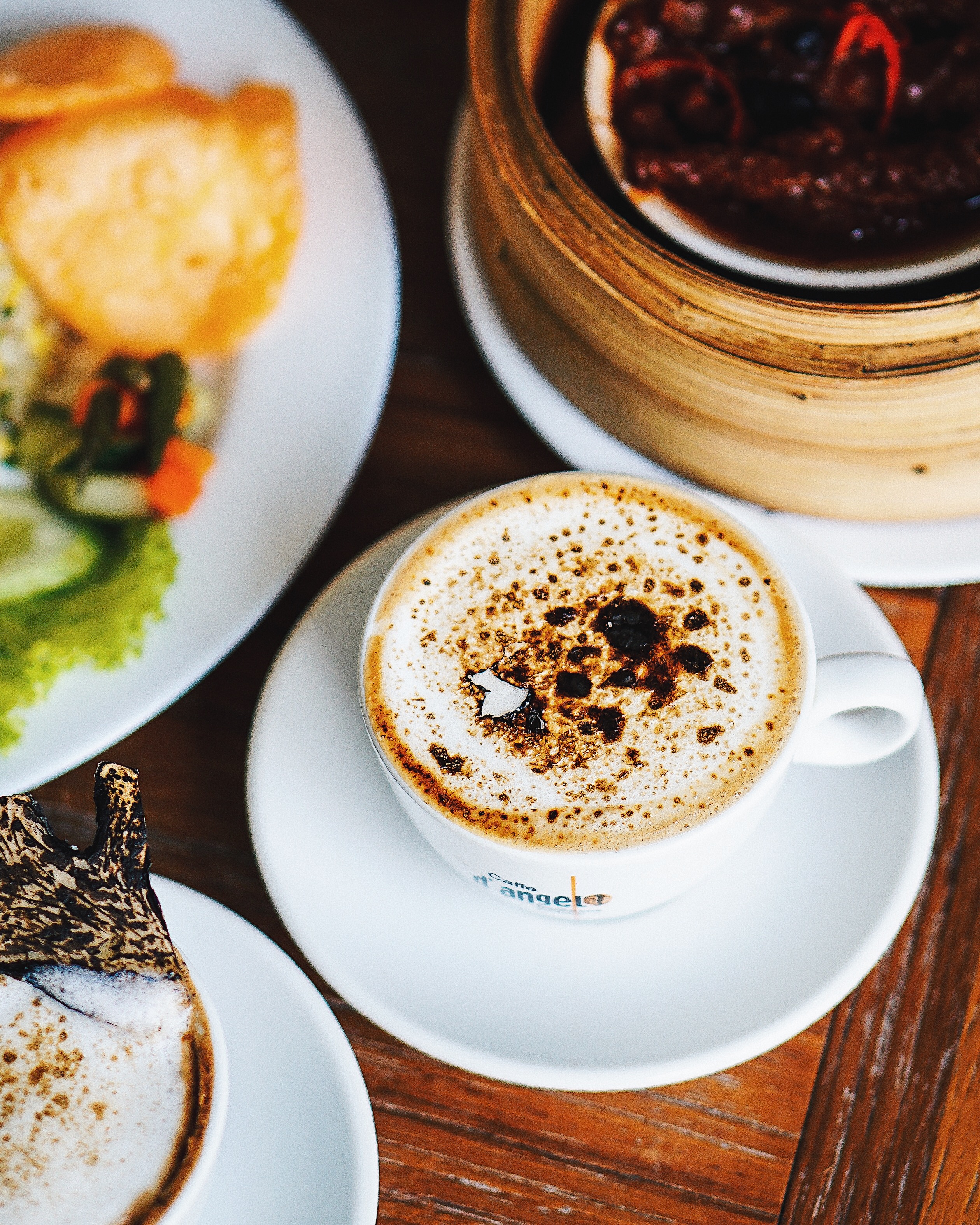 The other sweet love is Kopi Ungu (IDR 37k), a blend of espresso, taro and milk. It isn't only pretty, it tasted great as well, a different change to the usual coffee blend.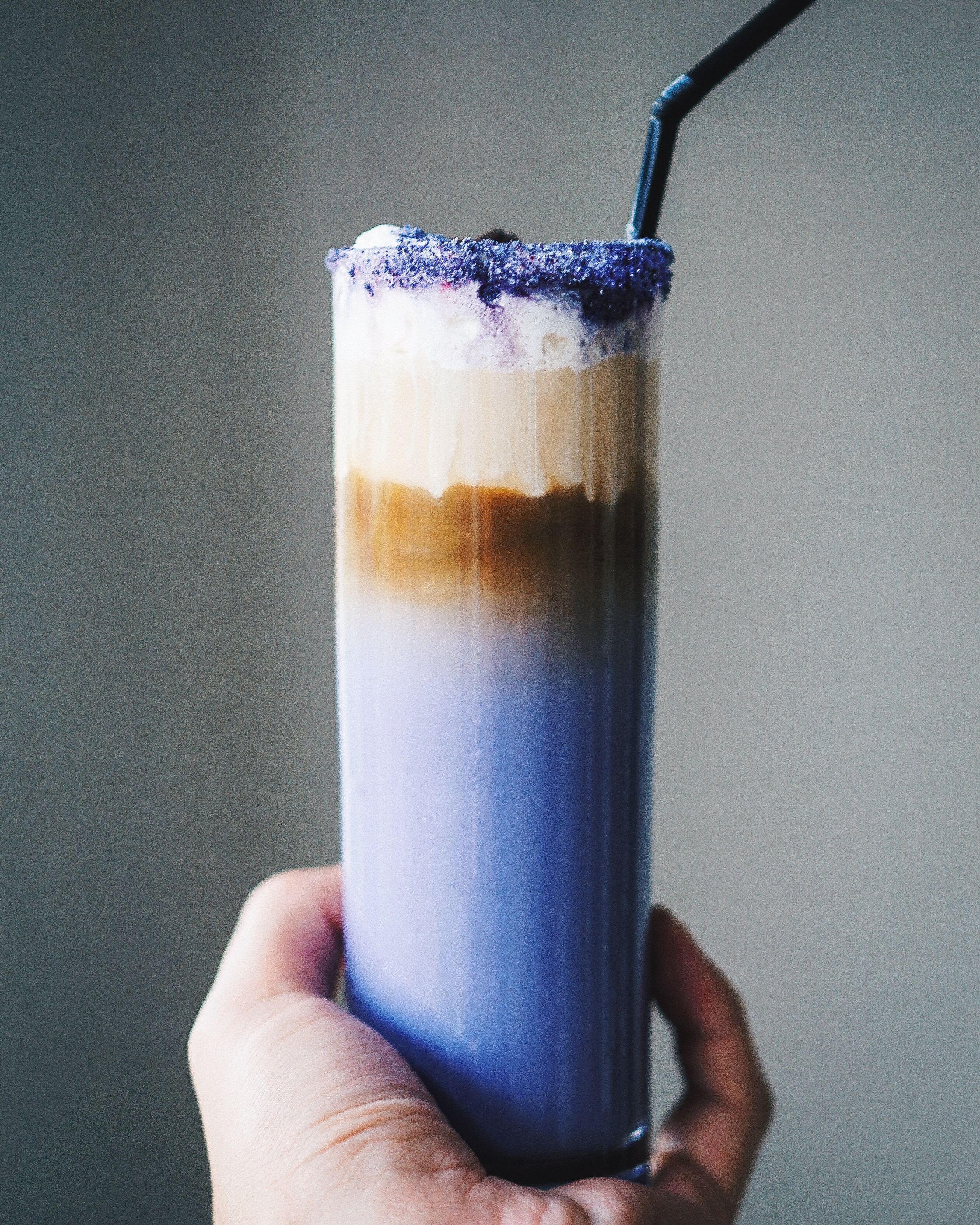 Kopi MAKEss (IDR 39k) is the one that I tried in Patio, a combination of fresh avocado, mint, caramel and espresso!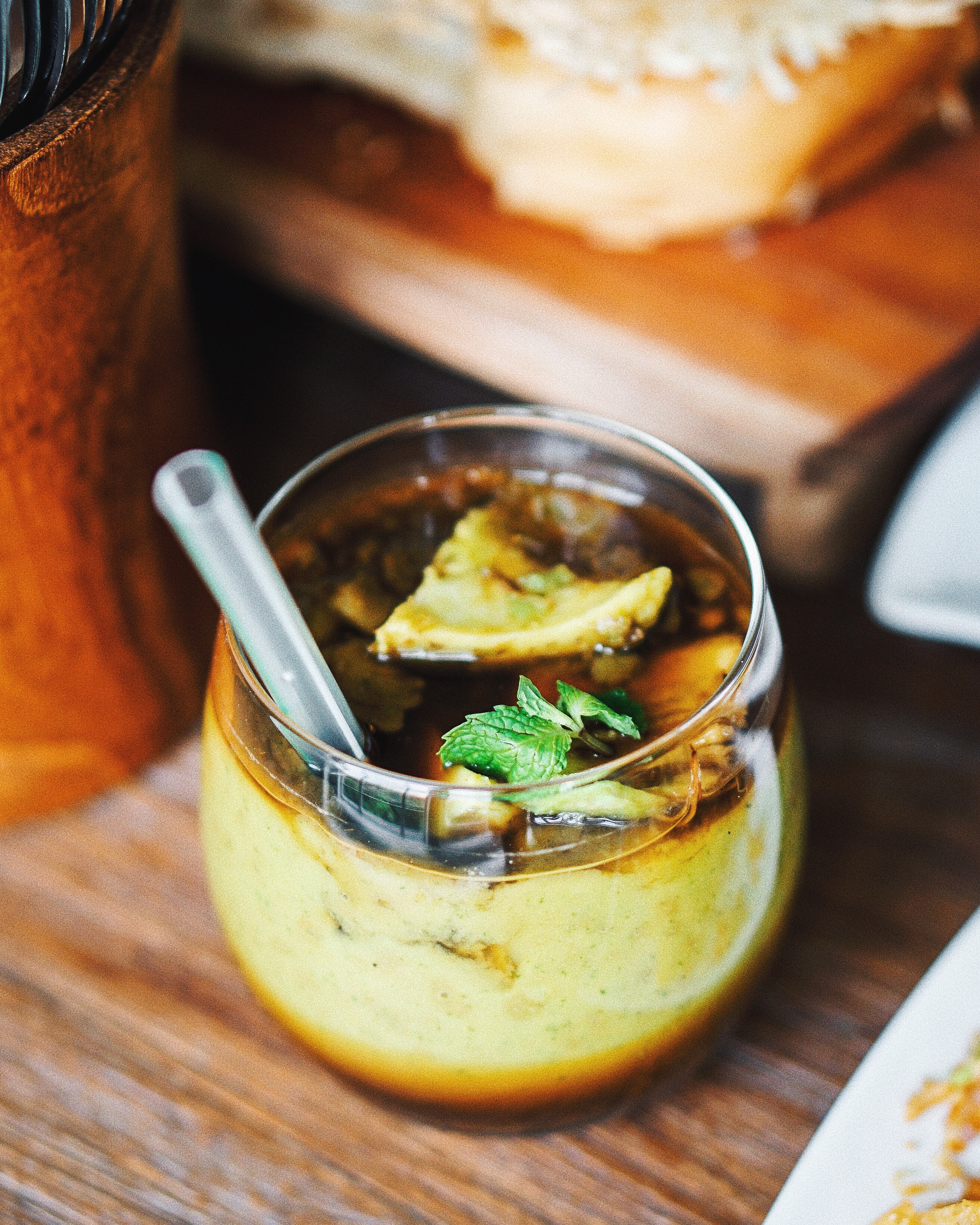 The last one that we tried was Ginger Coffee (IDR 35k), a traditional take of their already-good coffee, fusing a hint of heart-warming ginger to their espresso and milk. I could say that this is unique and won't be everyone's favorite!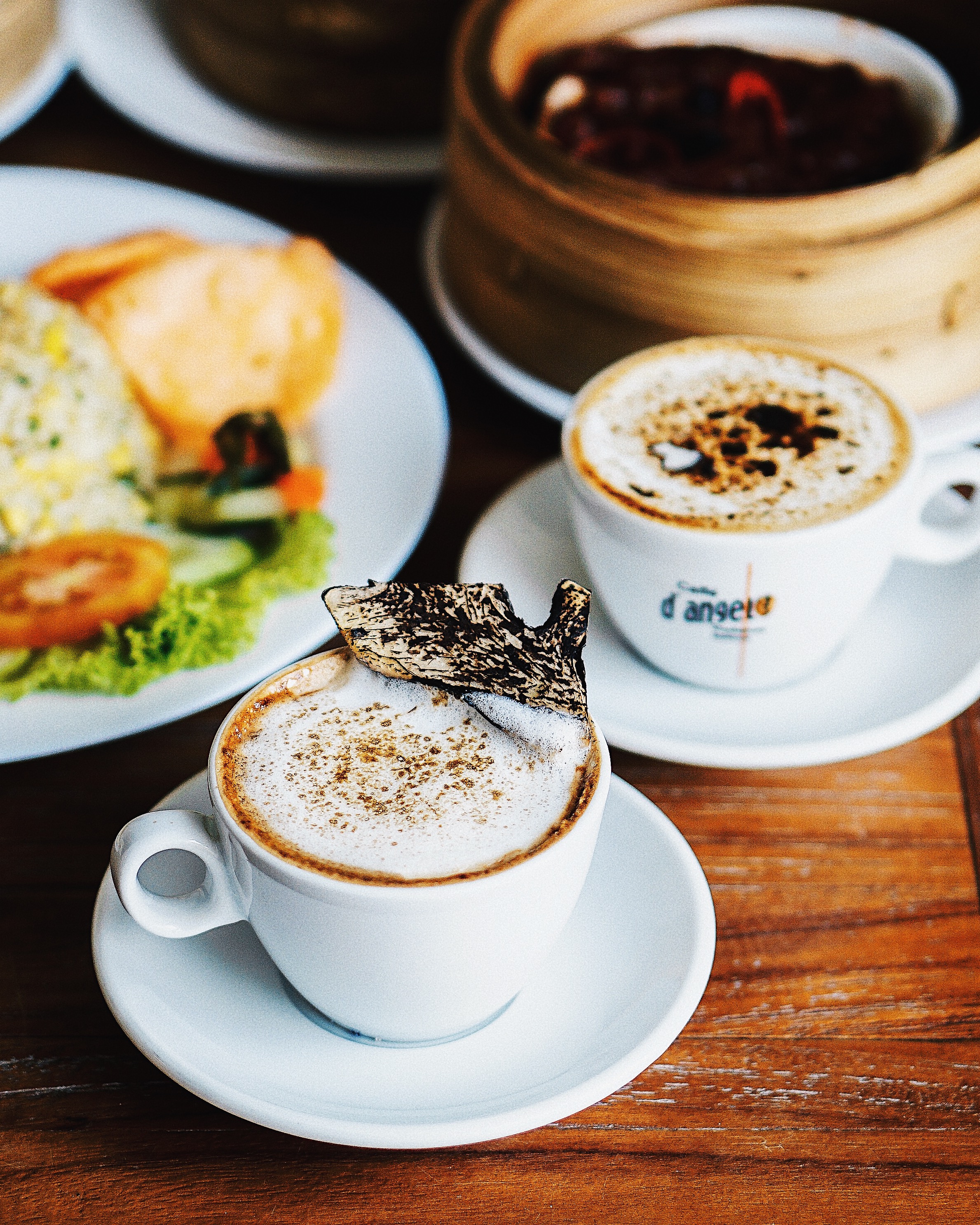 # Toast Bread
We tried the 2 types of toasts, one with Crispy Cheese and the other one is with Hazelnut Cream Cheese!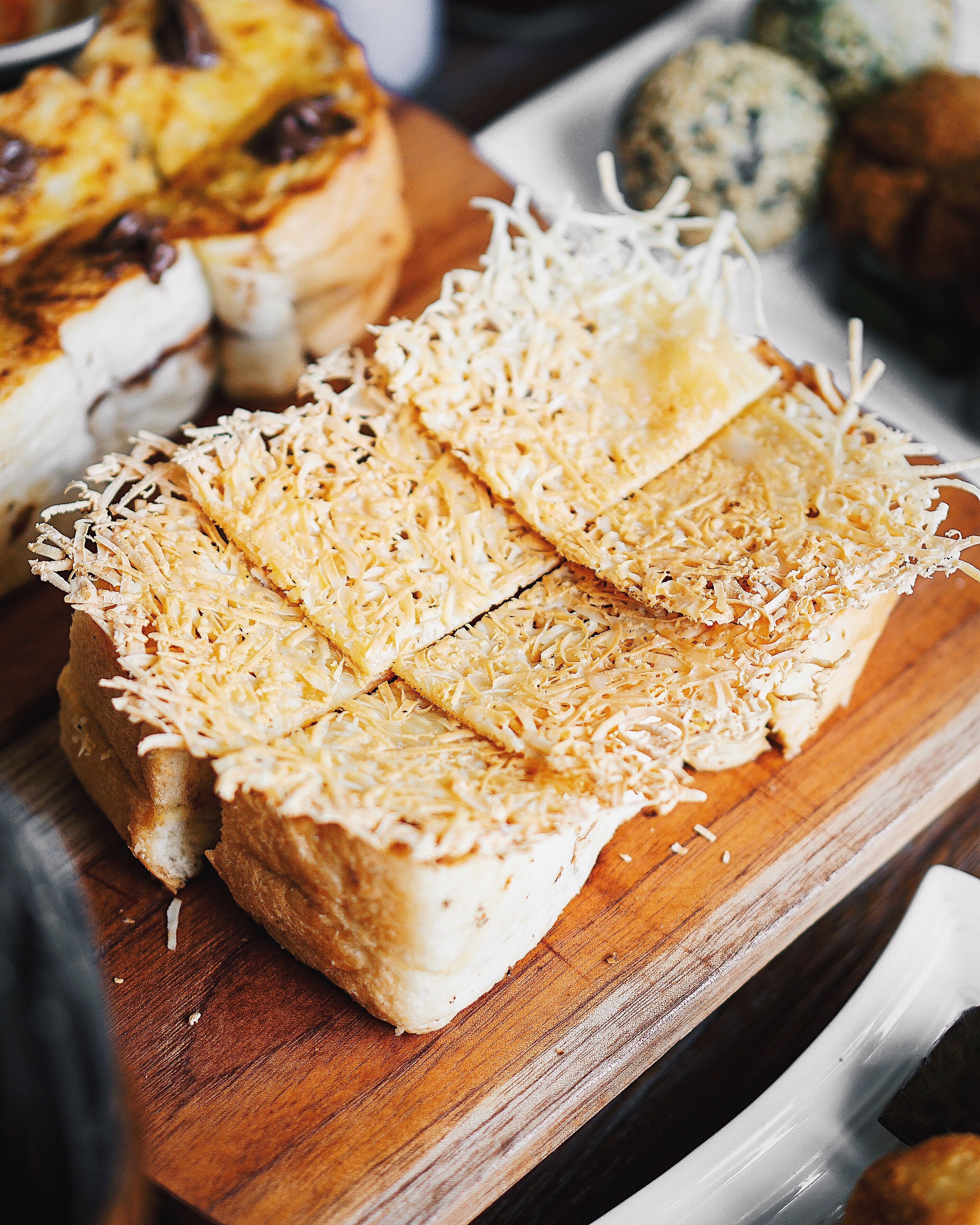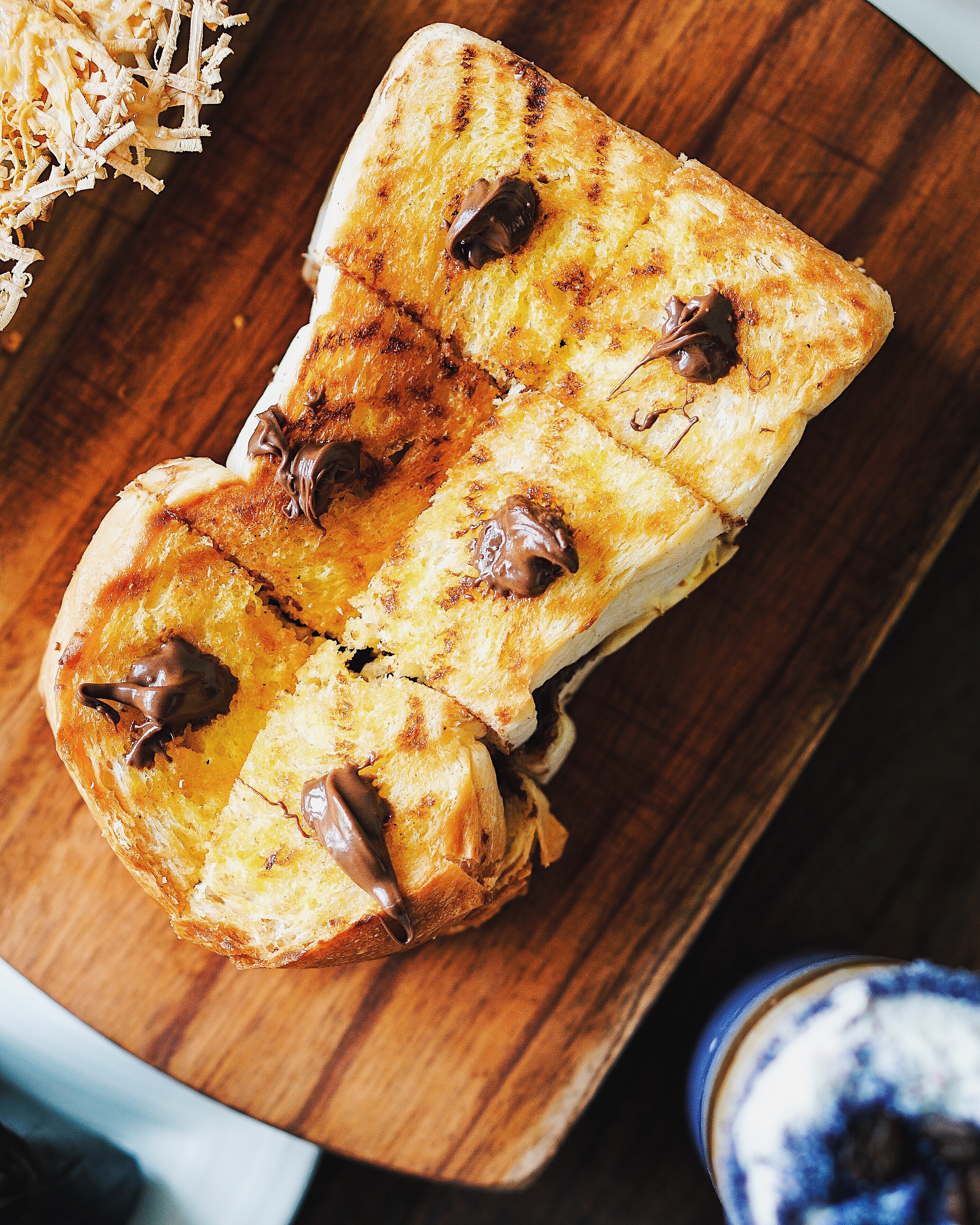 The Crispy Cheese was awesome, it plays with texture and taste. But the Hazelnut Cream Cheese was also a great one. I honestly can't choose. I'll leave it to you to comment when you have tried them!
GREAT NEWS!
They have this Toast and Coffee Pairing menu, where you get to enjoy a selection of toast and a cup of coffee with relatively value-for-money deal! Here are the selections:
– Roti Crispy Cheese & Kopi MAKEss IDR 84k
– Roti Hazelnut Cream Cheese & Kopi Djonk IDR 64k
– Roti Mozzarella Cinnamon & Crunchy Coffee IDR 80k
– Roti Pindakas & SBE IDR 74k
P.S. This deal is only available from 15.00-18.00 EVERY DAY!
# Dimsum (Start from IDR 23k – 35k per portion)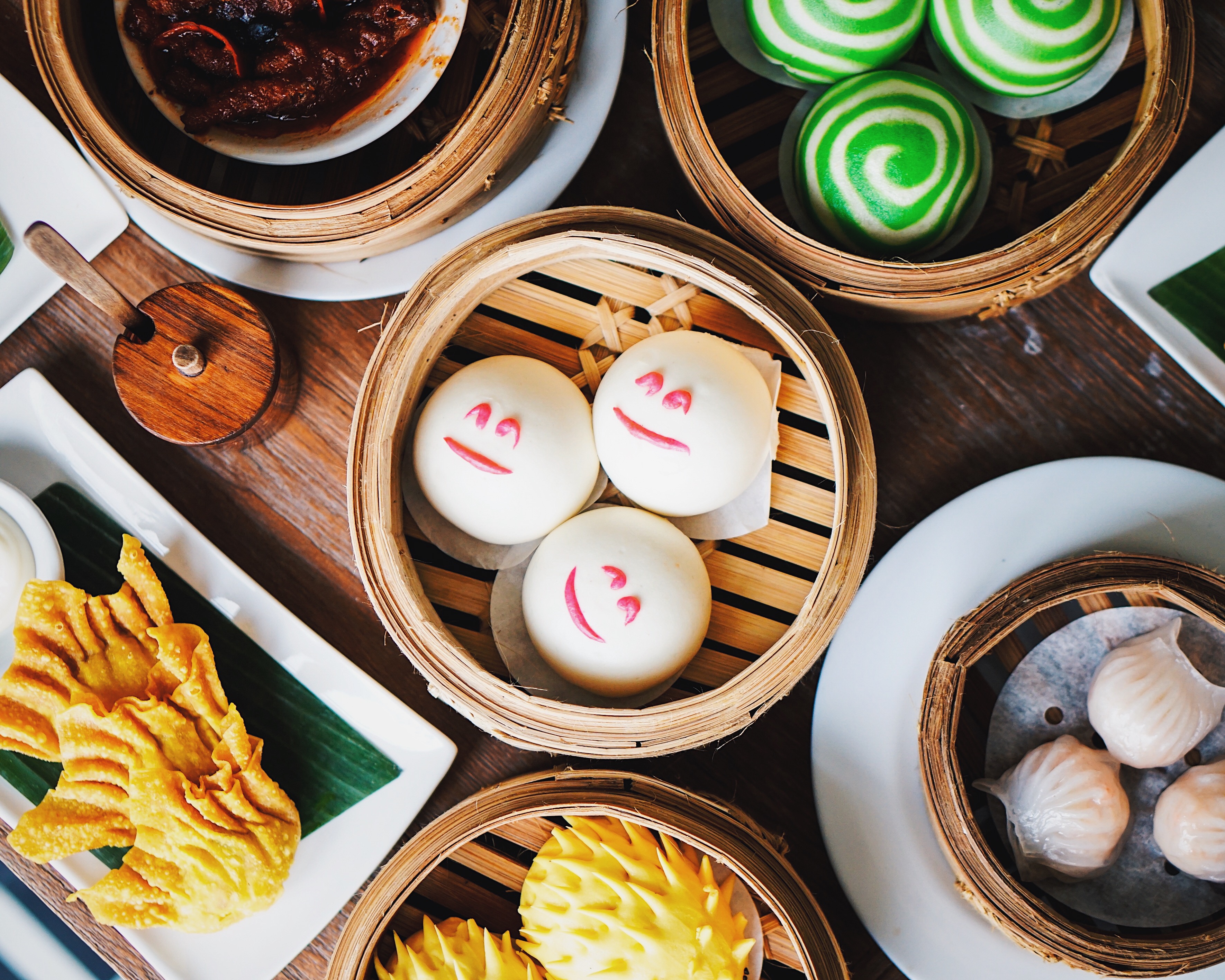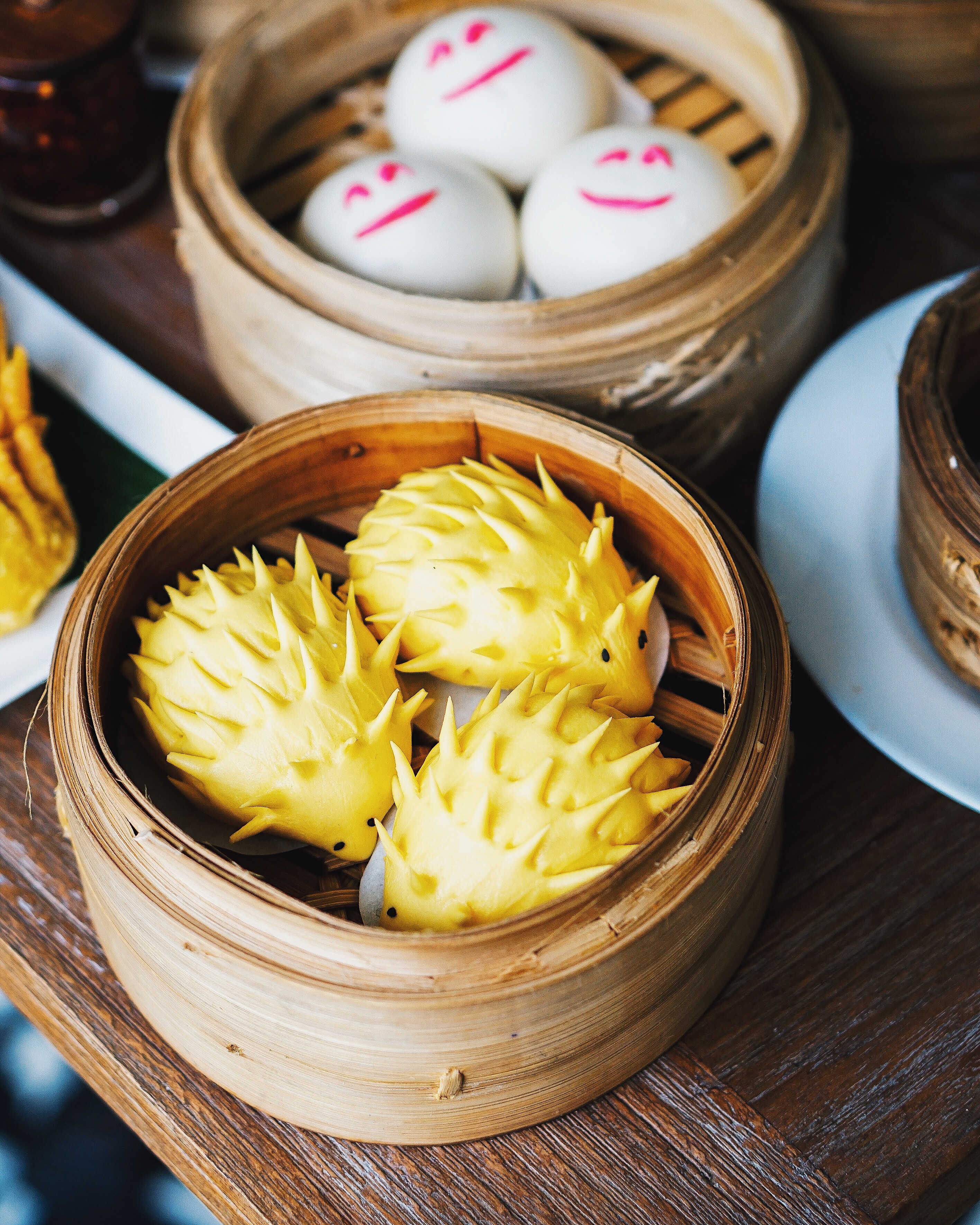 Since there are so many food, I'm going to explain it mostly in groups. Like their dimsum, from their breakfast menu (available from 07.00 – 10.00)!
If you think that Teras Dharmawangsa is not taking their Dimsum seriously, you're wrong.
You can see from the pictures of mine! They actually serve more than 30 variants of dimsum (steamed to fried) and they tasted good!
We tried Hakau, Durian Bapau, Talas/Taro Bapau, Salted Egg Bapau, Black Pepper Chicken Feet, Fried Wonton with Mayo, Kwotie, Fried Springroll with Tofu Skin (Lumpia Kulit Tahu) and Onde Onde.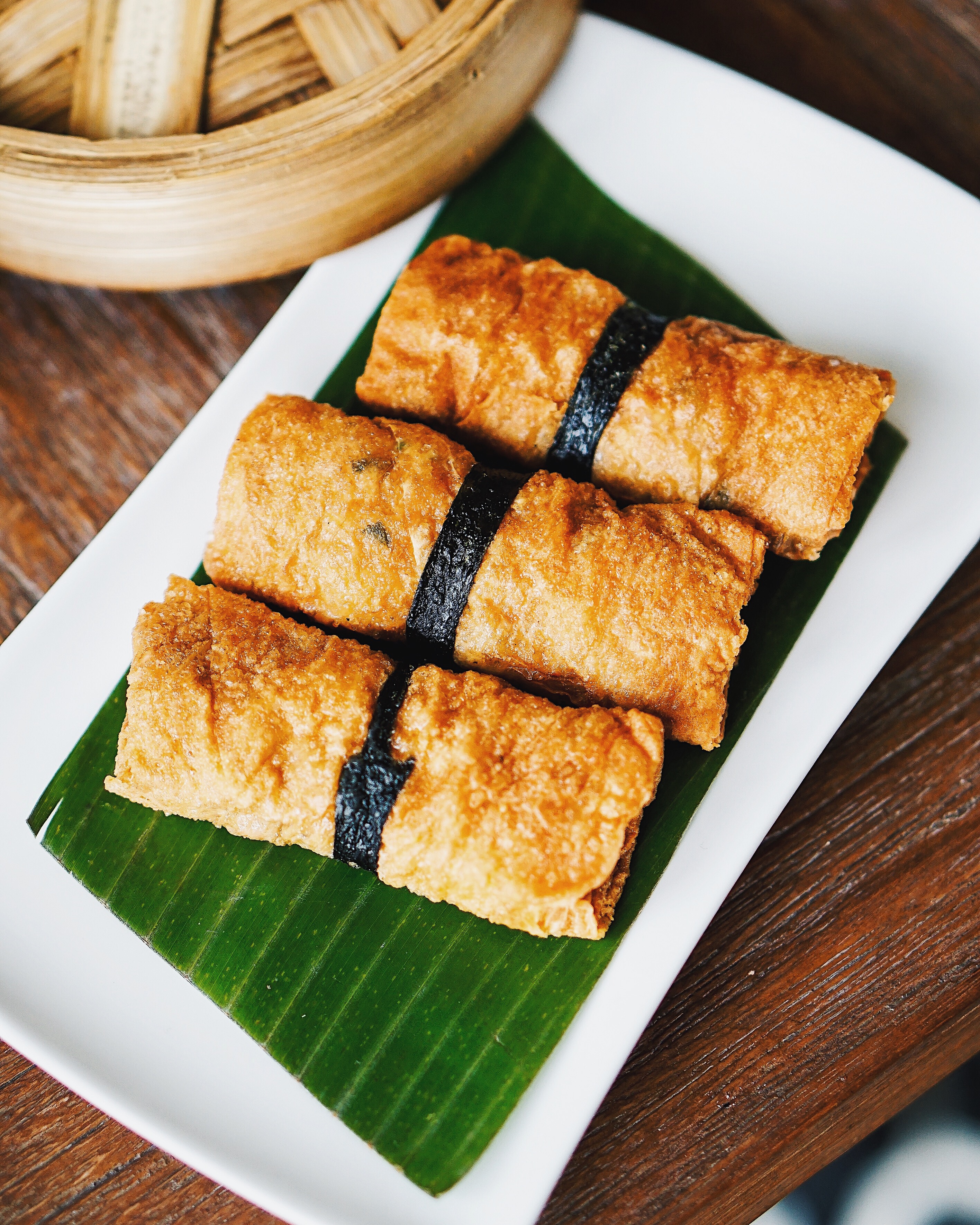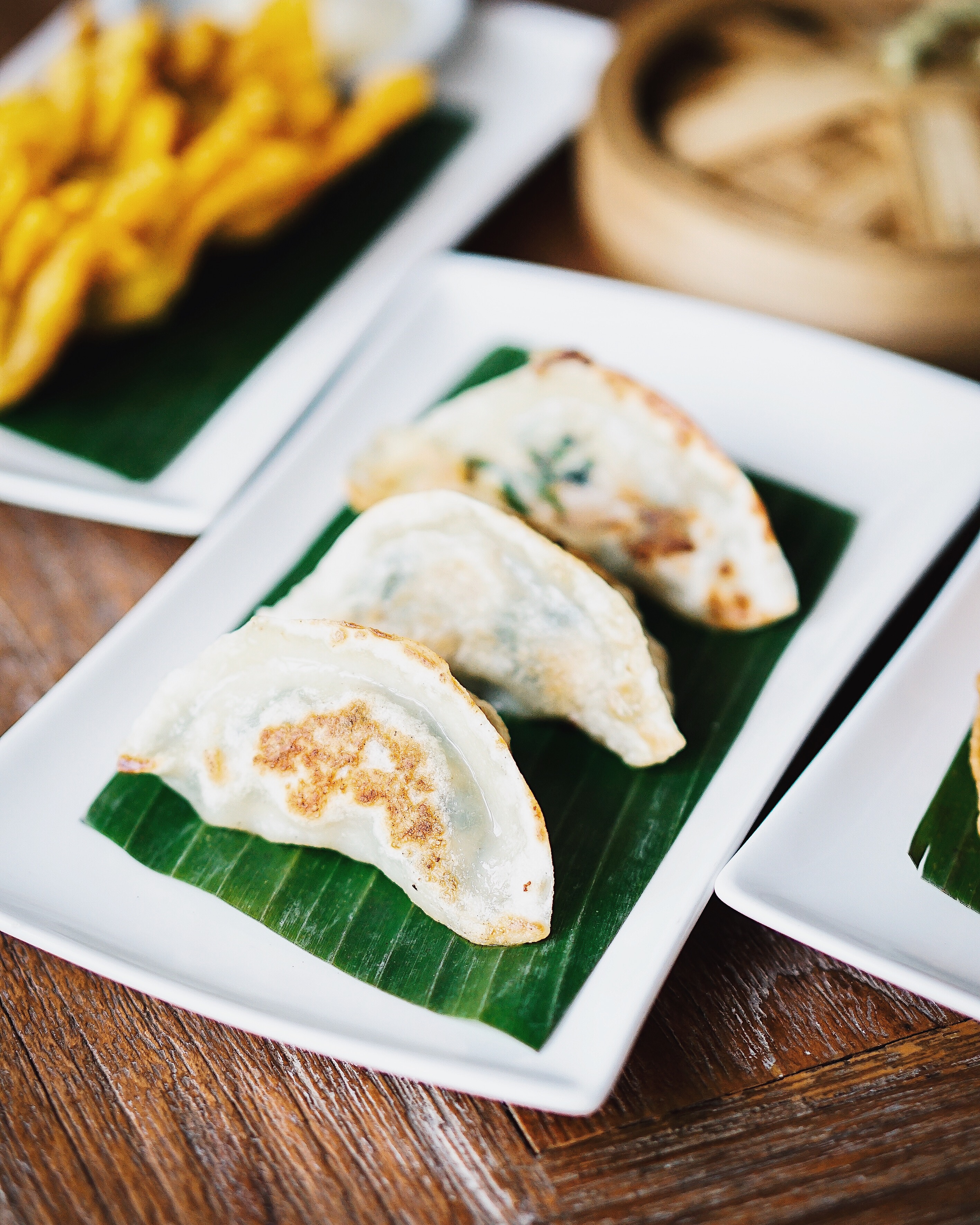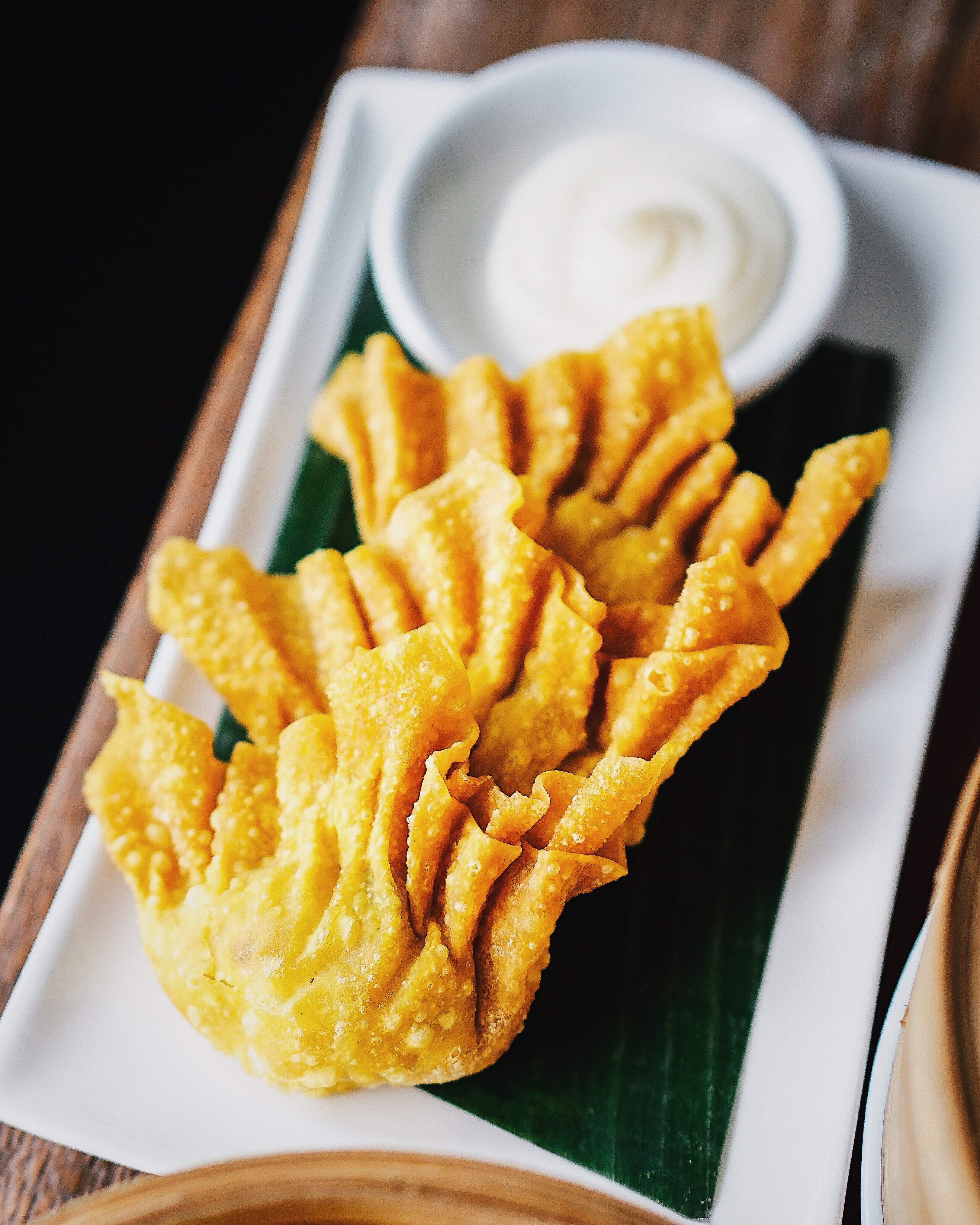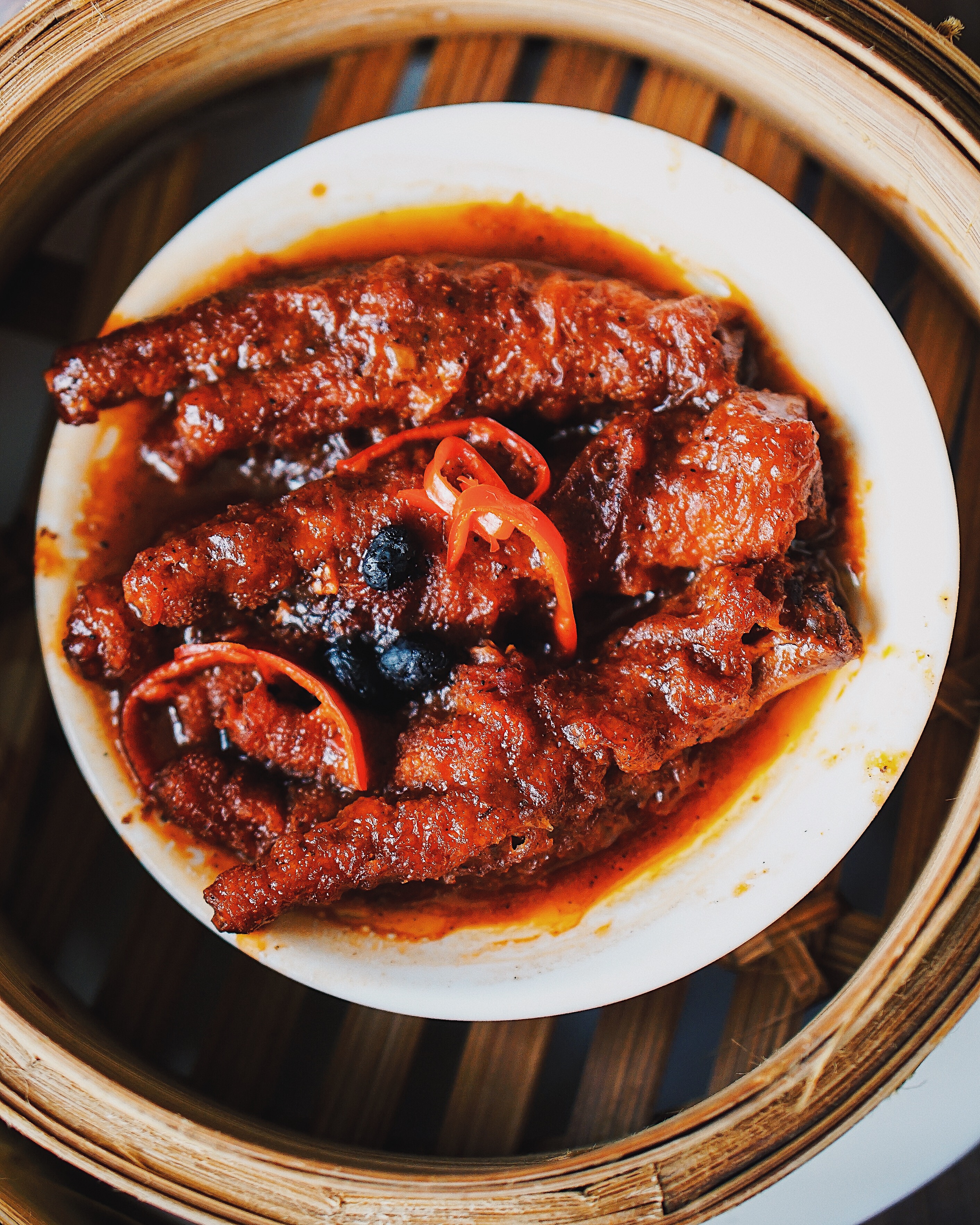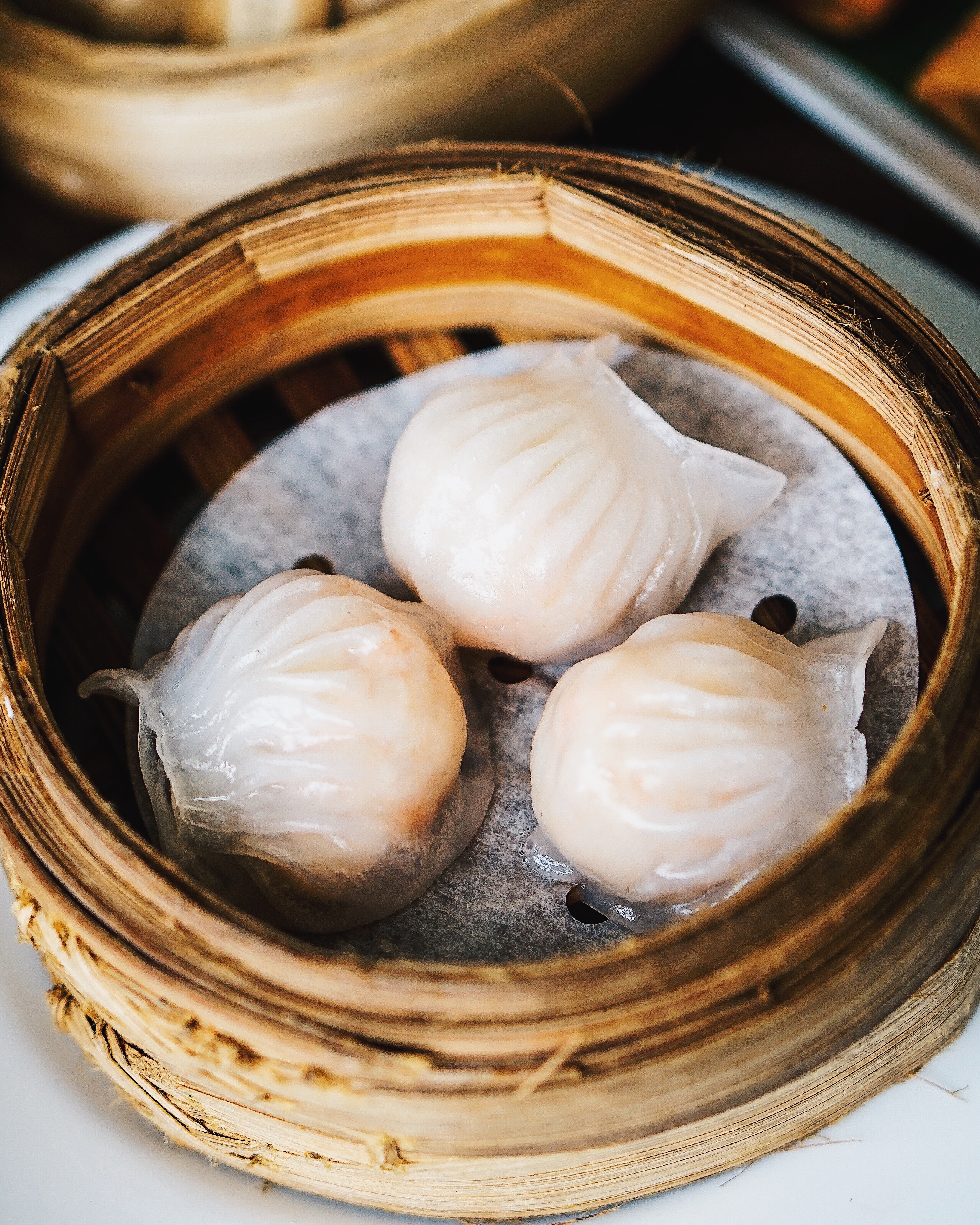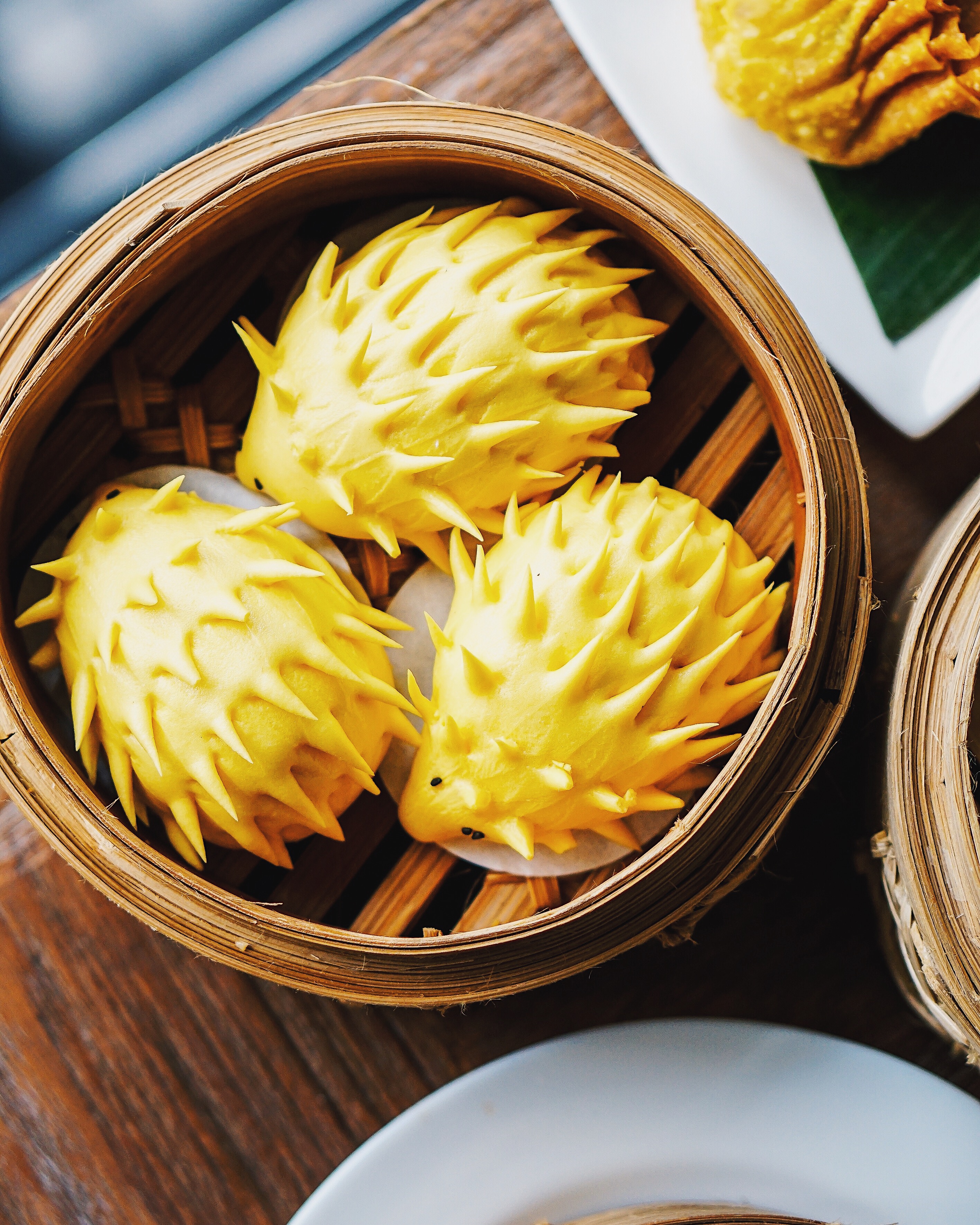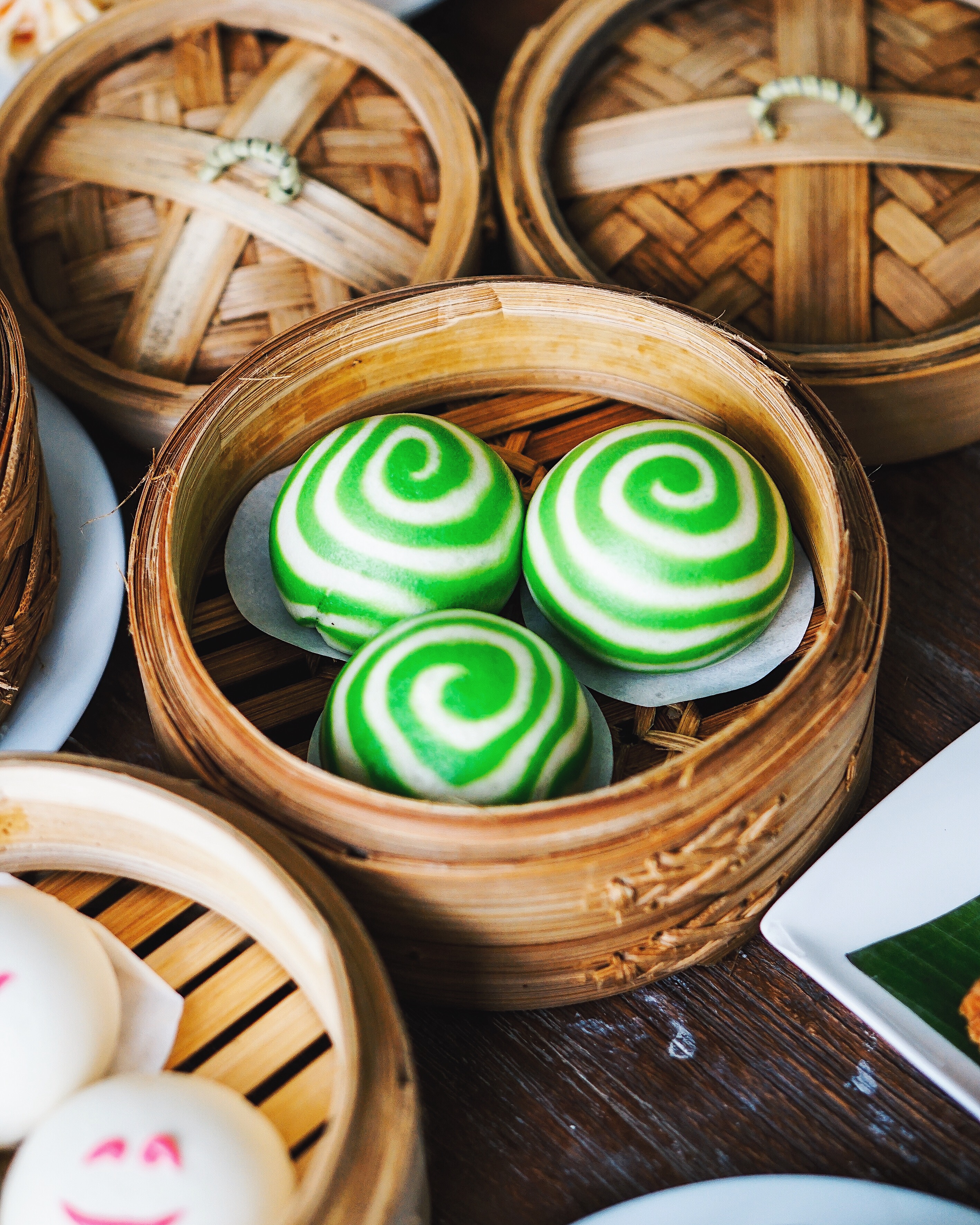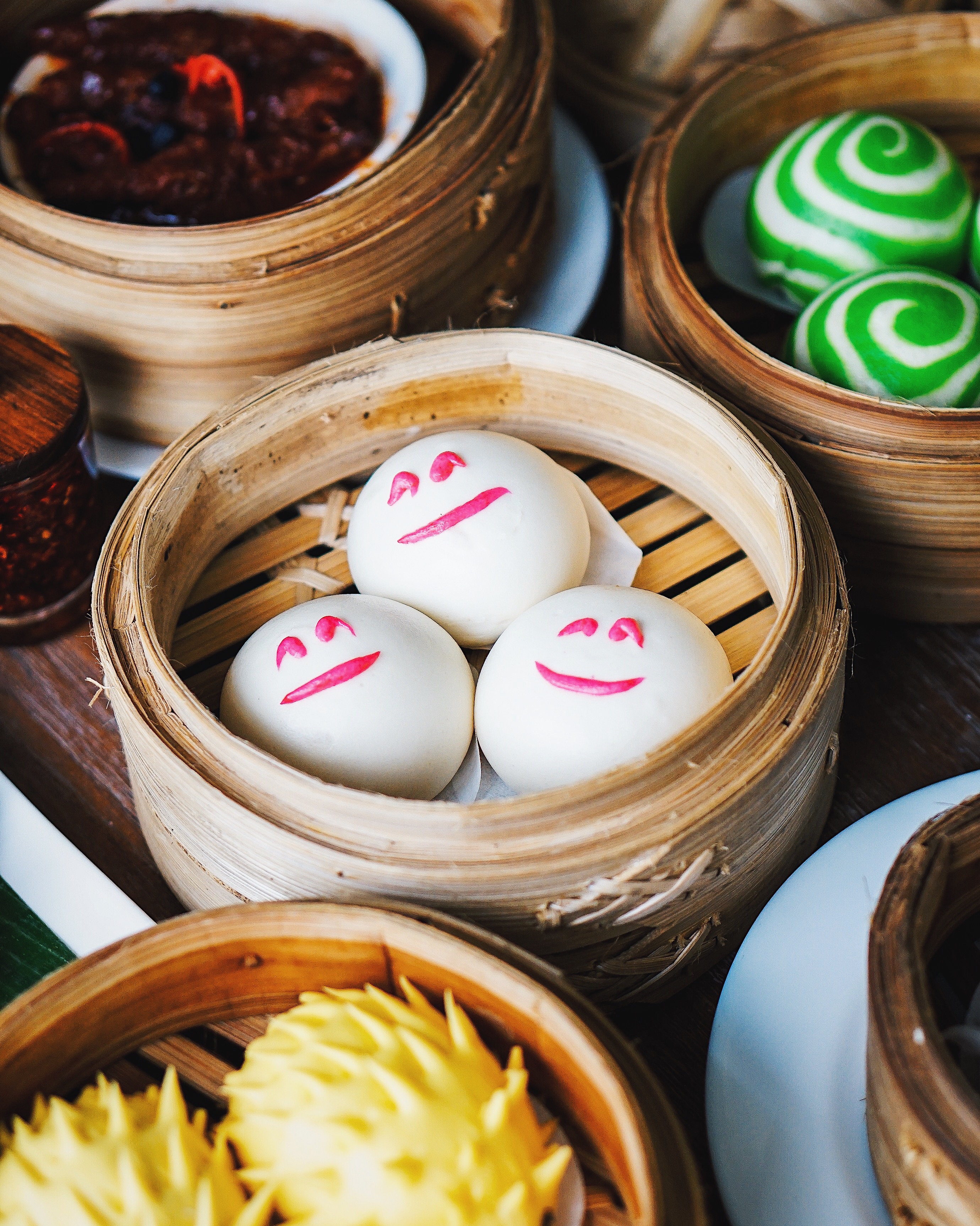 My favorite? Hakau, Kuotie, Fried Wonton with mayo and Fried Springroll!
# Porridge
Also from the breakfast menu, Teras Dharmawangsa has a selection of Porridge! We tried their Bubur Ayam Kampung Rebus (Half: IDR 97.5k) and the Bubur Kepiting (IDR 59k per ons).
For Bubur Ayam Kampoeng Rebus, the highlight was indeed at their fragrant and tender chicken.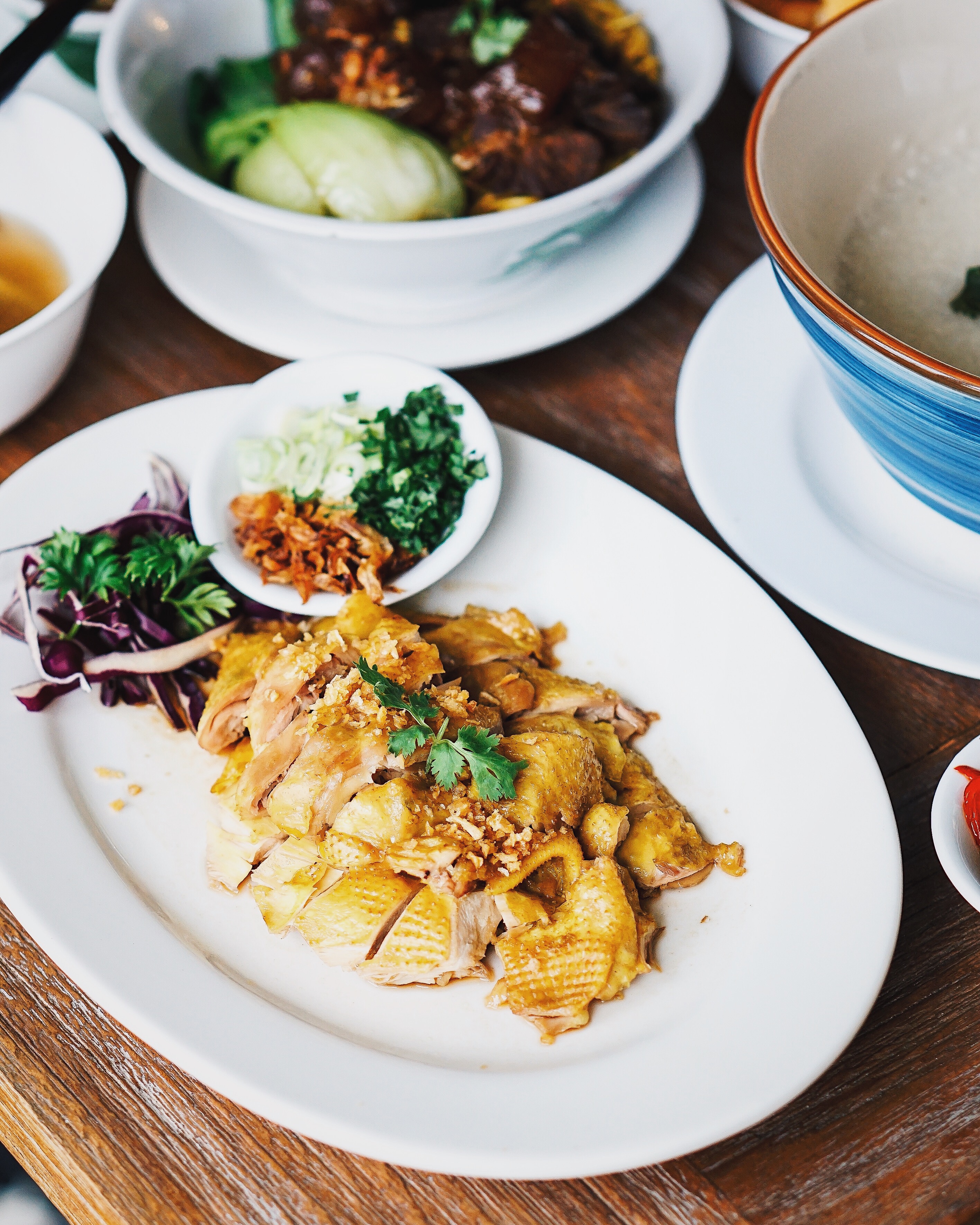 For Bubur Kepiting, I should just say that I'm not an avid fan of crab, BUT they were quite amazing really, especially when there was a surprise treasure, the crab eggs!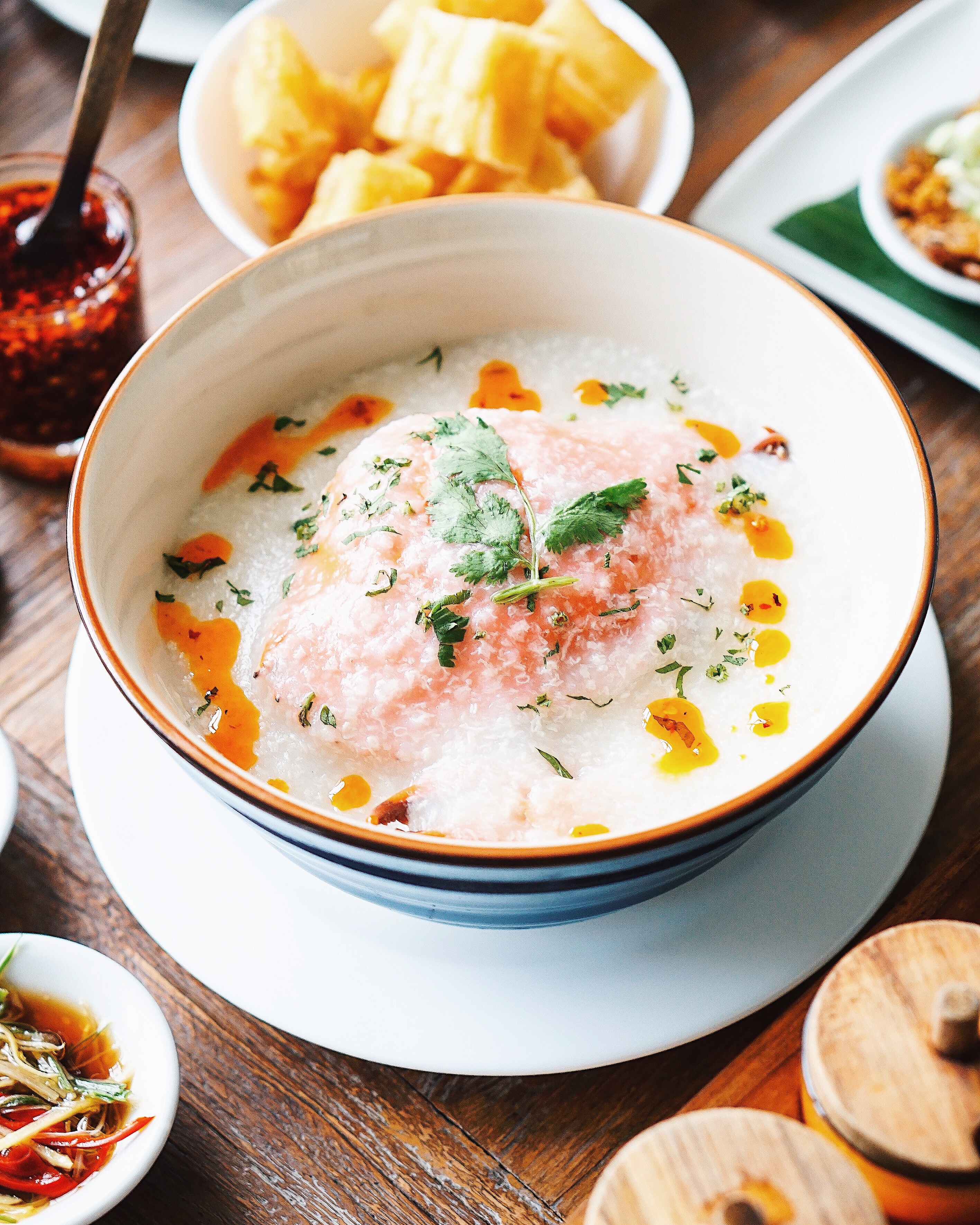 # Salad Mangga (IDR 35k)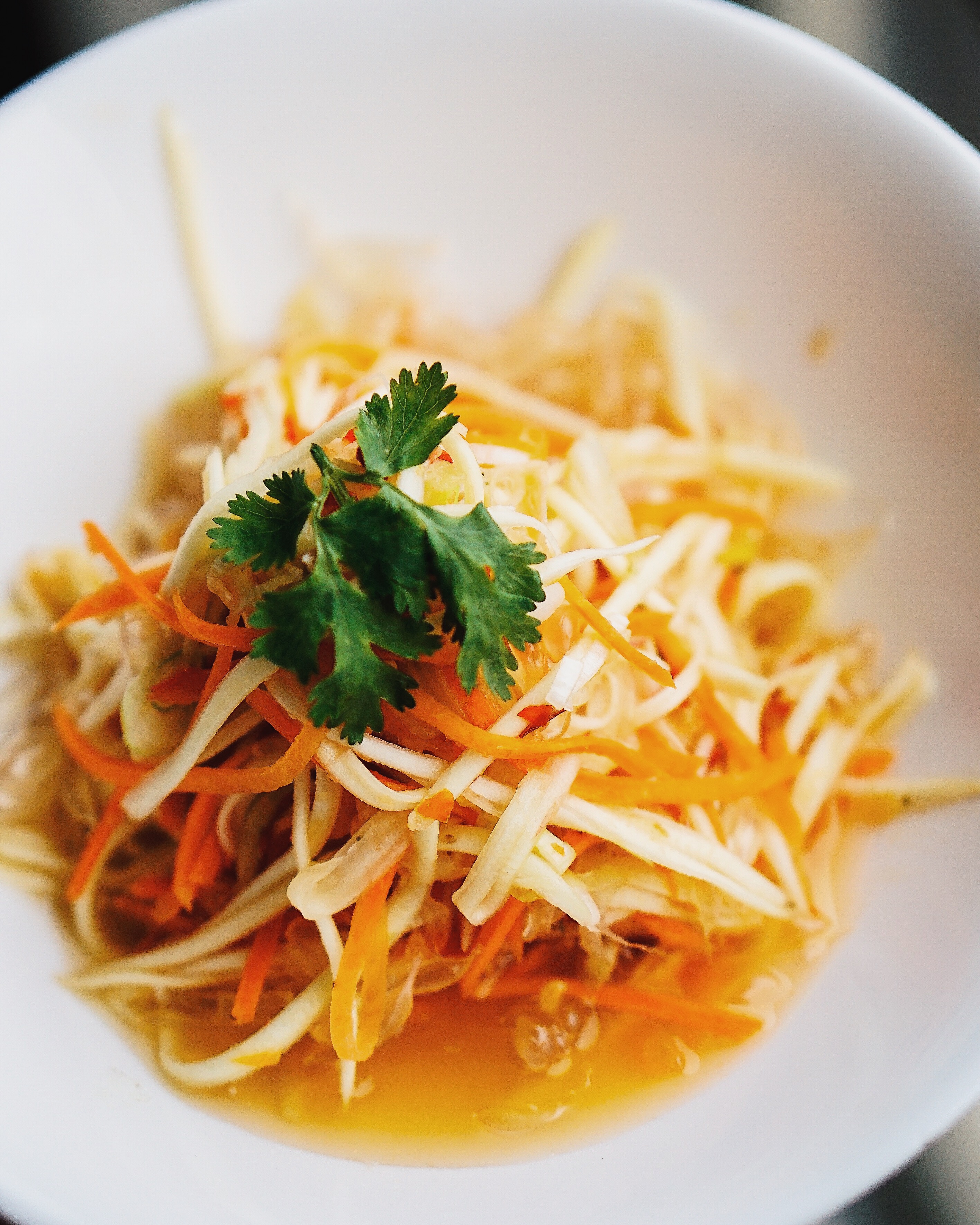 Fresh appetizer for the day! A combination of pomelo, young mango, carrot slaw, coriander, lemongrass and shallot in spicy dressing.
# Mie Bebek (IDR 59k)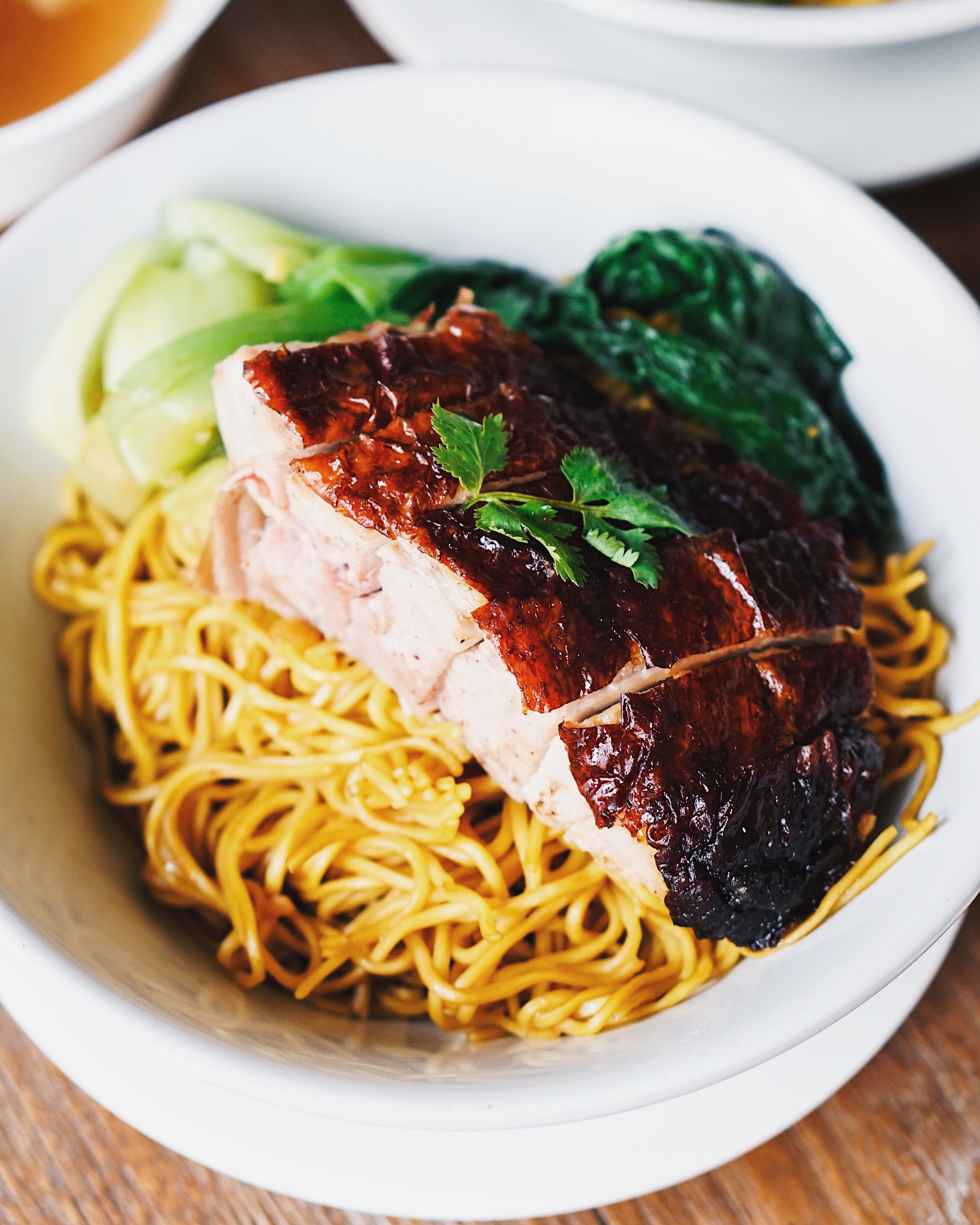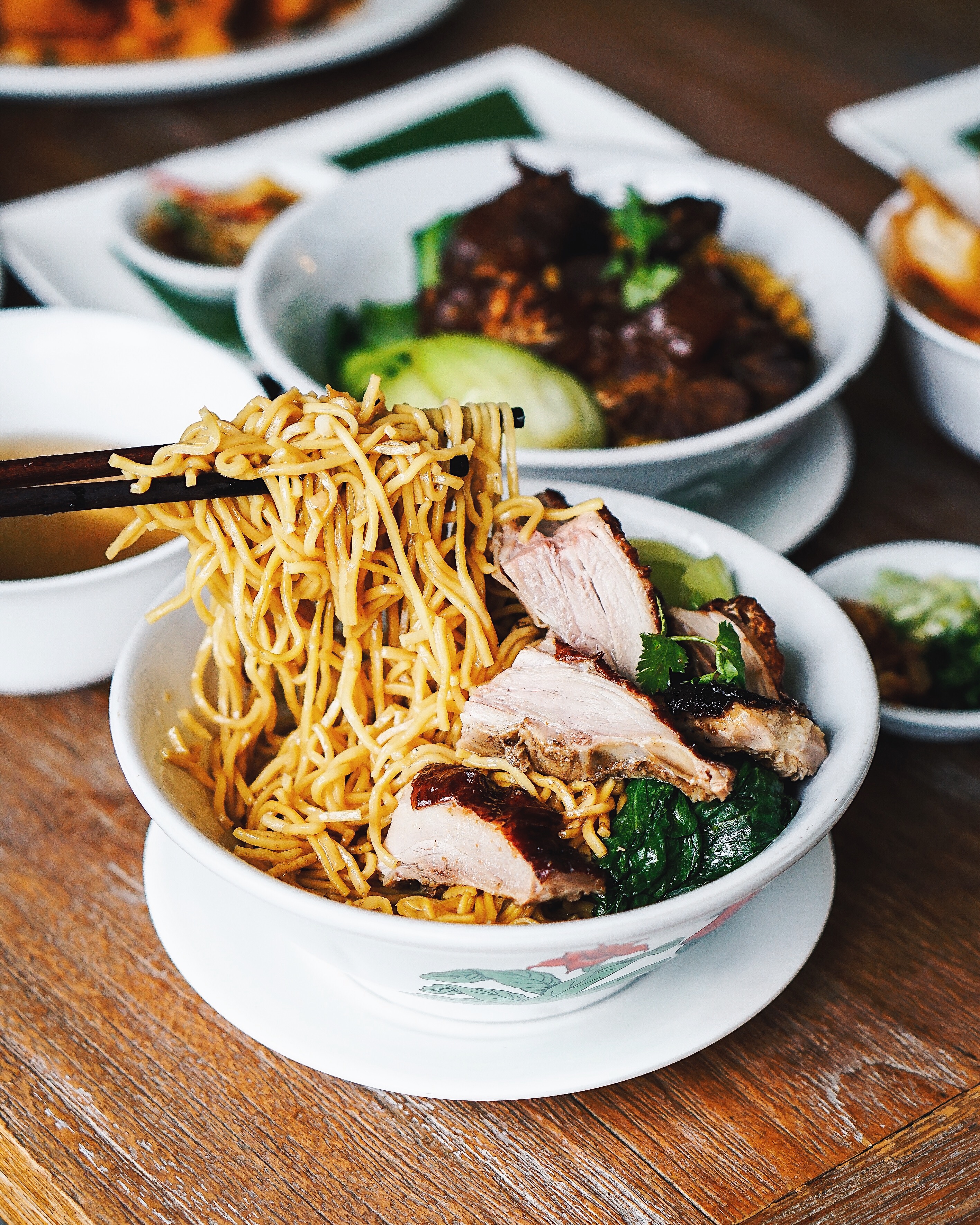 This was truly my favorite!
Since I'm a noodle person, I can't resist Hongkong-styled noodle, but hey, this duck noodle was honestly one of a great kind! The texture of the noodle was perfect (despite having sitting still for quite some time for the photo-taking process), and the duck was a treat! It's all sweet and savoury. I LIKE!
# Mie Urat Sapi (IDR 69k)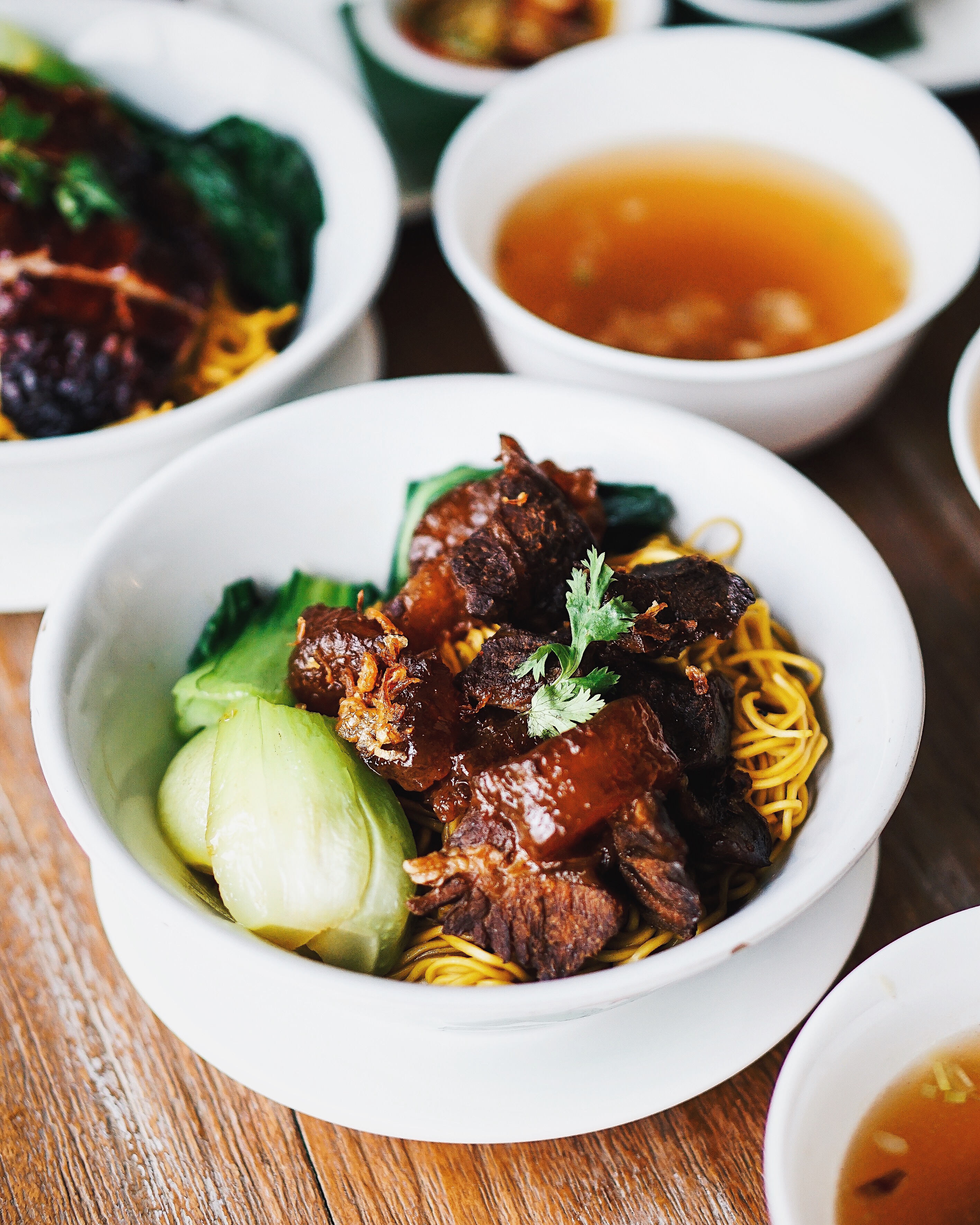 Not everybody will love this noodle since the main topping is beef tendon. But I like tendon, thus my excitement to taste this noodle. After tasting, I could say that th beef tendon was great, well-seasoned (more to the sweet side) and the chewy texture was fun to munch.
# Nasi Goreng Buntut (IDR 99k)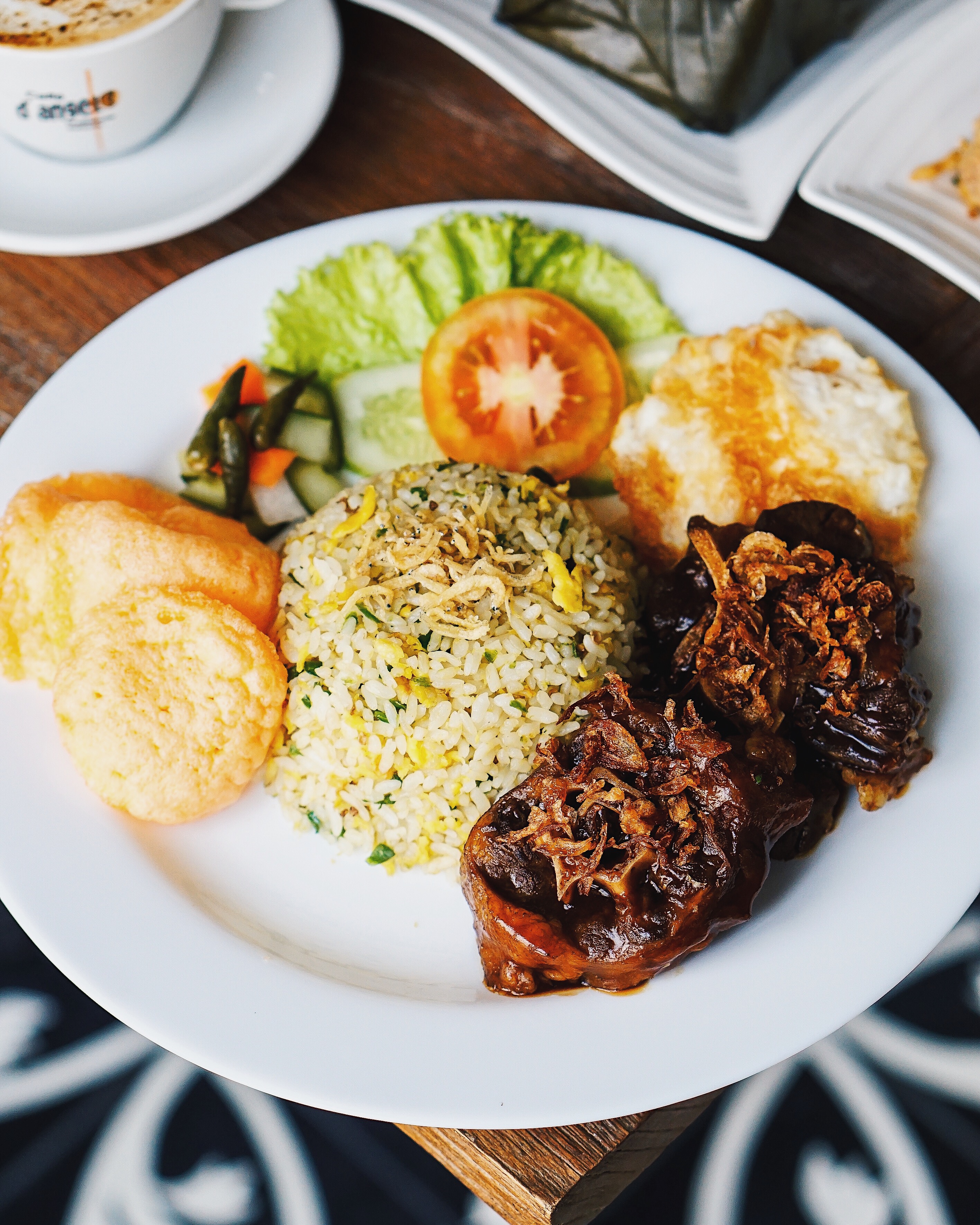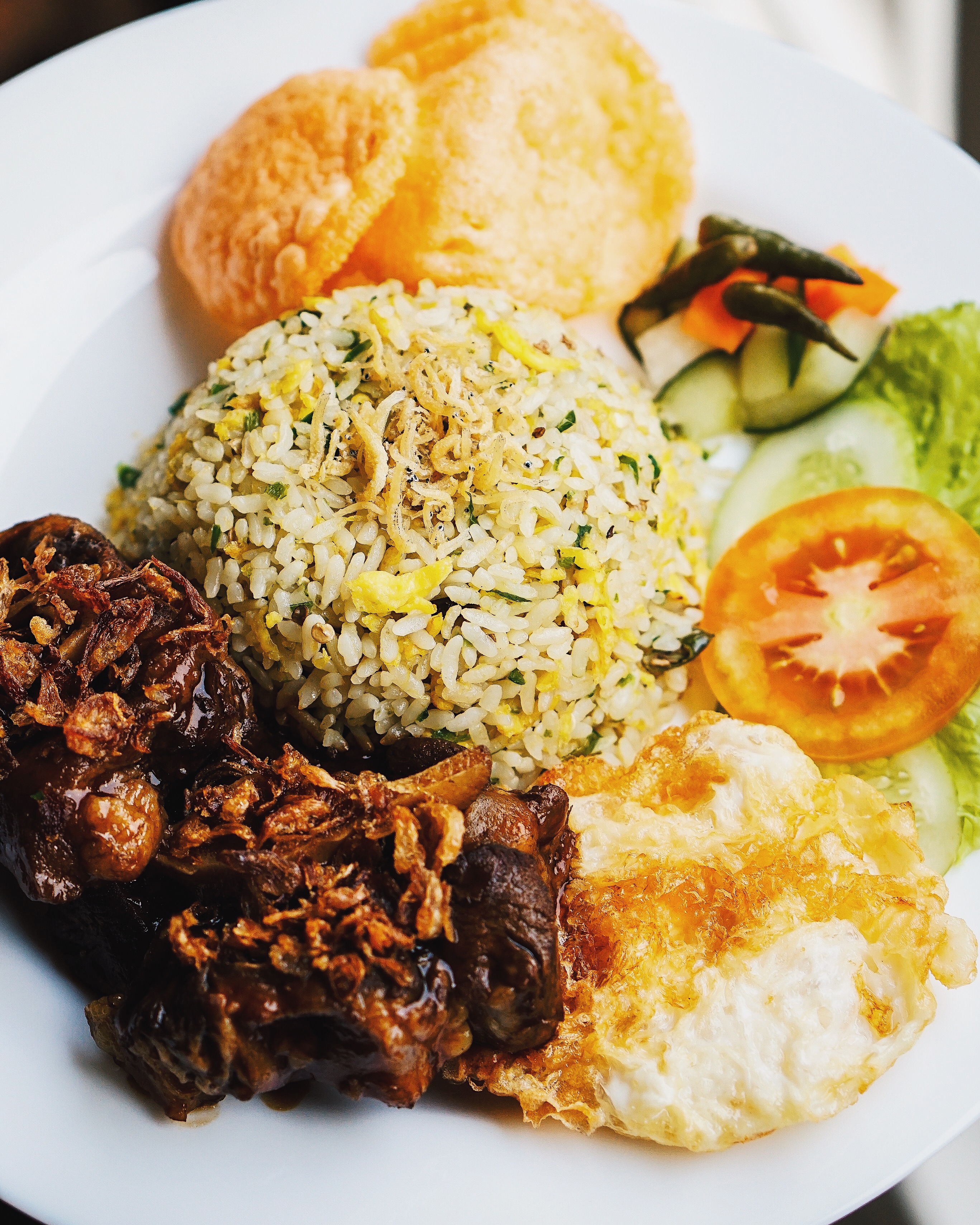 Who can resist a hearty portion of spicy green fried rice with salted fish and paired with delicious grilled oxtail? I can't! I added some chilies and it was great to go!
# Ayam Susu Pedas (IDR 62.5k)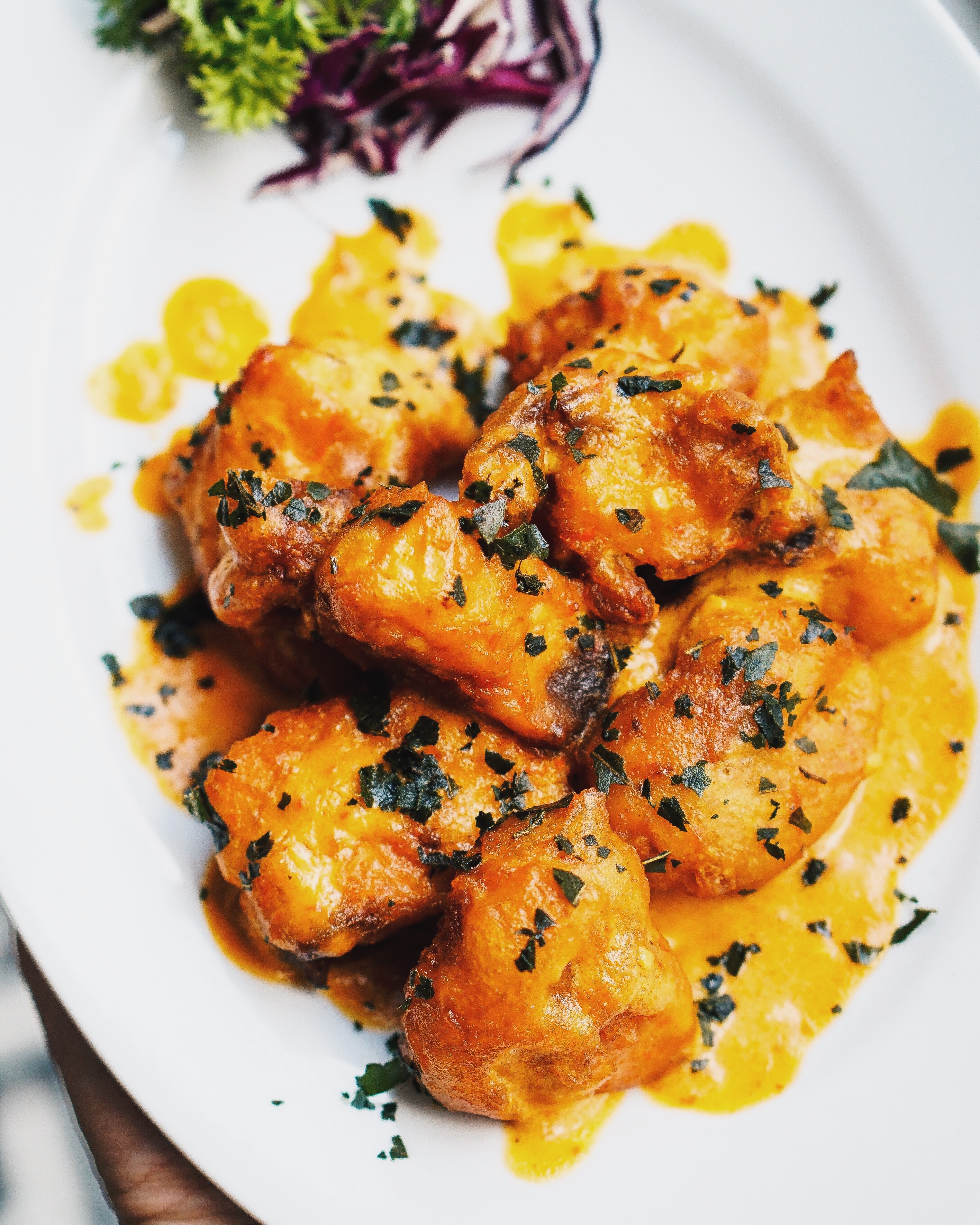 Fried Chicken with Cream and Butter! During my visit, it wasn't the best as I personally think it was slightly overcooked, but the cream and butter sauce was silky smooth, wrapping the chicken with soft flavour. So, yes, it was pretty good.
# Ikan Gurame Spesial (IDR 69k)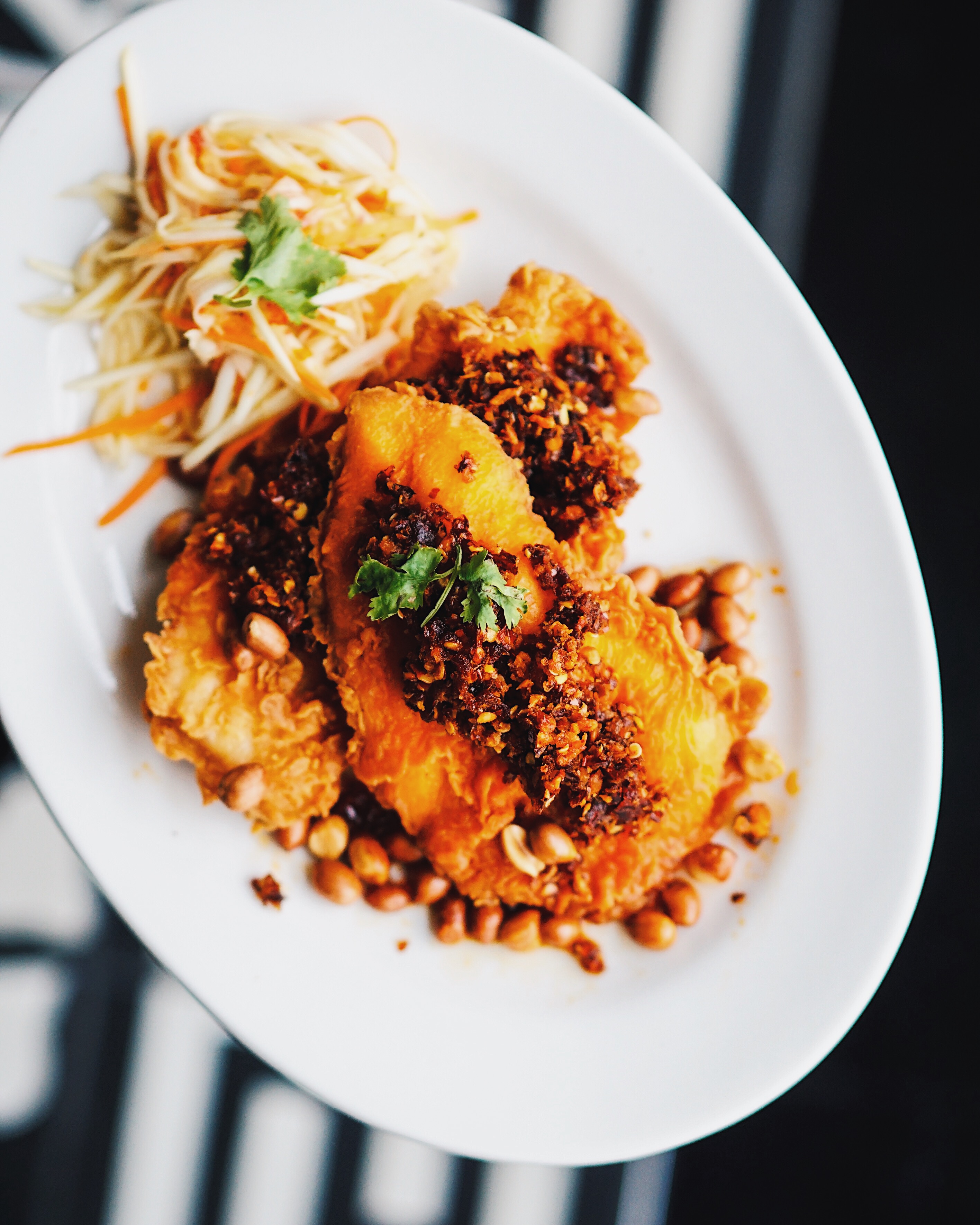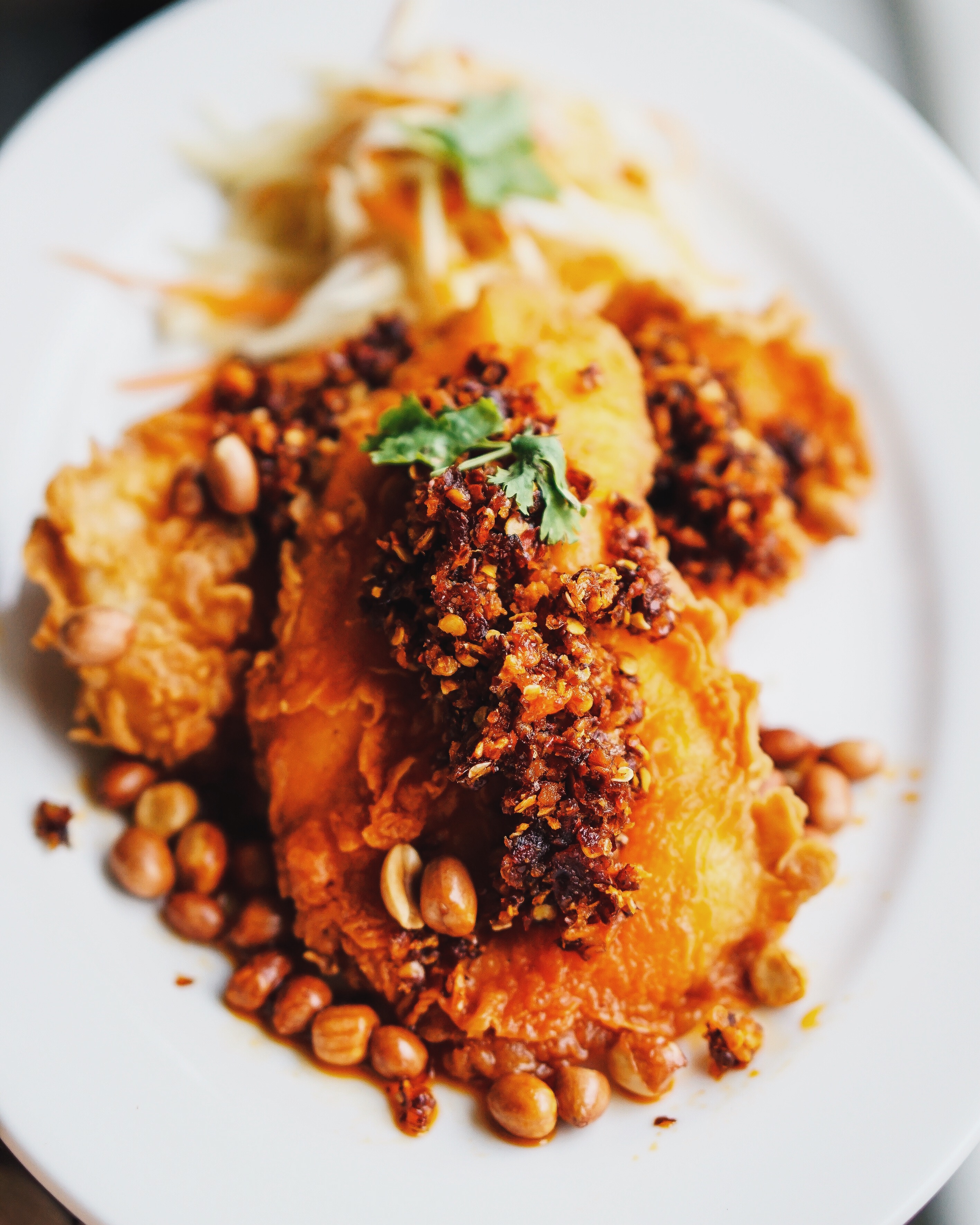 I'm always excited with Plataran's fish dishes because they usually run the extra miles to ensure the fish is fresh and cooked with delish ingredients. It is the same here, the gourami was as fresh as it could be, deep fried with perfect batter and topped with mango slaw and chili!
# Tahu Telor Asin (IDR 59k)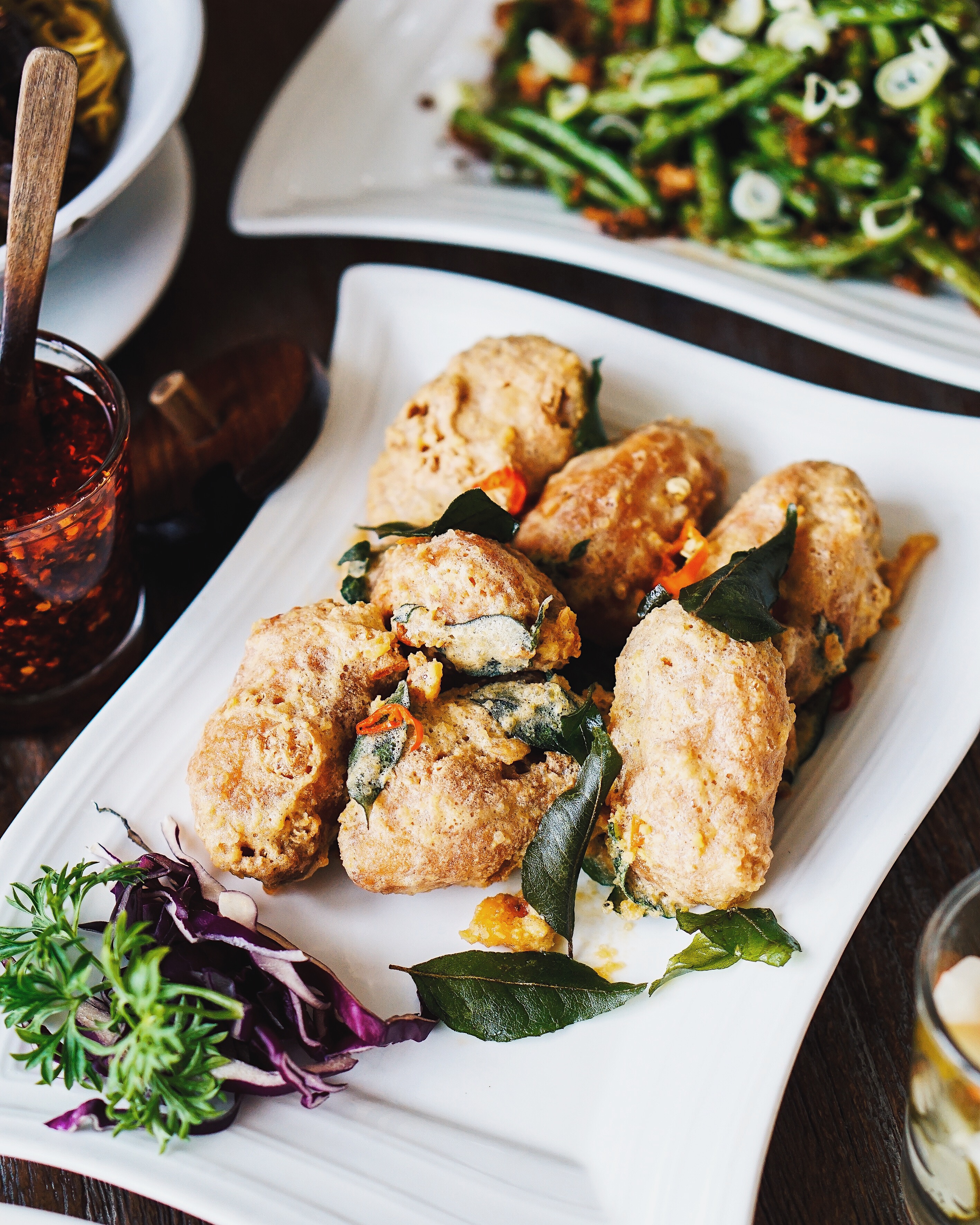 Different to the one at Plataran Restaurants, the tofu used here is silken tofu.
The silken tofu is deep fried and blanketed with an uber good salted egg sauce. It's definitely one of the best dishes here.
# Buncis Ayam (IDR 45k)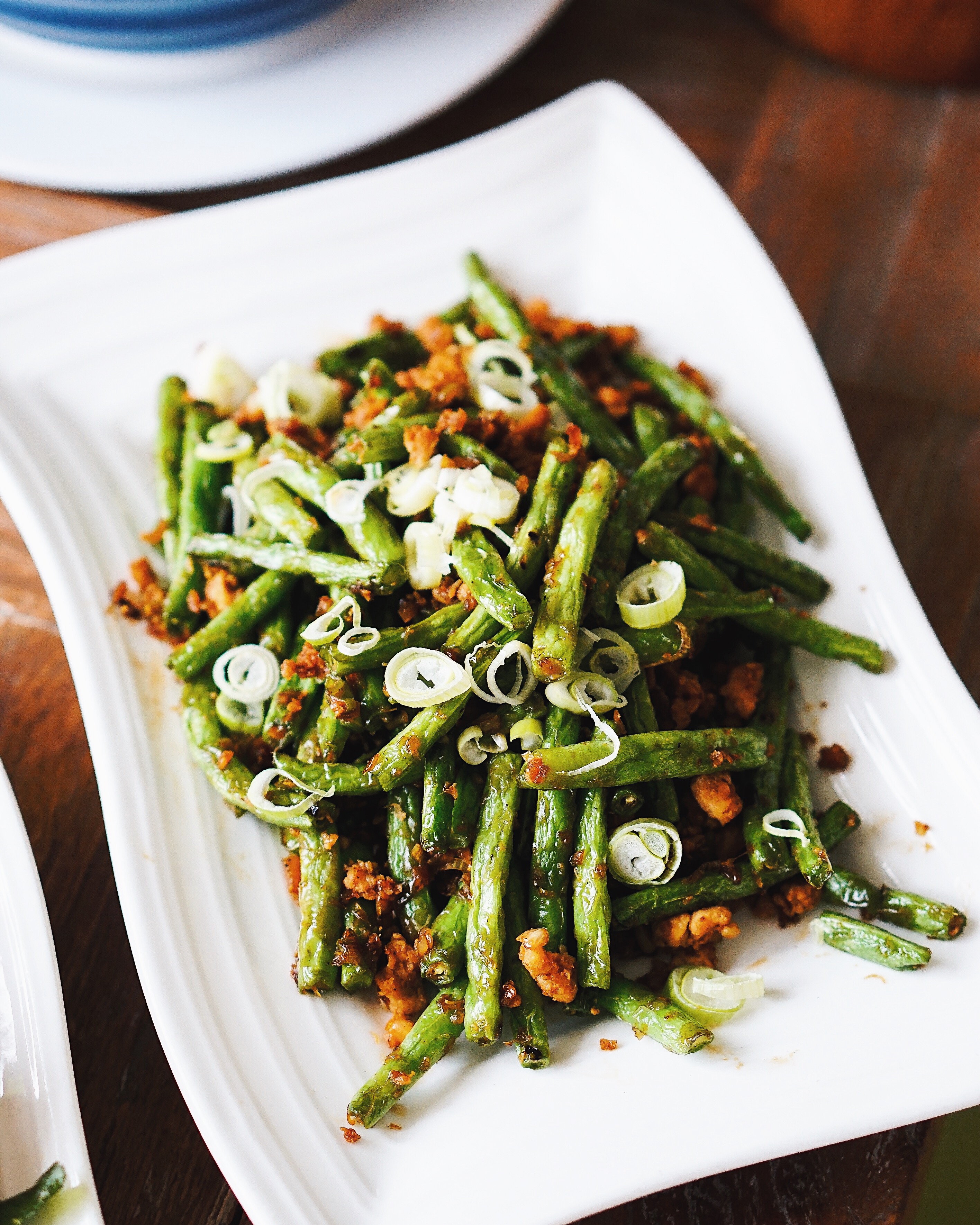 This is actually a staple food, every Chinese or Peranakan restaurant seems to have this. But well, it's good and the string beans were crunchy, and the overall dish was hearty, so no complaint here!
# Crispy Enoki (IDR 29k)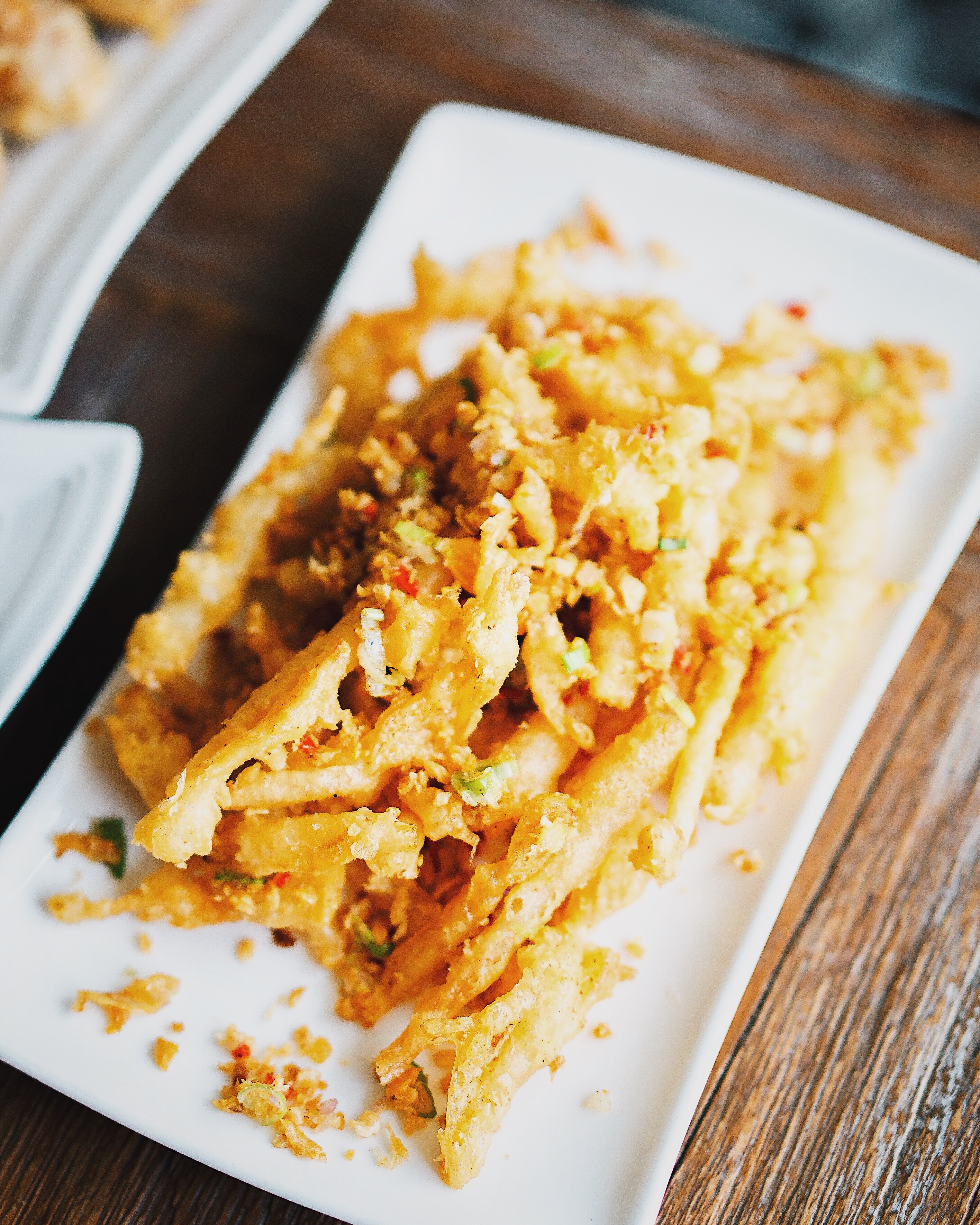 If you have a hobby of munching before your meal, this would be a good choice. It was crispy (as the name suggests) and it was well-seasoned with a spicy note. Also no complaint here!
Well, I was pretty full that evening, and yeah, no kidding, that was a rare occasion, having that much food on the table! Just look at this.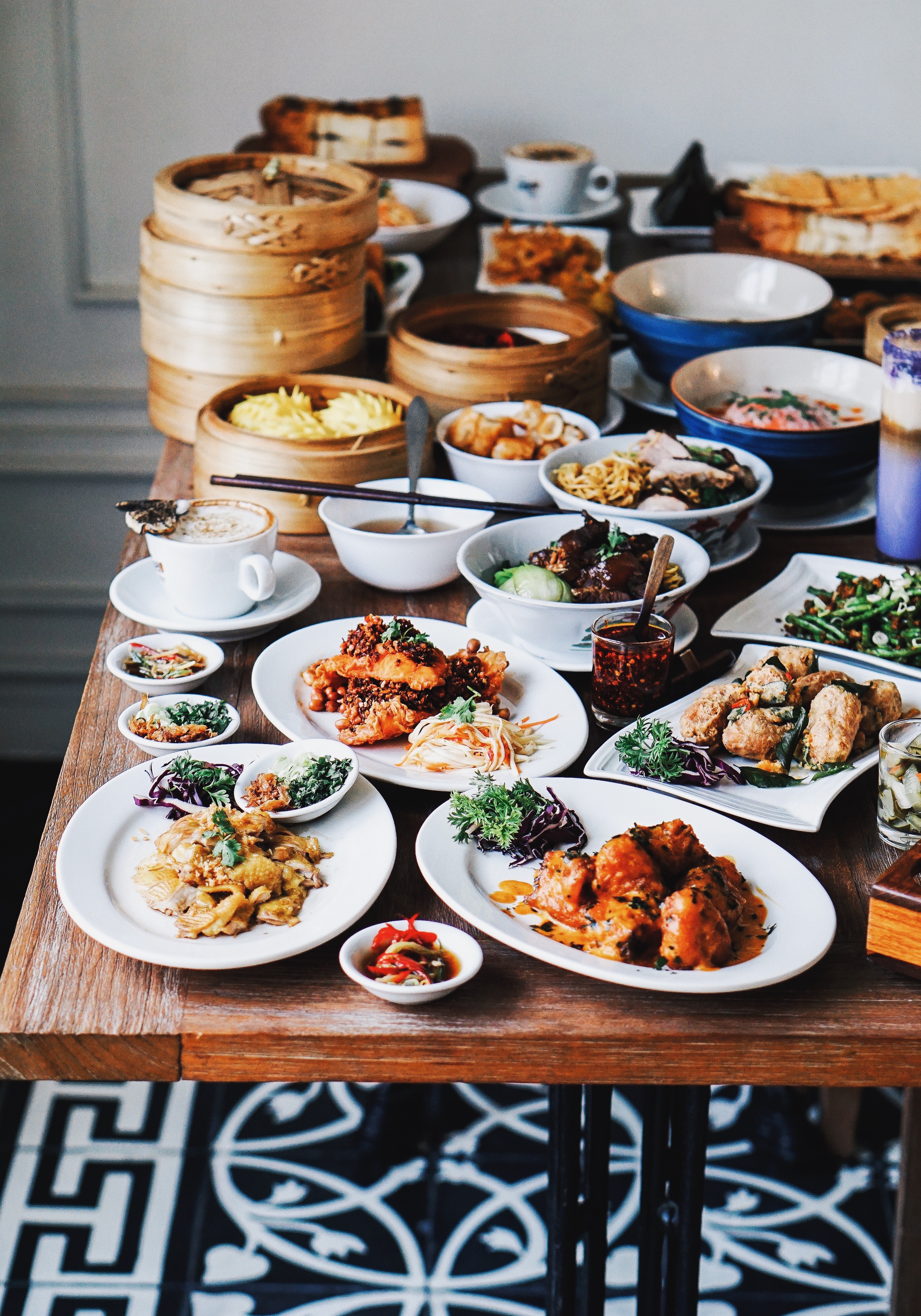 It was a terrific evening, and I enjoyed most of the food here! Plataran group never ceases to surprise us with their 'weapons', from the interior, ambiance, service to their food taste and quality!
I'm pretty sure that most of you haven't visited here and if I'm right, I suggest you spend some time here, much especially if you're a fan of Peranakan-Asian cuisine. For me, Peranakan food is always a comfort food that guarantees a kind of fulfilling satisfaction. Even better, I think it's a kind of cuisines best enjoyed with the family or friends you love.
So, should you plan your weekend lunch or dinner here?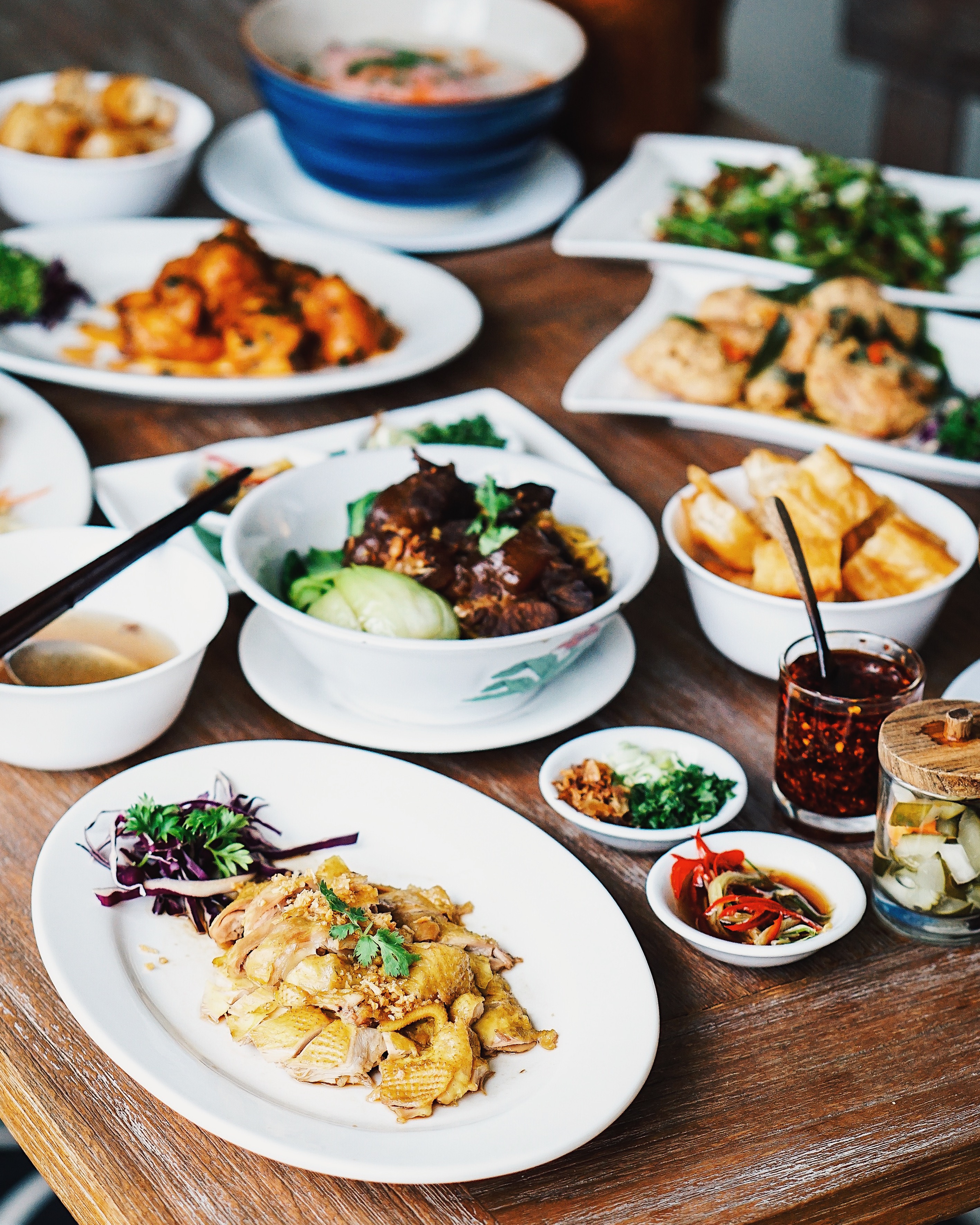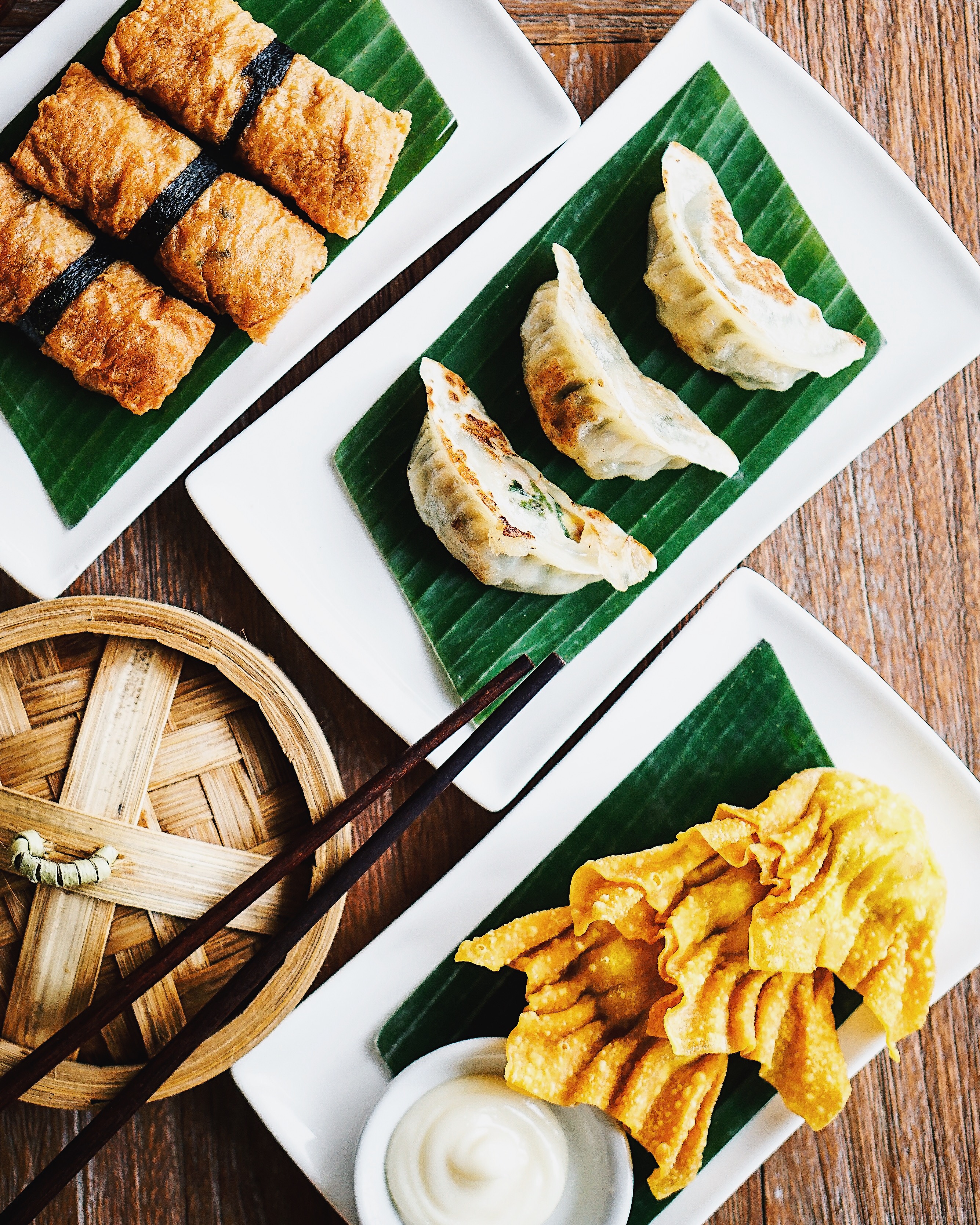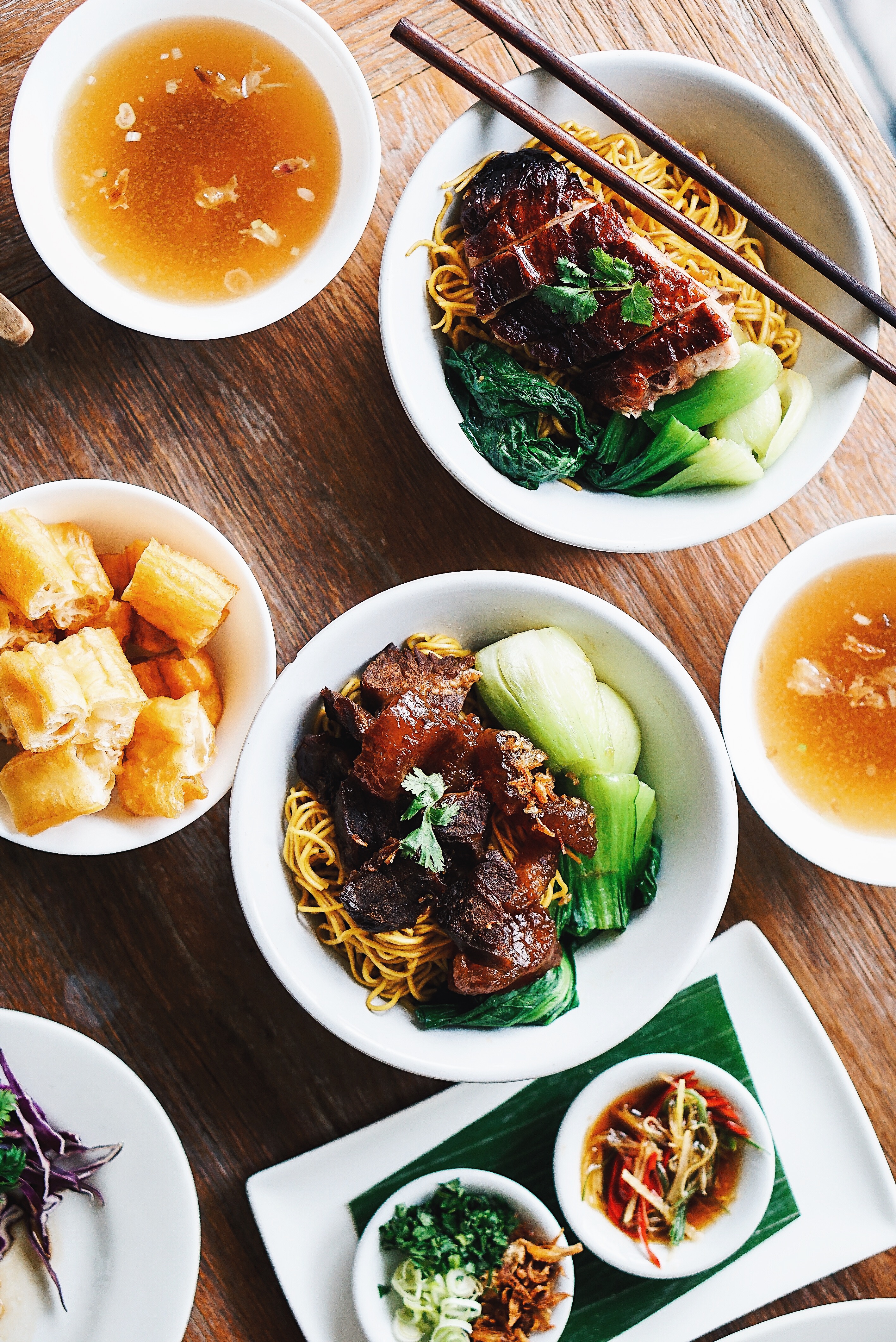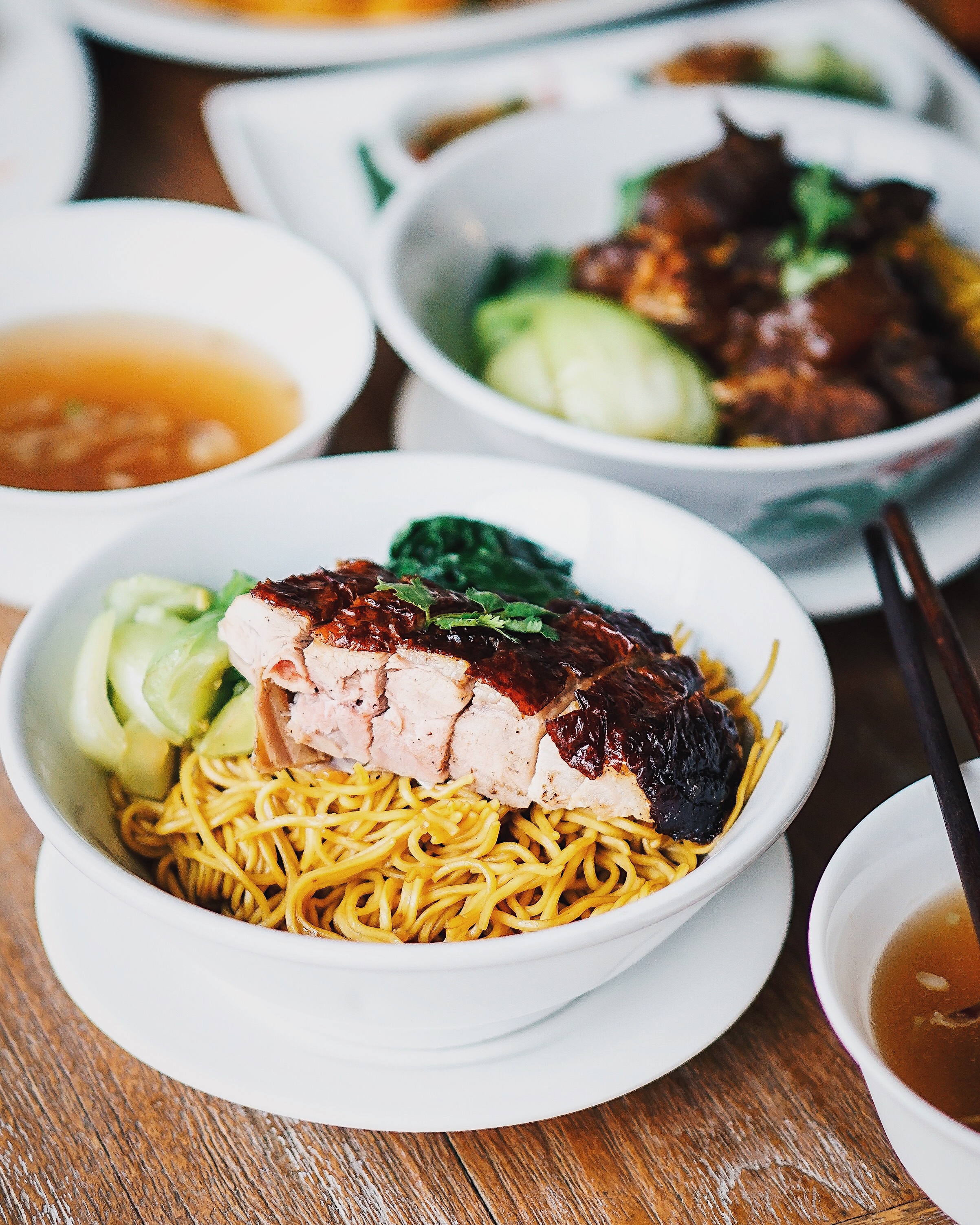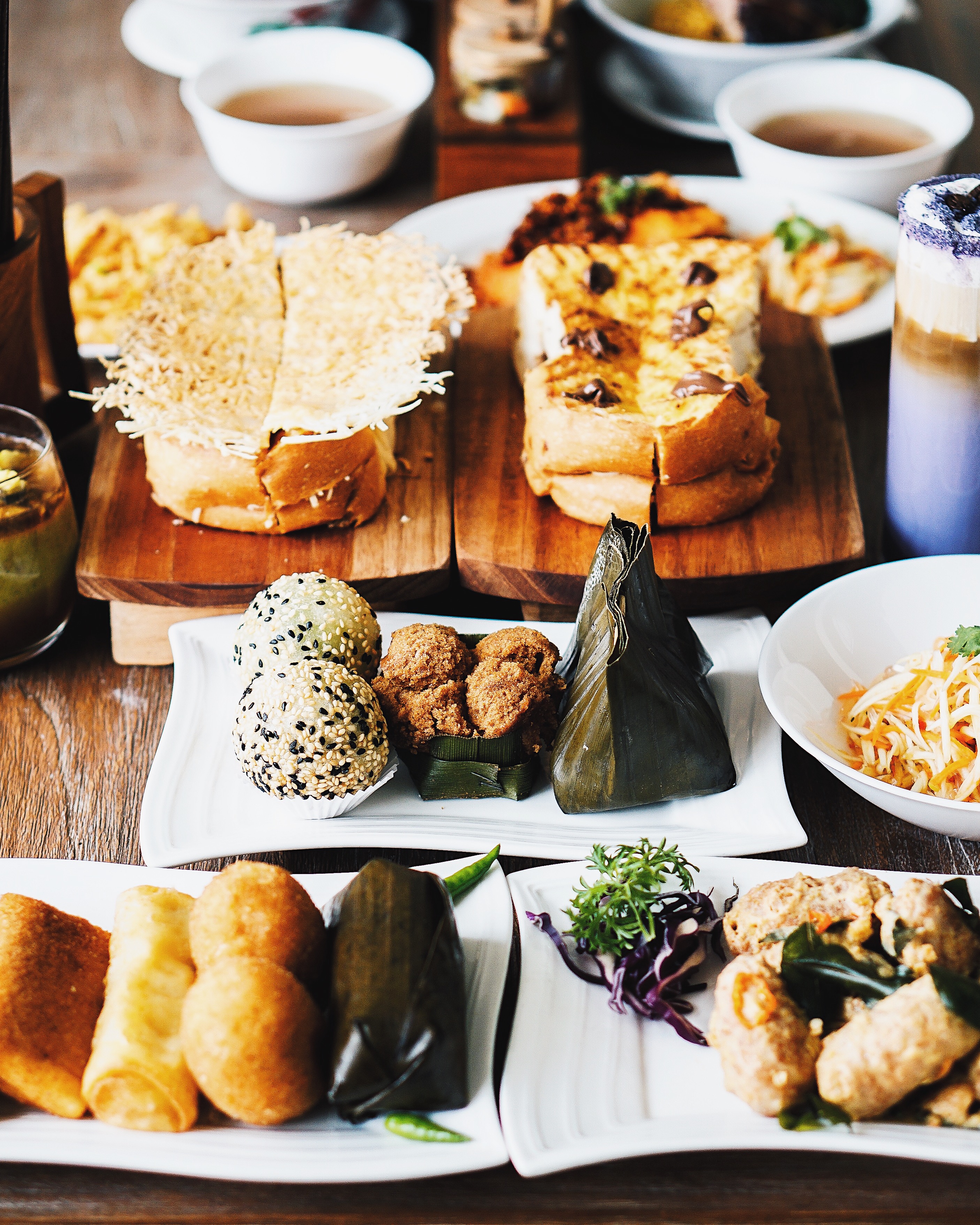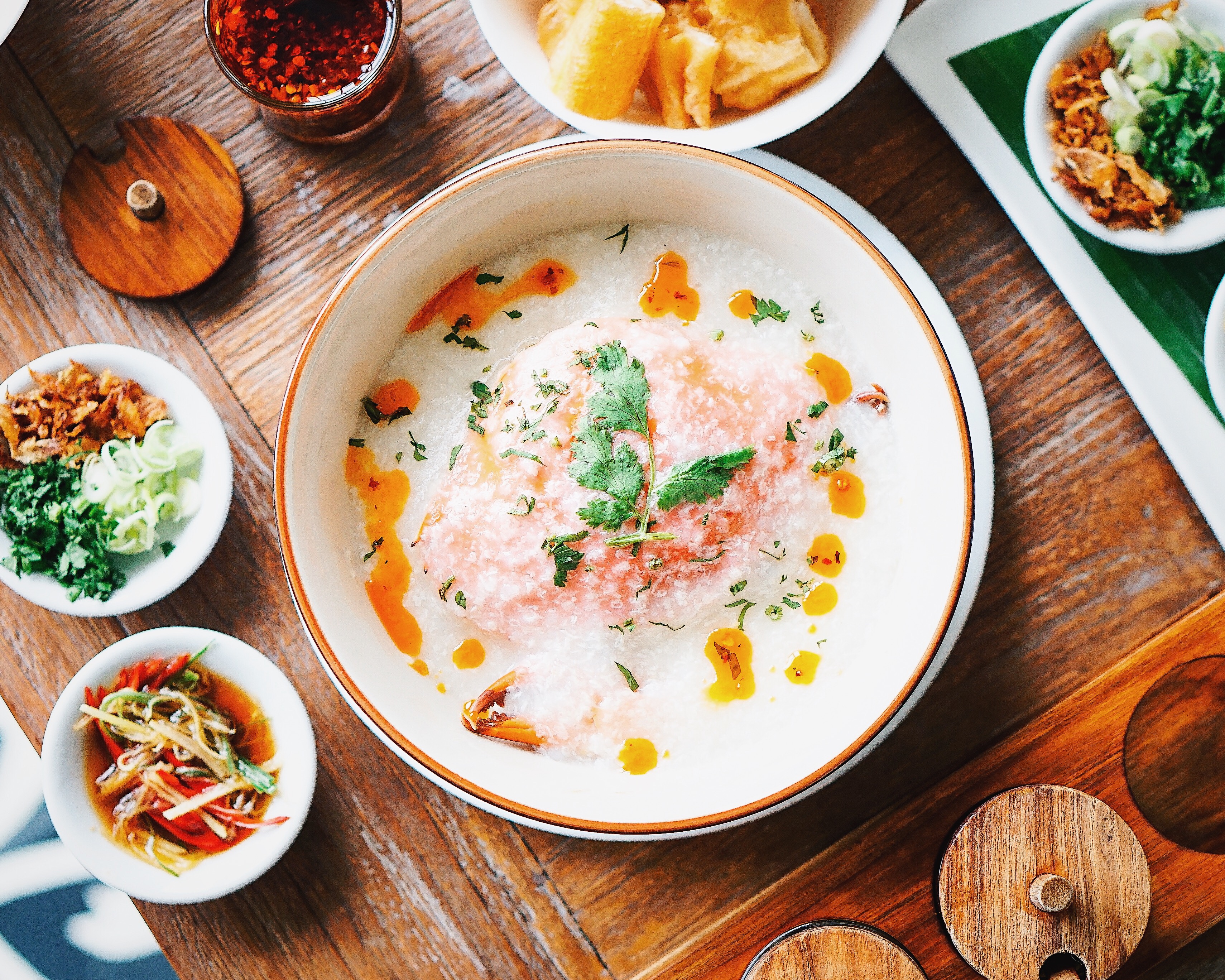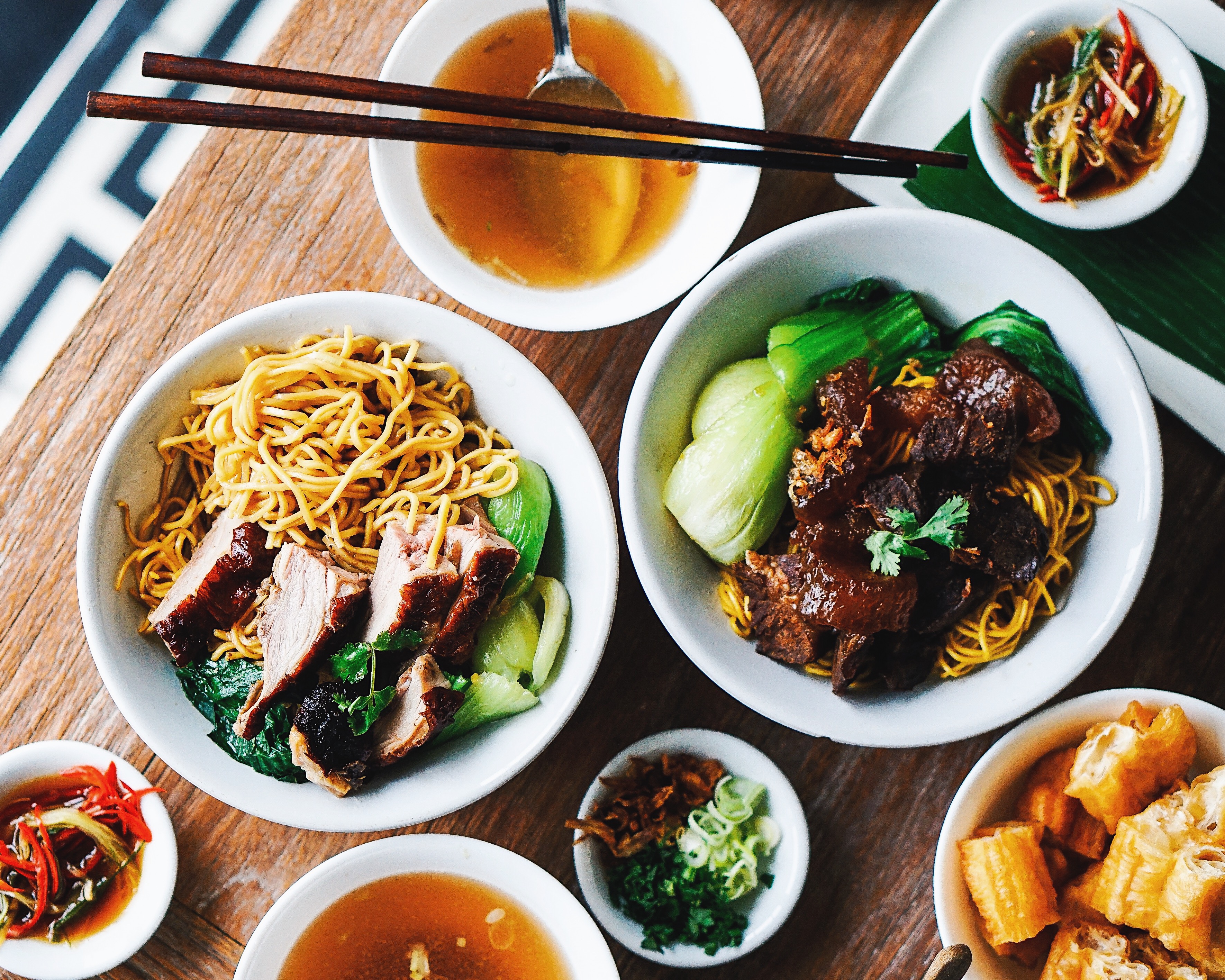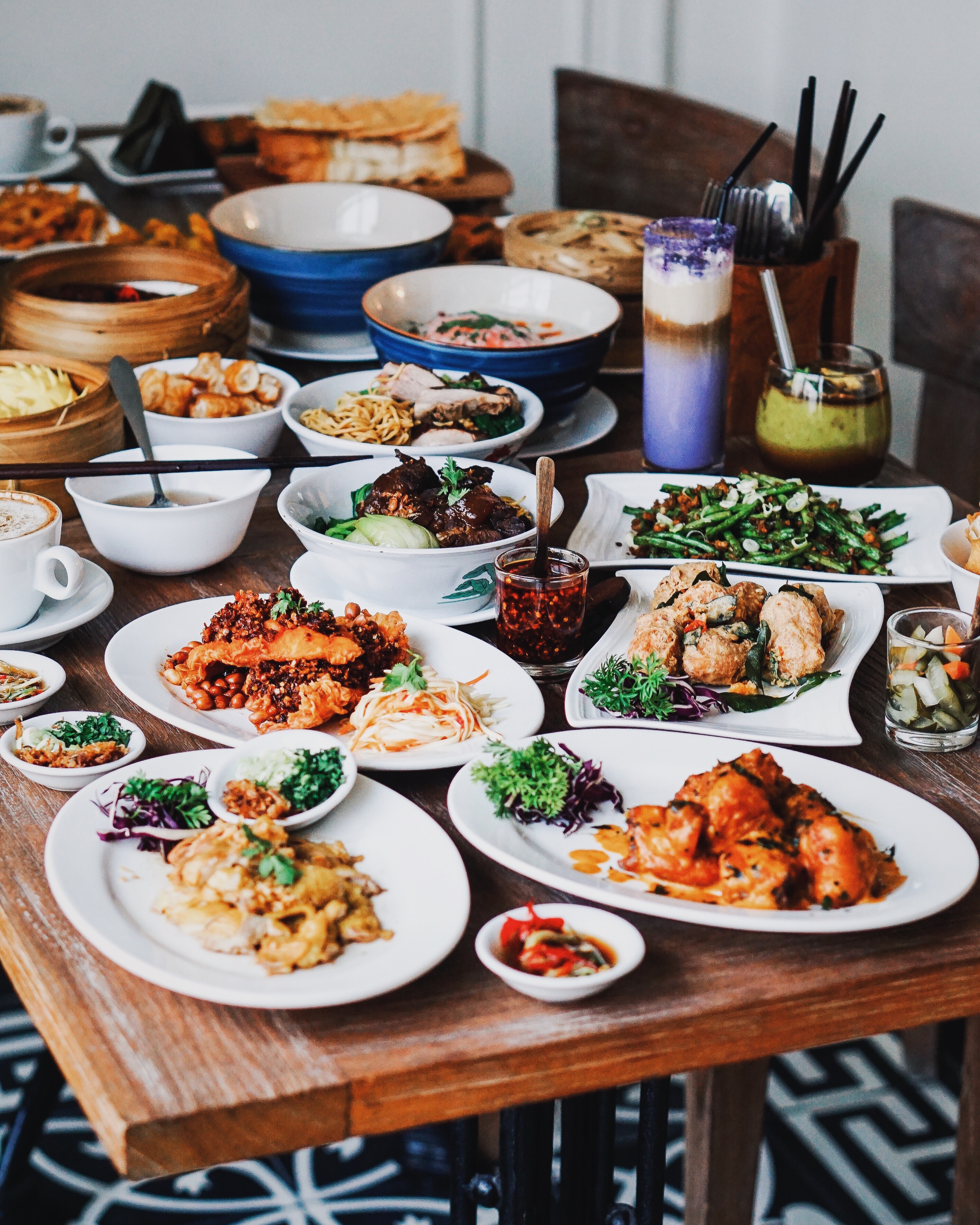 TERAS DHARMAWANGSA | JAKARTA
Darmawangsa Square City Walk Unit 20
Jl. Darmawangsa VI & IX, Kebayoran Baru, Jakarta Selatan
Phone: +6221-27513687 / +6221-27513688
WA only: +62 813 84187261
Call only: +62 813 84187262
Instagram: @platarandining
Website: www.plataran.com/venues-dining/teras-dharmawangsa
Opening hours:
Monday – Friday: 8 am – 10 pm
Saturday, Sunday & Public Holiday: 7 am – 10 pm